Even though the ways of having entertainment have changed, it hasn't affected Comics. Comics are still very relevant in this modern generation, and many users prefer to read comics instead of watching a Marvel or DC Movie/Show.
You may also know about manga if you love to read comics. Manga is black and white comics created and published in Japan. Manga translates to 'Comic and Cartoon' in Japanese.
If you are reading this article, you don't need further information about What Manga is. You are here to know about the best Mangastream alternative, and this is what we are supposed to talk about.
List of Best Mangastream Alternatives
Mangastream used to be a very popular site for reading manga comics online for free, but due to some reason, the site has been taken down by the authority. So, if you used to be a Mangastream reader, you should check out these Mangastream alternatives instead. Let's get started.
1. Mangakakalot
If you are searching for the best Manga online reader that receives updates at regular intervals, then Mangakakalot could be your best pick.
On the site, you will likely find several hundred Manga titles you can read in your leisure time. It's also a full-fledged Manga reader, as clicking on any story opens a full-page reader in a new tab.
Currently, the site claims to have 2.5 million manga from 70+ categories. The site is not free from ads but doesn't show annoying popups or redirect ads.
Overall, Mangakakalot could be the best pick for you if you are searching for the best website to read manga online.
2. MangaDex
MangaDex is a Manga Reader where you can read your favorite manga online. You can take the site as a growing Manga community where people discuss their favorite Manga comics.
The site is free to access, but there's no option to download files for offline access. However, like Scribd, you can open and read Manga comics online.
From the user interface to the content, everything is good in MangaDex. The only drawback of the site is that it's still in early access; hence you may expect a few bugs and glitches while accessing certain features.
3. Kissmanga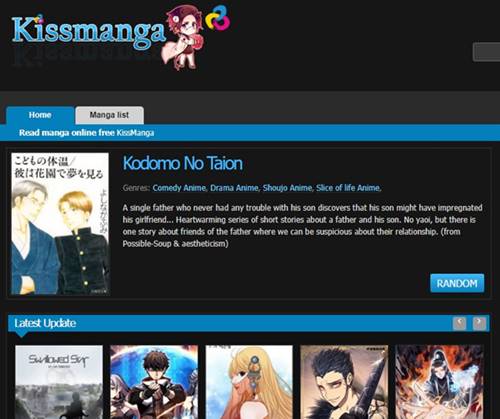 Well, Kissmanga is very similar to Mangastream regarding the content. Just like Mangastream, Kismanga is not a house for non-copyright manga.
Since it hosts copyrighted content, higher authorities often ban the sites. Hence, a VPN is a must for accessing this website.
If we talk about the content, the site has thousands of Manga comics that you can view for free. The site is ad-supported, and you get many advanced search filters to filter out your favorite manga.
The only drawback of Kissmanga is its user interface which looks very outdated. Also, the site often spams users with endless ads, which may ruin your Manga reading experience.
4. MangaOwl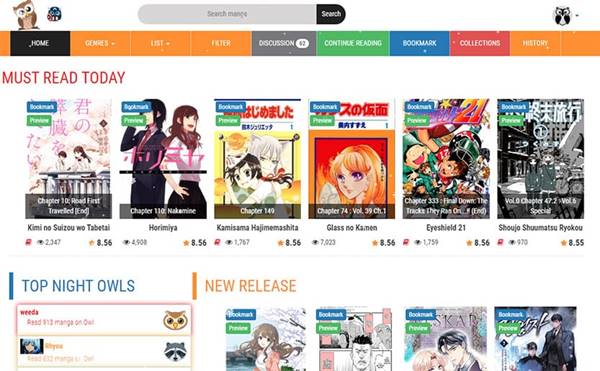 If you are searching for the best website like Mangastream to read manga online for free, look no other than MangaOwl. MangaOwl is one of the best online download manga websites you can use today.
The site is known for its unique manga collection and for releasing WSJ series episodes before the official release. Regarding the content, MangaOwl covers Manga from 52 different genres.
What's more interesting is that it has a dedicated section for users to submit their Manga. Some other key features of MangaOwl include continuing to read from where you left off, a user rating system to pick good manga series and more.
5. MangaFox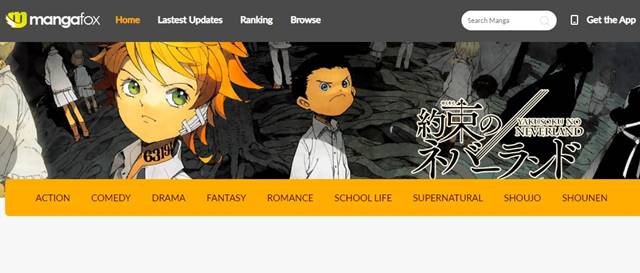 MangaFox used to be a very popular site for reading manga online, but due to hosting copyrighted content, it was taken down. The site is still accessible online but must connect to a VPN server.
Also, there are two sites named MangaFox; you must carefully select the original one. The original site of MangaFox hosts thousands of popular manga series you can read online.
The good thing about the site is that it's fast updating new Manga Comics. The site releases new episodes of a Manga Series the same day as the official release. It also has apps available for both Android and iOS.
6. Manganelo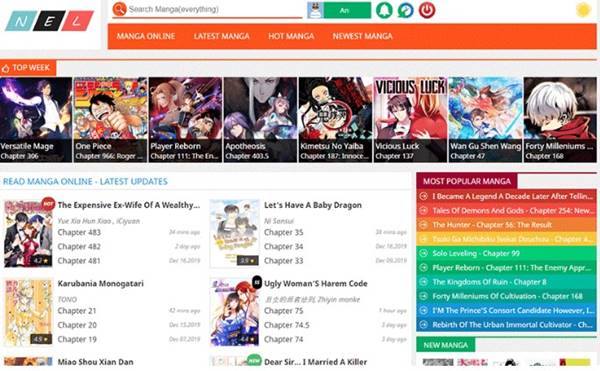 Manganelo isn't a very popular Mangastream alternative on the list; still, it's a great site to read manga comics online. The site is mainly known for its impressive user interface and massive manga comics database.
The site has almost all the popular Manga comics you can think of. Also, the site has a dedicated section that lists the most popular Manga comics of all time.
Some other features of the Manganelo include internet data saver, downloading manga comics for offline playback, etc. The only drawback of Manganelo is that it doesn't have any app for Android or iOS.
7. MangaFreak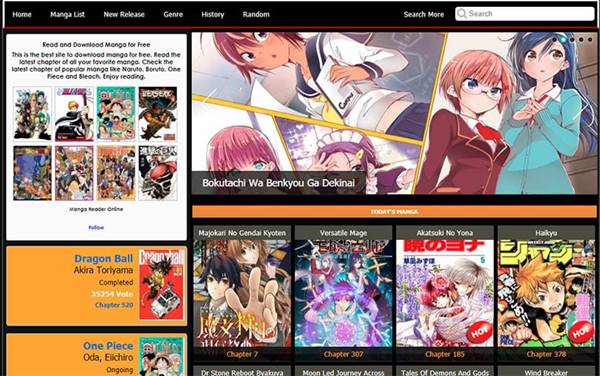 MangaFreak is an online manga reader allowing you to read manga online. The site recently upgraded its user interface for the most pleasant manga reading experience.
Yes, the site's interface is one of the key points of MangaFreak. Since it's an online manga reader, you cannot download manga comics for offline access.
If we talk about the content, MangaFreak has a decent collection of Manga comics, allowing you to bookmark your favorite episodes. The only drawback of MangaFreak is that it shows many ads that may ruin your Manga reading experience.
8. Mangatown
If you are searching for the best alternatives to Mangastream for reading high-quality Manga comics, look no other than Mangatown.
Mangatown is known for its diverse and extensive collections of high-quality manga comics. On the site, you don't need to sign up or register to read Mangas online; you must pick the comic and start reading immediately.
Mangatown is also great for finding classic comics dating from the 1990s. The site has a massive collection and could be an ultimate source for those seeking an authentic Manga culture experience.
9. MangaPark
MangaPark is one of the best manga scanlation sites on the list, often considered the best Mangastream alternative. The site is very similar to the KissManga site we have listed above.
The site has a diverse collection of classic and modern manga, and you can show only selected images per page. While the site doesn't ask you to sign up, you can save your favorite manga if you register.
The site's user interface deserves special mention, providing many color modes. You can easily switch colors from the top toolbar of the website.
10. MangaHere
MangaHere is the best Mangastream alternative on the list, which lets you read Manga online for free. The good thing about MangaHere is its advanced search option lets you browse free manga online in alphabetical order.
Almost every manga comic available on the site was available as a free read. You can also discover some of the best high-quality free manga on this site, such as Bleach Manga, Naruto Manga, One Piece Manga, and more.
MangaHere is also known for offering other variants like Korean Manga, Hong Kong Manga, European Manga, and more. Overall, MangaHere is a great Mangastream alternative that you can consider.
11. ZinManga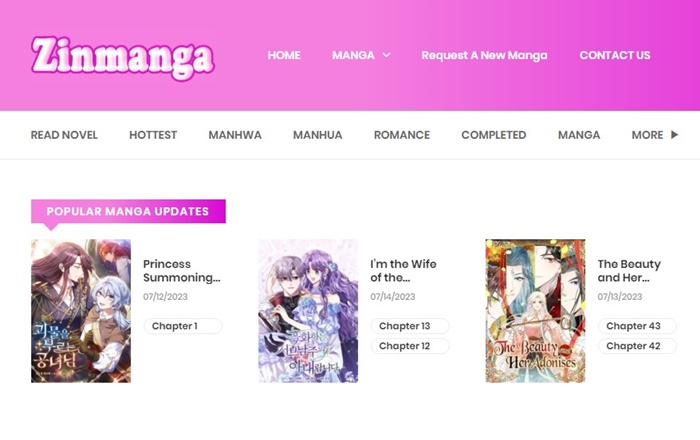 ZinManga is one of the best site like Mangastream to read free manga online. The site's user interface is well organized, and you won't have difficulty navigating to your favorite manga.
What we like about the site is its ease of use and compatibility with different web browsers. We tested this site in popular web browsers like Firefox, Opera, Safari, etc. The site loaded well on every browser.
While ZinManga may not have very popular content, it's a site worth checking out. There's also minimal presence of advertisements, so there are fewer distractions.
12. TenManga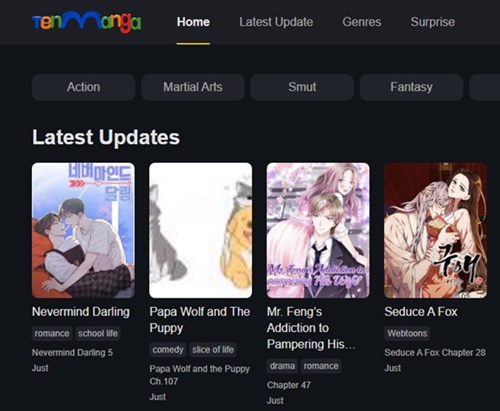 TenManga is not very popular, but it's still one of the best sites to read manga online. The user interface is not the most good-looking, but it's certainly easy to navigate and highly responsive.
Be it a smartphone or a computer; you can access the TenManga website from all sorts of devices. The homepage also has a Category section that you can explore to find & read your favorite manga.
What we like the most about this site is the interactive real-time search. Clicking the search button immediately opens a search box displaying the results as you type.
Important: Most of the Mangastream Alternatives listed in the article hosts copyrighted content. Due to this reason, we haven't shared the URLs. You may get many clones of the sites listed on the article on the web but stick with the original one.
Also, it's recommended to use a VPN service while using these sites. Even some websites in the article won't open until you use a VPN app.
So, these are some of the best free Mangastream alternatives you can use now. Almost every site we have listed provides free manga comics online. You must visit those sites and pick your favorite comic to read offline. Let us know in the comments below if you want to suggest any other Mangastream alternatives.