FM broadcasting is a method of radio broadcasting using frequency modulation (FM) technology. Invented in 1933 by American engineer Edwin Armstrong, this service is being widely used.
In the past, we have used FM radio devices to listen to the music from the broadcast frequencies around. But today, we can utilize our Android smartphone to listen to various radio channels.
List of 15 Best Radio Apps for Android Device
As of now, there are hundreds of Radio apps available for Android smartphones that lets you listen to different Radio channels.
Below, we have listed some of the best Android Radio apps that everyone would love to use. Let's check out.
This is one of the best radio apps that has been personally tested by me. This app lets you access the world of music and radio in one simple app.
With iHeart, you can listen to the AM and FM radio stations like Australia's KIIS 1065. The Edge, 2GB, and New Zealand's ZM, and more.
Not only that, but iHeart also allows you to stream songs from thousands of artists. Overall, this is a great radio app for Android.
Listen to your favorite radio stations for free with TuneIn Radio. With over 100,000 stations, TuneIn has the largest free selection of sports, news, music, and talk radio from around the world.
With TuneIn Radio, you can stream over 100,000 AM, FM, and internet radio stations broadcasting from 197 countries.
This is another excellent app for listening to the radio online. It provides listening on demand to your favorite news, comedy, sports, and talk radio shows and podcasts from NPR, CNN, Fox News, ESPN, This American Life, BBC, and more.
With Stitcher, you can stream or download episodes for offline listening. Stitcher also helps you discover interesting things to listen to from over 65,000 shows, based on your listening habits.
Pandora is a music streaming app that offers you millions of hand-picked songs. With the Pandora Plus subscription, you get the option to subscribe and enjoy personalized radio with ad-free music.
The Pandora Plus account provides unlimited personalized stations and podcasts, up to four stations for offline listening, unlimited skips, and more.
If you are searching for a perfect Android radio app to listen to hindi radio shows, hindi audiobooks, hindi FM Radio channels, then look no other than Pocket FM.
Almost all popular radio stations you can think of are available on Pocket FM. Also, the radio stations were made available in multiple languages.
Well, it's better radio for your workday. The app offers 1,000+ free customizable music radio channels, unlimited skips, incredible variety, and less repetition.
Users can choose from more than 50 different genres of music. The best thing about AccuRadio is it's 100% free.
With myTuner Radio, you can listen to live radio streaming from all over the world on your Android phone or tablet for free. You can listen to sports radio, news radio and music radio stations.
With myTuner Radio, you can listen to more than 50,000 radio stations from more than 200 countries and territories. Not only that, but you can even follow your favorite shows and more than 1 million podcasts.
Saavn is unlimited, free access to all your music and audio content: Bollywood, English, Hindi, and Indian regional songs, music, radio stations, and exclusive audio programming – wherever you go.
You can listen to expertly curated playlists or play the online radio for any mood, genre, song, or artist.
Well, if you are looking for an Android Radio app that comes with an excellent interface, then Audials Radio might be the best pick for you.
The great thing about Audials Radio is that it has over 80,000 radio stations, and you can also find numerous podcasts and recordings.
You might have already figured out this app by its name. As the app's name says, Simple Radio is a lightweight and straightforward radio app that you can use on your Android smartphone.
The great thing about Simple Radio is that it offers radio stations from all around the world. Not just that, but you can also search for any radio station in the search bar.
Dash Radio is another best Android radio app on the list which is heavily popular amongst Android users. The great thing about Dash Radio is that it provides users with lots of radio stations to choose from.
Guess what? You can also add Radio stations to your favorite lists. The app right now has over 75+ original live streaming stations, and it shows no commercials between songs.
RadioDroid 2 is another best Android radio app that grabs online radio lists from popular radio portals.
You won't believe it, but RadioDroid 2 right now has over 13,000 radio stations, and it also shows users the languages and the countries those stations are in.
Radio Online – PCRADIO is one of the best and most battery-efficient radio apps that you can use on your Android smartphone. Guess what? Radio Online – PCRADIO offers users hundreds of radio stations of different genres.
Not just that, but with Radio Online – PCRADIO, you can listen to all status in high quality even with slow internet speed.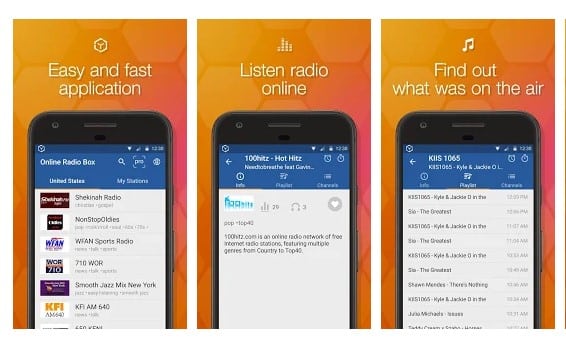 Online Radio Box is another best Android radio app available on the Google Play Store that you can use right now. The best thing about Online Radio Box is that it's a free app, and it provides playlists for most radio stations. In addition, the user interface of Online Radio Box is clean and well-organized.
If you are looking for an Android app to listen to FM radio, AM Radio, or the local radio stations worldwide, you need to give My Radio a try. It's a free radio app that lets you tune the radio easily.
As of now, the app allows you to access 50,000+ FM AM radio stations worldwide. You can even save your favorite radios with this app.
So, these are the best radio apps for Android. I hope this article helped you! Please share it with your friends also. Also, if you know of any other such apps, let us know in the comment box below.