Today we are going to share a useful post on safety. This post is compiled with 10 best Safety apps that you must install in your phone. These apps will help you out in many possible ways.
Here are the Best Safety Apps For Android 2017. In today's life presume a situation when you are single, traveling to a fascinating place in some isolated bus and you face an offensive situation. Or you are in Taxi and the taxi driver drives the taxi to the wrong place. In all these emergency cases, you will need a nourishment of your friends and your family. So preventions can be taken to counter such situations. So in this post, I will assure you the safety with these apps.
Also Read: 12 Best Android Hacking Apps
So in this post, I will assure you the Valid Safety Apps For Android. By this, anybody can easily send his/her location and numerous extra details to friends and relatives and by this, we can get safe from serious mishappenings. Also, in some medical emergencies, these apps will be very helpful and can even save a life.
10 Best Safety Apps You Must Have On Your Android Smartphone
By this, you can easily send an emergency message to your friends and family by simply shaking the mobile to the shaking deadline you set in the app.The main features of this app are listed below.
Also Read: 14 Best Calling Apps for Android You Must Have In Your Phone
App Features
A simple shake activates the SOS alerts
A text message and/or email are sent to your selected contacts with your name and a voice recording of the situation just after you shake your phone.
The exact location of a user is sent in the alert.
The battery level of your phone is sent in the alert.
These messages are sent at regular intervals which can be set, to help identify if the user is moving.
This is an another example of Best Safety App for Android. In the emergency, no one has the time to dial an emergency number. This app  lets a possible victim skip through the number-punching, and lets you push your power button twice to instantly send an SOS alert to contacts that you have set while installing the app on your Android device. Your contacts will get alert messages every two minutes, who will receive a message along with your physical location, which will get updated each time the message goes out from your Android in an emergency.
Also Read: How To Download Paid Android Apps & Games For Free (2 Ways)
This is an another good app for personal safety. This app works with a combination of friends added to it. This is a unique app that lets you combine to up to 6 close contacts in it. Also, the app has different notifications that the user can tap on to alert their circle of friends.And if you need a safe ride home or for a familiar face to turn up and take you away from a strange environment, this app will help send an alert to any of your 6 chosen contacts that you have set earlier while installing it. And also, this app can contact the authorities dealing with that emergency situations.
Also Read: 6 Best Free Recharge Android Apps To Earn Talktime
App Features
You're out late and you lose track of your friends. Use Circle of 6 to send your circle a "come and get me" message- with a map using GPS to show your precise location.
You're on a date that starts to get uncomfortable. You need a polite way to excuse yourself. Use Circle of 6 to alert your circle to call you and interrupt the situation.
You're seeing someone new, but you have some doubts about how things are going. Use Circle of 6 to access a wealth of online information about healthy relationships.
In critical situations, use Circle of 6 to call two pre-programmed national hotlines or a local emergency number of your choice.
New health and safety information at Scarleteen.com will be embedded into Circle of 6
Also read: Best Fitness Apps for Android That Will Help You To Get In Shape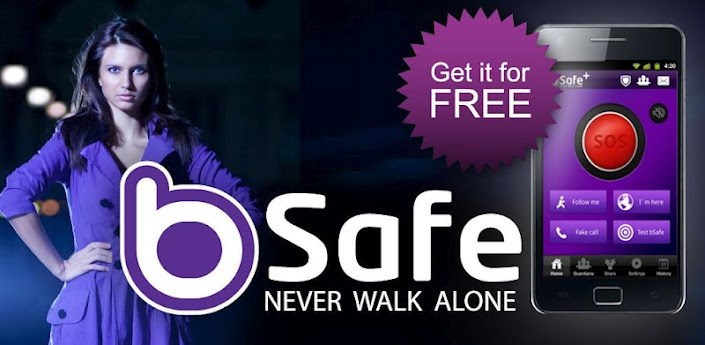 bSafe is not just an emergency app, it consists of characteristics that help to ensure everyday safety. It is an app designed to keep you in touch with your friends 24/7. It is packed up with lots of features that are necessary for real emergencies and safety. It has a GPS trace system which helps your friend track down your location.
App Features
Set up your own social personal safety network of friends, family, and coworkers
Share locations to find each other more easily (optional)
Ask friends to walk you home with Follow Me's live GPS trace, or help friends stay safer by walking them home from wherever you are
Use Timer Mode to program an automatic alarm that will trigger if you have not checked in time
Use I'm Here to tell selected people where you are right now
Use Fake Call to make the phone ring when you want it to. You can even define who the call should be from
And in case you are ever in trouble, the Guardian Alert button will immediately notify your friends and family members that you need help, and let them know where you are (GPS) and what's happening (video). It will even set off a siren (optional)
Also Read: Top 10 Best Android Apps 2016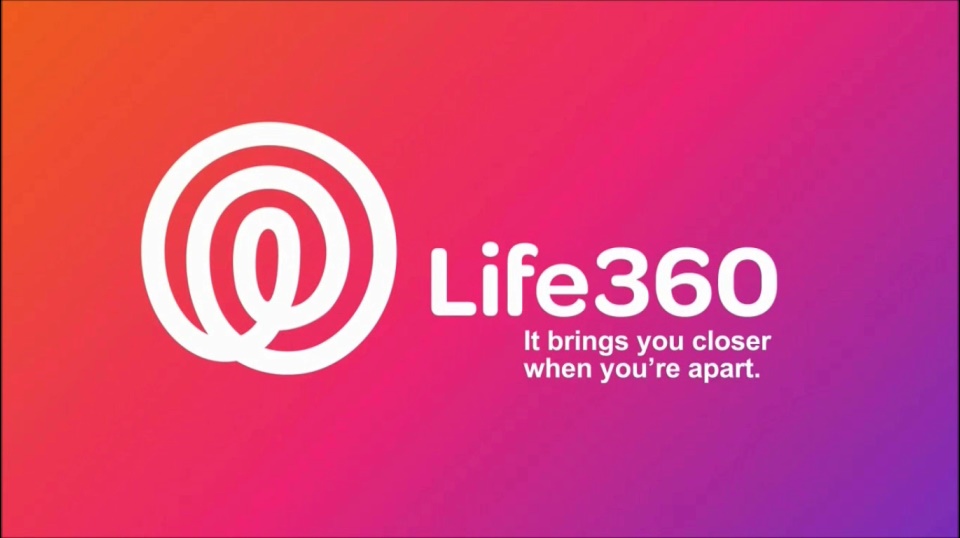 This is the best app for personal safety and is the one of the Best Safety App for Android. This app permits you to create circles, add people to them and examine their locations on a confidential map which can be of your family members. And by this way, you'll be able to always keep track of your family members and confirm that they're safe. Also, you can share your location with them, or send an alert to your circle members at any instance.
App Features
Family Tracker Offers Real-Time Location Data
GPS Tracking of All Circle Members
The best GPS Tracking App
GPS Tracking to find Friends and Family.
Reliable Cell Phone Tracker
Phone Tracking for Family Members With Feature Phones
Also Read: Top 10 Best Root Apps 2016 for Android
#6 Nirbhaya: Be Fearless
Nirbhaya: Be Fearless©" An App that can be used in any type of emergency to
protect women, children and your near & dear ones using a "Single" click Distress signal. It can send a distress call or emergency message to a specified contact or group in an emergency situation faced by a woman or any other individual in general.
App Features:
Create Geo Fence at current location or at any other location and keep your
friends and family informed.
The user will be able to mark their current location or any other on the map as safe or unsafe.
Pressing of power button – sends SOS message to the group selected and saved in the App.
Shake your device to send an emergency message even if the phone is locked, to a group of contacts as assigned to the SOS key.
Be ready for an earthquake with Earthquake by American Red Cross. Get notified when an earthquake occurs, prepare your family and home, find help and let others know you are safe even if the power is out – a must have for anyone who lives in an earthquake-prone area or has loved ones who do.
App Features:
Easy to use Spanish language toggle to switch translation directly inside the app.
Step-by-step instructions let you know what to do even before/during/after an earthquake, even if no data connectivity.
Get notified when an earthquake occurs; see the intensity impact to your area or those of loved-ones with notifications generated by the United States Geological Survey (USGS).
Let family and friends know you are okay with the customizable "I'm Safe" alert for Facebook, Twitter, email and text.
Also Read: How to Stop Android Apps from Running in the Background
It is the best app to get notifications when an earthquake occurs, prepare your family and home, find help and let others know you are safe. You can share your reports if you felt it to USGS.
Features:
Tab between map and list
Latest quakes in the World.
Filter what you see
Click quake to view on map
Map shows magnitudes
View details on USGS site
iCare Health Monitor could measure blood pressure, heart rate, vision, hearing, SpO2, breath rate by the phone. iCare Health Monitor is designed for people to measure the following physiological parameters: blood pressure, respiratory rate, heart rate, oxygen, vision, hearing, lung capacity, emotion, Autism-spectrum, color blindness, pulse wave, Psychology and other physical data.
Features:
Blood pressure measurement
Heart rate measurement
Blood oxygen measurement
Respiratory rate measurement
Vision measurement / Eye Test
Hearing measurement / Hearing Test
Lung capacity measurement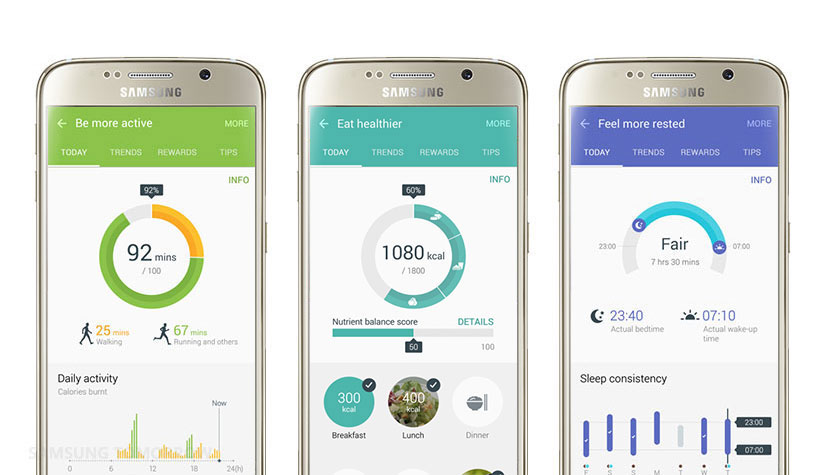 S Health provides core features to keep up your body fit and healthy. It will record and analyze your daily activities and habits to help maintain successful diet and lead the healthy lifestyle. It is the great app when turns out to be the safety because users can search for their health issues and can get appropriate results for them.
Features:
Trackers enable a user to easily and quickly check meaningful data based on user preferences.
Manage your fitness activities, track your weight and monitor your diet using Samsung Galaxy and Gear devices.
Compete with your friends and check your ranking.
Check daily health news of your preference with the customized news feed.
So above are the Best Safety Apps For Android. These apps can help you in many cases like in any medical emergency, abuses on women, Kidnaps or in accidents. you just have to press some button or shake you Android and a help message will send to your family and to your friends. And also your voice will be recorded in that situation and the exact location will be sent to your natives discreetly even by not owning to look on your phone by some of the apps listed above. This post can save a life so don't forget to share this helpful post. As Sharing is Caring. Leave a comment below about your experience with this app.