These days, smartphones pack excellent cameras. With such high-end camera specifications, you can capture perfect portraits, panoramas, etc. Not only that, but you can even scan documents in high quality by using OCR apps for Android.
Plenty of document scanner apps are available on the Google Play Store that can scan through any document. Not only that, but some of the document scanners also offer powerful editing and converting options.
List of Best Scanner App For Android To Scan Documents
This article will share a list of the best Android apps to scan documents. Some of these apps even come with OCR support. So, let's explore the best scanner apps.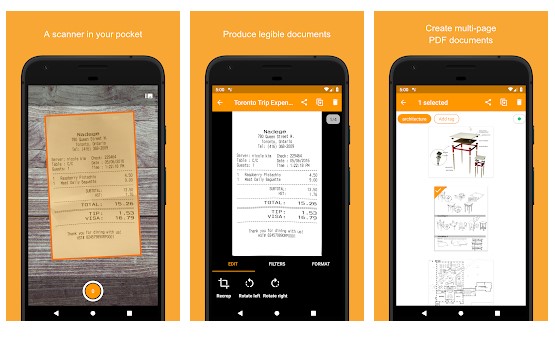 Genius Scan is probably the best document scanner app available for Android smartphones. The great thing about Genius Scan is that it offers many smart scanning options. After scanning a document, you get the option to remove the background, distortion correction, remove the shadows, etc.
Apart from that, Genius Scan also supports batch scanning and PDF creation options. Overall, Genius Scan is a great app for scanning documents on an Android smartphone.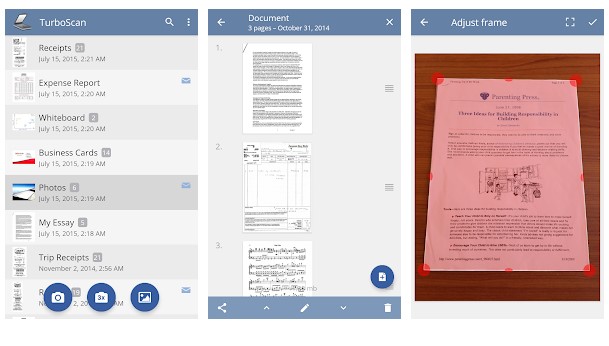 If you are searching for a free and full-featured scanner app for your Android device, look no other than TurboScan. Although TurboScan also has a premium version, most document scanning-related features were available on the free version.
What makes TurboScan more incredible is its 'Sure Scan' feature. The feature scans even hard-to-read documents very quickly. Apart from that, you also get lots of PDF editing features.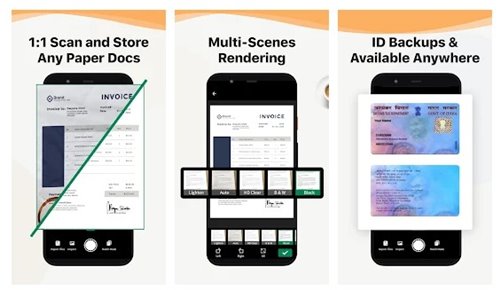 OKEN – CamScanner is one of the best and powerful document scanner apps that any student can have. The application lets you scan anything you need, including receipts, contracts, paper notes, fax papers, books.
After scanning a document, OKEN – CamScanner provides you an option to store the scans as multipage PDF or JPG files. It also allows you to scan multiple pages into one document, recognize texts on documents via OCR technology, and more.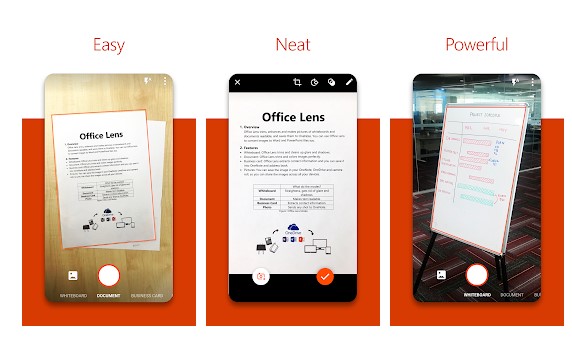 This app trims, enhance, and makes pictures of whiteboards and docs readable. You can use Office Lens to convert images to PDF, Word, and PowerPoint files, and you can even save images to OneNote or OneDrive.
The powerful OCR feature of Microsoft Lens also allows scanning printed text or handwritten meetings notes. Moreover, after scanning text, you get the option to edit and share it with other apps.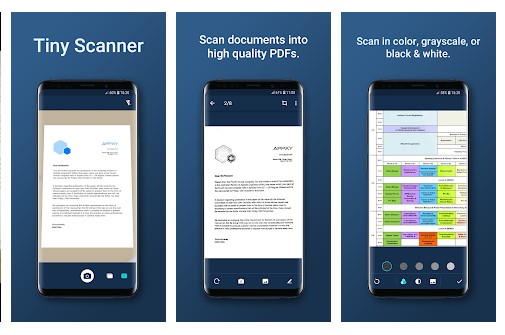 Tiny Scanner is a little scanner app that turns Android into a portable document scanner and scans everything as images or PDFs. With this pdf document scanner app, you can scan documents, photos, receipts, reports, or just about anything.
This pdf document scanner app is lightning fast and gorgeously designed for both phones and tablets.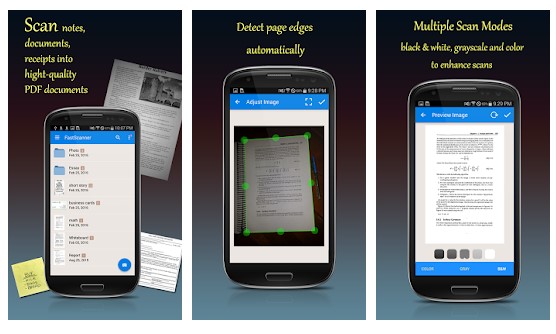 This app turns your Android devices into multiple pages scanners for documents, receipts, notes, invoices, business cards, whiteboards, and other paper text.
With Fast Scanner, you can quickly scan your document, then print or email them as multiple pages PDF or JPEG files. Moreover, you can save the PDF files to your device or open them in other apps.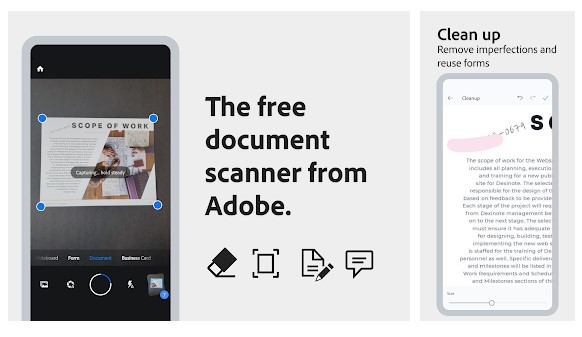 Adobe Scan is one of the leading PDF scanners with an OCR app for Android. The app turns your Android device into a powerful, portable document scanner. With this app, you can scan any notes, documents, forms, receipts, images and convert them into PDF files in just a few taps.
Adobe Scan is extremely easy to use, and it also offers batch scanning options. It also allows you to send your scanned files via email or upload them to the cloud.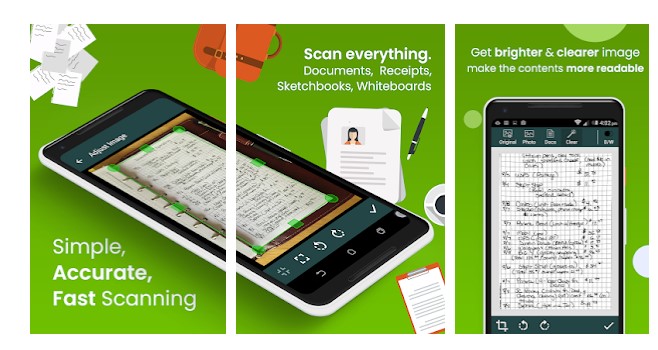 With the help of Clear Scan, you can quickly scan any documents in your office, images, bills, receipts, books, magazines, class notes, and anything that needs to be there on your device within no time.
This is the fastest means to get the scanned document in the highest quality and convert it immediately into PDF or JPEG format.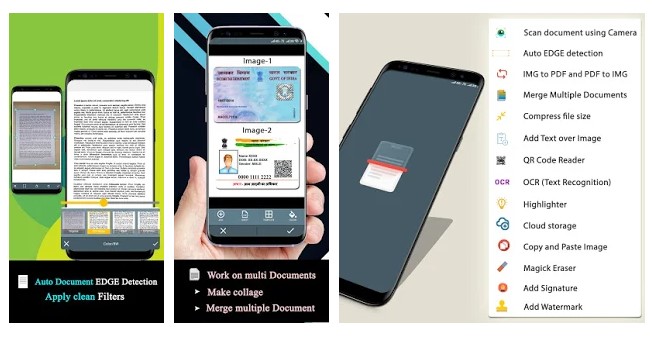 The Document Scanner is a one-stop solution for scanning documents. You will get the enhanced quality of the scan. The document scanner also features a few more options like smart cropping and much more.
You can also optimize your PDF files into modes like Lighten, Color, and dark using Document Scanner.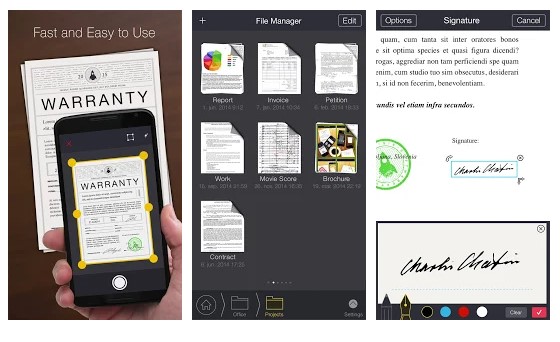 If you are looking for the best scanning app that is easy to use and doesn't consume much processing power, then the My Scans app is for you.
This app is super simple to use; you need to click the photo of a document, invoice, business card, bill, etc., and the app will do the rest to convert it into a PDF document.
Scanning documents on Android is pretty easy; you just need to use the right apps. All of the apps that we have listed can scan documents for free. I hope this article helped you! Please share it with your friends also. If you know of any other such apps, let us know in the comment box below.