If you ask anyone about the best social networking sites, they will probably say Facebook, Instagram & Twitter. Facebook & Instagram apps come under the social networking section, but Twitter wears many different hats.
You will find the Twitter app listed under the 'News' section on the Google Play Store or iOS App Store, but at the same time, Twitter is also a house of the internet's most popular memes. Twitter is a platform where one can express themself with a minimum number of words.
The official Twitter app for Android has introduced many features in recent years, but it lacks a few important ones. So, to fulfill those lacking features, Android users can use some of the best Twitter apps available on the Play Store.
List of Best Twitter Apps For Android
So, in this article, we will share some of the best Twitter apps for Android that are available on the Google Play Store. These apps are different from the official Twitter app, bringing in many essential features. So, let's explore the list.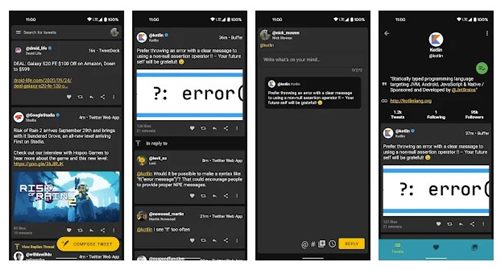 If you are searching for an Android app that could help you enhance your Twitter experience, give Albatross for Twitter a try. It is an ad-free Twitter client that will present your Twitter feed in a beautiful Material design, fluid animations, and more.
When it comes to the features, Albatross for Twitter has all features you can think of, such as list support, sorting by notification type, and more. It also supports all major media file formats that Twitter uses.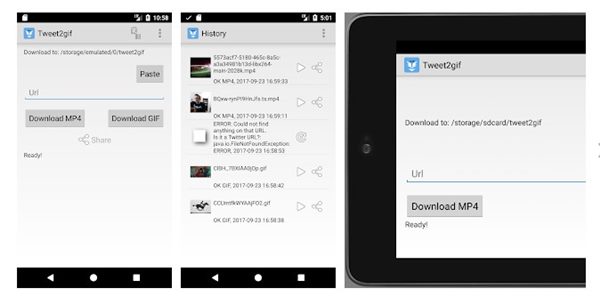 Well, Tweet2gif is not a regular Twitter app for Android; it's an app that lets you download videos and GIFs from Twitter. With Tweet2gif, you can easily download a video that is displayed inside a tweet.
Other than that, Tweet2gif also records all files you have downloaded, supports x86 and arm architectures, and more.
3. Fenix 2 for Twitter
If you are searching for an Android Twitter app that provides a fresh and modern Twitter experience, then Fenix 2 for Twitter might be your best pick.
Guess what? Fenix 2 for Twitter has support for multiple accounts, and it offers a fully customizable interface. What makes the app more impressive is its gorgeous conversation layout.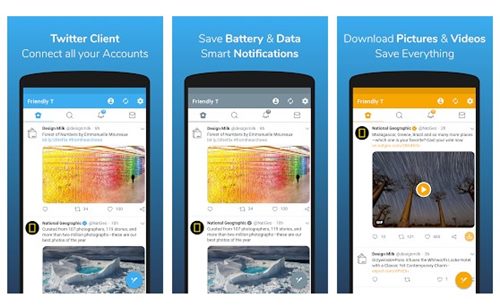 Friendly For Twitter is a Twitter client for Android that lets you download media files. The media downloader of Friendly For Twitter can download videos, gifs, or pictures shared on your Twitter account.
It also has a battery saver mode that turns off all notifications and animations to reduce the battery impact. The app doesn't put any restrictions on adding Twitter accounts. That means you can add as many Twitter accounts as you want.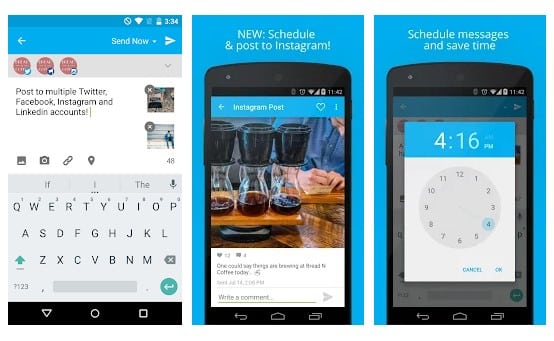 Well, Hootsuite is slightly different than all others listed in the article. It's a social media management app that tracks multiple social network accounts. With Hootsuite, you can quickly check your Twitter, Facebook, Instagram, Linkedin, and other social media accounts.
Apart from checking the accounts, Hootsuite lets you post to multiple networks simultaneously. Hootsuite is available in two versions- Free and Premium. The premium version of Hootsuite allows you to access the complete list of features.
If you are searching for an open-source, fully-featured Twitter app for Android, look no other than Twidere.
The Twitter app for Android has a 100% material design, and it removes ads and promotions from your Twitter timeline. It also has awesome features like scheduling tweets, mute people with filters, night mode, fully customizable tabs, etc.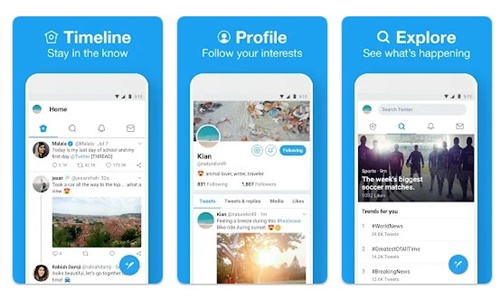 This one is the trimmed-down version of the official Twitter app. Twitter and Twitter Lite render the same UI, but only the features sets are different.
On Twitter Lite, everything is lightweight, but you can switch to the Night Mode. Despite being trimmed down, Twitter Lite doesn't miss key features like Moments, Bookmarks, etc.
So, if you have a low-end smartphone and RAM management is an issue, Twitter Lite could be an appropriate option.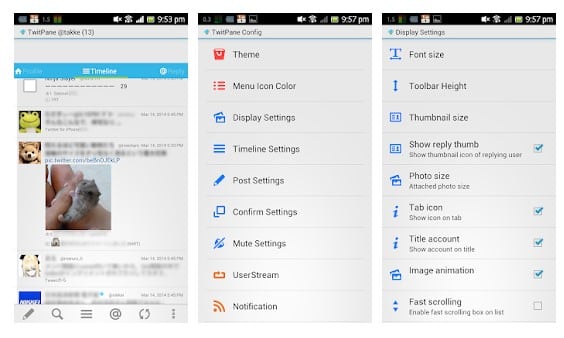 Despite being a lightweight app, TwitPane for Twitter offers users some powerful features. With TwitPane for Twitter, you can easily manage up to 3 accounts on the free version.
Not just that, but users can also upload multiple photos & GIFs to Twitter at once through the app. Apart from that, it has almost everything that you need to manage your Twitter account.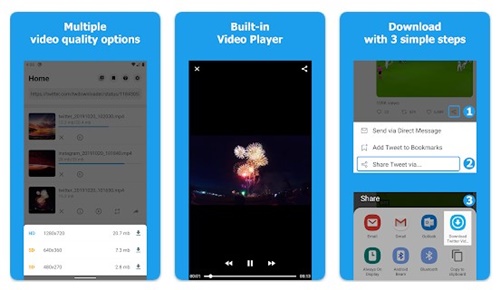 This is an app that lets you download videos and GIFs from Twitter. Download Twitter Videos is not exactly a Twitter app, but it's something that could be very useful to all Twitter users.
Download Twitter Videos can download all sorts of videos from the Twitter app. You must open the Twitter app and locate the video you want to share to use it.
Just below the video or GIF, click on the Share icon. On the Share menu, share the video/GIF to the Download Twitter Videos App. The app will start to download the Twitter video in no time.
10. Owly for Twitter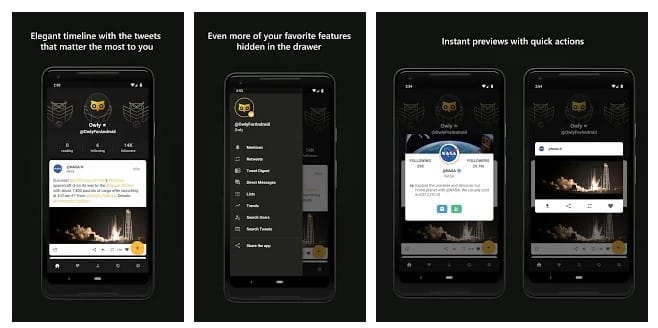 Owly for Twitter is a relatively new Twitter app on the Google Play Store that provides users with many useful features. Owly for Twitter lets you stay updated with the latest trends and news.
Apart from that, Owly for Twitter also offers some advanced Twitter management tools which can be used to clean out the timeline. The app also provides a few customization options as well.
These are the best Twitter apps for Android that you can use right now. If you know of other such apps, let us know in the comment box below. I hope this article helped you! Please share it with your friends also.