It's no doubt that Android is right now the most popular mobile operating system, but if any other mobile OS that's capable of competing with Android is iOS. iOS is right now the second-best mobile operating system, which powers only Apple devices.
Like Android, iOS has a massive app ecosystem, and you will find apps for every different purpose on the iOS app store. Some of the apps were meant to utilize the iPhone to its maximum capacity, which we call utility apps.
10 Best Utility Apps For your iPhone
We have already shared a list of the best utility apps for Android, and today we will share the same list for iOS devices. So, let's check out the best utility apps for the iPhone.
Dark Sky is a weather app for iPhone that sends you the most accurate weather alerts. To show you the most accurate weather information, Dark Sky uses your iPhone's GPS functionality to detect your exact location.
The good thing about Dark Sky is that it offers you a few advanced notification settings. You can set the app to send you weather alerts before it starts raining at your exact location or get notified of severe weather alerts. Overall, Dark Sky is a utility app that will help you plan or re-plan your important events.
If you are looking for an iOS app to automate your favorite apps and devices without any coding, IFTTT might be the best pick. As of now, IFTTT lets you combine over 700 popular services to automate almost everything in your life.
You can use this app to create an automation job for certain things such as backing up your photos to cloud storage, saving all your tweets to Evernote, sharing Facebook status updates on Twitter or Tumblr, etc.
Truecaller is one such app you will never regret having on your iPhone. Truecaller is an app that helps you identify and block spam calls or SMS, search for unknown numbers, call and chat with friends, etc.
Truecaller provides more accurate information about the caller than other caller identification apps. You can use it to detect spam, fraud, or Robocalls even before picking up the calls.
Other than that, Truecaller also offers you a few other useful features, such as a powerful dialer, smart messaging options, and more.
1Password is one of the best and most popular password manager apps available on the iOS App Store. The best thing about 1Password is that it helps users to generate and save strong passwords.
Not just that, but 1Password can also sync your saved passwords across different cloud services.
If you are looking for an iPhone app to manage data consumption accordingly, then My Data Manager & Security might be the perfect pick.
Guess what? My Data Manager & Security allows users to restrict apps that consume internet data. Not just that, but the app also shows a brief overview of how much data each app consumed.
Fing is a network scanner app that will provide you with a complete overview of your WiFi network's connected devices.
The app is mainly used to find devices connected to your WiFi network. It gets to the connected device and pulls important information like the device name, MAC address, and IP Address.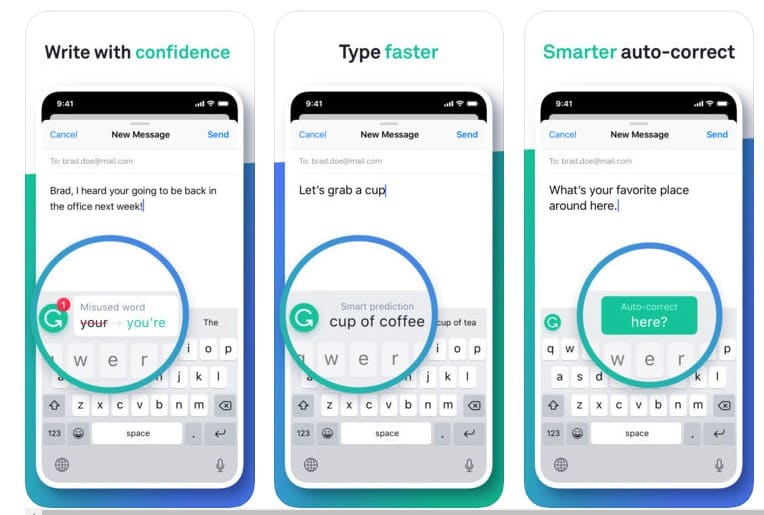 Grammarly Keyboard is one of the leading keyboard apps available for both Android and iOS devices. Compared to other keyboard apps, Grammarly offers some more features.
It's not a keyboard app that focuses on the look; instead, it focuses on improving users' grammar. The functions of Grammarly Keyboard include spell-checker, grammar-checker, auto-correction, etc.
CamScanner is an iOS app that you can use to scan, store, sync, and collaborate on various devices. It's basically an OCR app that's available for both Android and iOS devices.
Students widely use the app to scan important study notes, assignments, and other types of documents.
Are you looking for the best note-taking app for your iOS device? If yes, then Evernote might be the best pick for you.
Guess what? Evernote is one of the leading note-taking apps available for Android and iOS that syncs data between devices. With Evernote, you can stay productive for sure.
Pocket is another useful app for iOS that allows users to save the latest news, magazines, and everything they read or see on the internet.
The app can really help you be more productive because it saves all essential things for later use. Not only that, but Pocket can also read articles in different languages.
Also read: How To Download Paid iPhone Apps For Free Without Jailbreak
So, these are the best utility app for the iPhone which can boost your productivity. If you know of any other apps like these, let us know in the comment box below. I hope this article helped you! Could you share it with your friends also?