Android vault apps were the one that keeps your private data including photos, videos, messages, apps, etc. safe from prying eyes. Vault apps for Android provide a private space to store the most important things. Once stored, the user should input the correct password to reaccess the files.
There are plenty of vault apps available on the Google Play Store. Vault app could be of different types, such as calculator or calendar, to make it harder to detect. This article has decided to share some of the best vault apps for your Android smartphone.
Also Read: 10 Apps To Capture Photos Of Intruders On Your Android Device
List of 10 Best Vault Apps For Your Android in 2021
All apps were available on the Google Play Store, and they are free to download and use. These vault apps could help you hide Photos, Videos, Apps, Messages, call logs, etc. So, let's check out the best vault apps for your Android device.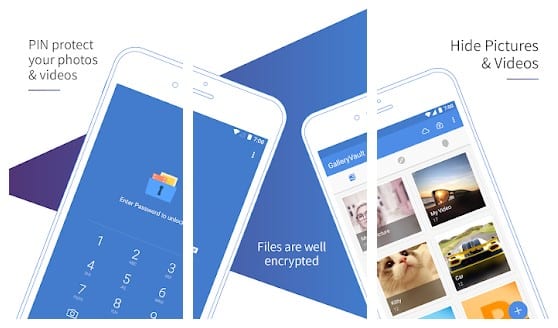 Gallery Vault is another best Android app that you can use to hide your images and videos. As the name says, Gallery Vault only hides the photos and video content. Apart from that, the app also offers a browser, break-in alerts, and file encryption. You need to install the app and store all the photos and videos. The media content will not appear on your phone's default gallery.
Keepsafe Photo Vault is another best photo vault app that you would love to have on your Android smartphone. The great thing about Keepsafe Photo Vault is that it offers military-grade encryption that secures your photos with a pattern, PIN, or fingerprint. Not just that, but Keepsafe Photo Vault also offers a private cloud where you can store photos to free up some storage.
Vault is another best app on the list designed to hide your private pictures, videos, call logs, SMS, etc. Not just that, but Vault can also hide your contacts as well. It's a multi-purpose app that has been made by keeping privacy and security in mind. The other features of Vault include an incognito browser, cloud backup, etc.
Well, if you are looking for an easy to use yet powerful photo & video hiding app for your Android, then Vaulty might be the perfect pick for you. The great thing about Vaulty is that it allows users to hide files from the gallery with a password. Not just that, but Vaulty also captures the images of intruders who try to access your Vault with an incorrect password.
Andrognito is the last vault app on the list, slightly different from all others listed above. The great thing about Andrognito is that it creates two vaults – Fake and Real. The real one is to store your private files, including images and videos, whereas the fake one is to deceive intruders.
Calc Vault is another best Android vault-app that hides as a calculator app in your app drawer. Like all other vault apps for Android, this one also allows users to import videos and image content and locks them until they enter the correct passcode on the calculator interface.
Do you like the concept of the Calculator vault? If yes, then you will also love Clock – The Vault app for sure. This is one of the best privacy protection apps you can use to keep your private photos, videos, or any other safe and secure file. What makes the app more interesting is its ability to replace the clock icon with other icons like calculator, weather, music, etc.
If you are searching for a vault-app that arrives with a great interface and lets you hide media files, then Hide Something might be the best pick for you. With Hide Something, you can hide pictures and videos from your gallery. The latest version of hiding Something also got a unique feature that allows users to browse the phone's invisible photos & videos in a desktop browser.
LockMyPix is another best photo & video vault app on the list which lets users encrypt and secure personal photos and videos with AES encryption. The app also offers a fake vault, which can be useful when someone forces you to open the app. Apart from that, you can also make LockMyPix fully invisible.
Memoria Photo Gallery is basically a gallery app which comes with some security feature. The Memoria Photo Gallery's security feature includes a vault that can be used to hide your photos & albums. You can protect the vault with a PIN, Password, or Fingerprint protection. So, Memoria Photo Gallery is definitely the best vault app that can be used on Android smartphones.
Can I hide photos with these apps?
Yes, you can easily hide photos with these apps. Not just photos, but these apps can be used to hide videos, PDF, and other file types too.
Are these apps safe to use?
Yes, these apps were available on the Google Play Store, and they are completely safe to use.
So, these are the best Android vault apps that you can use right now. If you know of any other similar apps like these, let us know in the comment box below.