Now that most of the torrent sites have been shut down by the authority, finding a working torrent site is challenging. Torrent sites still exist, but it's hard to find them. Even if you find an active torrent site, you need to have a reliable torrent client.
Many torrent clients are available on a desktop computer, like uTorrent, BitTorrent, etc., which allows users to download torrents at super fast speed. However, thing changes when it comes to Android. On the Android mobile operating system, there are comparatively lesser choices available.
On Android, users often rely upon the Vuze app to download torrents. However, Vuze is not the only torrent client available on the internet, and there are lots of apps like Vuze available on the Google Play Store. You can use those apps to download torrent files with maximum download speed.
List of Best Vuze Alternatives For Android
Here in this article, we will explore some of the best Vuze alternatives for Android, which can be used to download torrent files. So, let's explore the best apps like Vuze.
If you are looking for an open-source torrent client for Android, look no other than BiglyBT. Like every other torrent client, BiglyBT lets you download and manage your torrent files.
You can see the progress, peers, and stats while downloading a torrent. Other than that, BiglyBT also lets you control other BiglyBT and transmission RPC compatible desktop torrent clients.
BitLord is different from all other torrent clients listed in the article. The torrent client allows you to stream video and audio torrents without downloading the whole content.
So, it's basically an app that lets you stream torrent content without downloading. It also offers other features such as file sharing, an integrated media player, subtitle support, etc.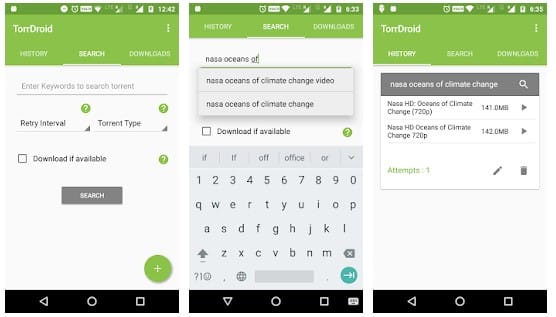 TorrDroid is one of the most advanced torrent clients available on the Google Play Store. It's a torrent client cum search engine that features a hassle-free way of searching and downloading torrents.
That means, with TorrDroid, you no longer need to visit the torrent sites to download the torrent files manually. TorrDroid also offers every other feature you expect from a torrent client like a media player, magnet support, bandwidth management, etc.
This is one of the top-rated torrent clients on the list available for both Windows and Android operating systems.
Compared to every other torrent client for Android, uTorrent offers more features. For instance, you can add your own torrent trackers to enhance the download speed, modify the download speed, etc.
It's one of the best Vuze Alternatives for Android available on the Google Play Store. Compared to Vuze, BitTorrent offers less features, but it's heavily popular.
The only thing that makes BitTorrent popular is its user interface and ease of use. Other than that, all other features that the app offers are flawed. The torrent client is ad-supported and it shows many ads which slow down the downloading speed.
As the app's name says, tTorrent Lite is one of the best lightweight torrent clients that Android users would love to have.
The great thing about tTorrent Lite is that it offers users many features, including Magnet link, file browser, multiple color modes, etc. It's also one of the fastest torrent clients you would love to use.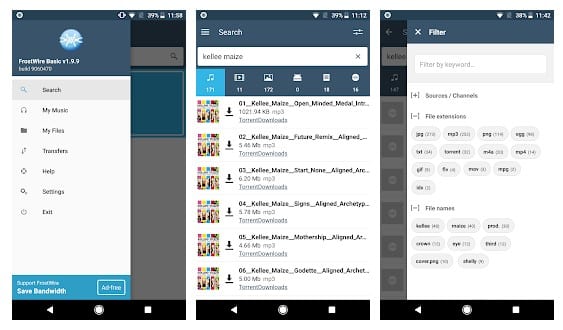 FrostWire is both a torrent client and a music player app for Android. Guess what? The Android app requires less than 20MB of space to install on your device.
This is what makes the app extremely lightweight. Despite being lightweight, FrostWire doesn't miss out on any essential torrenting features. It has a built-in torrent search, media player, magnet link support, etc.
Well, aTorrent is another interesting torrent client on the list known for its material design user interface. In fact, it was the interface that makes aTorrent stand out from the crowd.
Apart from that, the torrent clients for Android offer many features like WiFi-only mode, file browser, etc.
It's probably the best Vuze alternative on the list that every torrent user would love to use. Just like all other torrent clients, WeTorrent also supports magnet links, wifi-only mode, etc. Apart from that, WeTorrent offers better downloading speed compared to its competitors.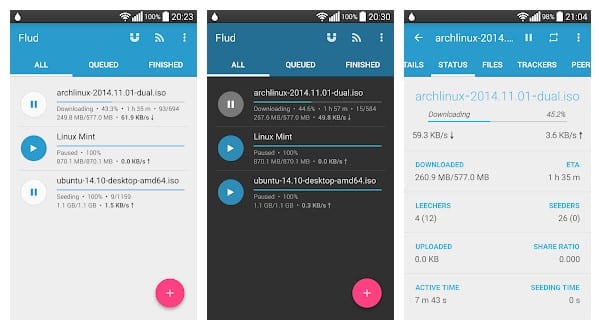 If you are searching for an easy-to-use torrent client for your Android smartphone, your search should end here. Flud is one of the top-rated torrent clients available on the Google Play Store. The app is known for its user interface.
It also offers a few customization options like multiple themes, dark mode, etc. Apart from that, it has all features that torrent user needs.
So, these are the best Vuze alternatives for Android that you can use right now. With these free torrent clients for Android, you can easily download and manage your torrent content. Most of the apps we have shared supports magnet links.