It doesn't matter how capable your Android camera is; if you don't have skills, you can't click perfect pictures. Taking a perfect picture through a smartphone's camera can be difficult, but once you have clicked the ideal image, you want to ensure that no one else takes the credit.
To ensure such things, we need to use Android watermark apps. There are countless reasons why anyone would need an Android watermark app. Watermark apps for Android can help you when you want to sell the images online, publish them in a public forum, etc.
Since the app availability is high on Android compared to all other mobile operating systems, you can find many watermark apps on the Google Play Store. If you are also searching for the best Android apps to watermark your images, then here we will share some of the best Android watermark apps.
Best Watermark Apps For Android
Not just watermarks, but these apps will also allow you to add your logo to the image. So, let's explore some of the Android Watermark Apps.
Visual Watermark is a relatively new Android app on the list that allows you to add multi-line text or logo to images in bulk. The app doesn't provide you with a watermark template, but it provides all ingredients you would need to create an eye-catchy watermark for your images.
You get the option to choose a logo from a collection of 60 neat-looking icons, 1000+ fonts, and more. Overall, Visual Watermark is an excellent watermark app for Android smartphones.
As the app's name says, Video Watermark is an Android app that allows you to add Watermark to your videos. With Video Watermark, you can create your own Watermark and place it on your videos.
After creating and adding Watermark to videos, you get the option to adjust its position, size, hue, and more. So, if you are looking for an Android app to add Watermark to videos, Video Watermark could be a perfect pick.
SALT is a full-fledged photo editing app. You can use this app to add text to photos, crop and resize pictures, add watermarks to your videos, etc.
Compared to other watermark apps for Android, SALT is pretty easy to use. It also offers basic photo editing features like adjusting the brightness, contrast, etc.
As the app's name says, Photo Watermark is another best watermark app you can use on your Android smartphone. With Photo Watermark, you can easily add digital watermarks to the images.
Not just that, but Photo Watermark also allows users to select the transparency level. Photo Watermark also provides users with hundreds of text fonts and png stickers, which you can use to create a watermark.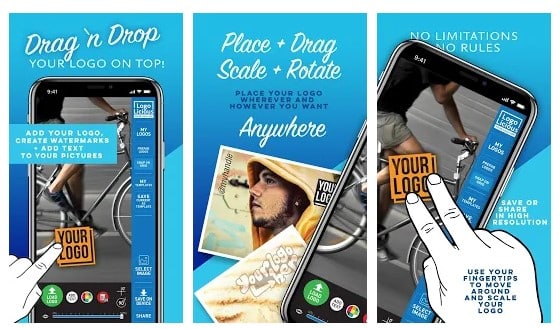 With LogoLicious, you can effortlessly add your logo, watermarks, and texts to your images. It's an entirely free app, free from any annoying ads.
What makes LogoLicious more unique is that it allows you to save the edited files as a template. You can use the same setup (logo + text) on your future projects.
As the app's name says, Add Watermark Free is another best free Android watermark app on the list, which provides users with lots of watermarking features.
To create a logo, Add Watermark Free provides users with more than 70 built-in fonts, stickers, etc. Not just that, but the app also allows users to download the created logo in png (transparent) format.
With this app, you can watermark your photos right from your phone. The app provides users with a wide range of custom text watermarks, watermark patterns, and much more.
What makes the app more useful is its batch processing features that can watermark hundreds of photos at once.
Watermarkly is a relatively new app on the Google Play Store that lets you add a logo, text, or both to your image in a couple of minutes.
It's an app that helps you put a watermark on images. It also includes a toolkit with every feature you need to create your watermark.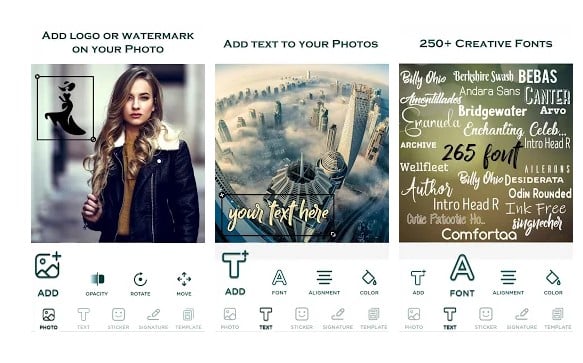 Watermark From ZippoApps is a relatively new Android watermark app available on the Google Play Store. Like all other watermark apps, Watermark From ZippoApps also allows users to create effective watermarks by adding their photos. Not only watermarks but the app can be used to create signatures also.
iWatermark Free Watermarking is one of the best and top-rated Android watermark apps available on the Google Play Store. Like all other watermark apps, the app allows users to select their images to create watermarks.
Apart from that, the app also provides users with more than 157 text fonts. However, the free version of the app adds a 'created with iWatermark' tag on the watermarks.
So, these are the ten best watermark apps for Android devices. With these free apps, you can easily add a watermark to your photos or videos. If you want to suggest us any other watermark apps, let us know in the comments.