Here are the 3 ways that you can try to play audiobooks in your iPhone using some of the best apps that will help you to do so. So below are some of the best ways that can be used to lay Audiobooks on iOS Devices.
[dropcap]E[/dropcap]very person using iPhone or iPad is too much familiar to iTunes media player. This is the default Audio book player provided by Apple store but now they also assign iBooks for the same task. It can be a puzzle decision for those who consider audio books as listening and books as reading. You prefer to use iTunes to play audio books to the limit such as these files are in mp3 format and are locally stored in your iPhone or iPad.
Also Read: How To Schedule Whatsapp Messages On iPhone
Best Ways to Play Audiobooks on iOS Devices
Below are the alternatives that you can try in your ios device to play the audio books easily and in the better way than the traditional method you use.
Also Read: How To Remove Duplicate Contacts From iPhone
#1 Using Audible App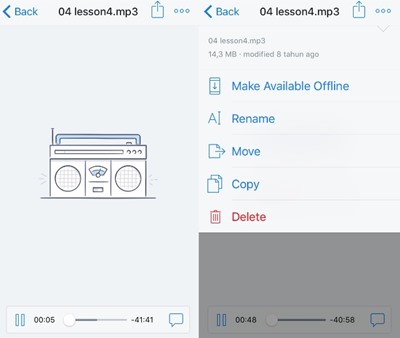 Another professional alternative audiobook player is Audible i.e free. This app depends on two things: first is on the ones that you have stored in your phone and the other is the items that you bought from Audible stores. By this, the app will be downloaded and keep audio books locally so that you can choose easily to listen one.
Also Read: Best Hidden iPhone Secret Codes 2016
#2 Using Cloud Services
If you want to store your audiobook files in cloud such as: Dropbox and play them on your iOS device. For this, the cloud provides you the flexibility to store the files in one place and can listen them from multiple devices without switching to your device with millions of file. What to remember is ,you need to have a fast and reliable internet connection for the flow of media files properly.
The first latest app is Dropbox i.e free. You can store your audio book files in your Dropbox folder, by just opening the files from the Dropbox app's file browser window. – single file at a time. The only point to remember is the files are DRM-ree audio files. You can download these files locally so that you can play them offline too.
Also read: How To Browse Securely In iPhone
#3 Using VLC Player
Another way you can try is VLC for mobile. Particularly, it is a all around media player but not an audio book player. Even then you can use it to play audio book files. Another benefit of using VLC is to connect several cloud services as Dropbox, Box, Google Drive Box, One Drive. It seems that the app can't start to play from the last position that you left off.
Also Read: How to Edit Tracks in Music Memos for iPhone
So , above are the Best Ways to Play Audio-books on iOS Devices. Use all the above ways and you can easily play Audio books in better way in your ios device. Hope you like the guide do share with others too. Leave a comment below if you have any related queries with this.