The old smartphones that you have with you could be of great use. You can use them as a music player, calculator or convert them into a webcam. Yes, you can quickly turn your old Android smartphone into a security camera or webcam for your PC.
You can convert your phone into a webcam very quickly. In the Google Play Store, you can download apps that turn your phone's camera into a webcam in no time. This saves you the expense of buying a new webcam.
Also Read: How To Use Android Phone Camera as Webcam for PC
List of 5 Best Webcam Apps to Turn Your Android into a Webcam
Hence, in this article, we will list down some of the best Android apps that convert your phone into a webcam. So, let's check out the best webcam apps for Android devices.
Important: Most of the apps listed in the article require a client installation on your computer. Check out the apps.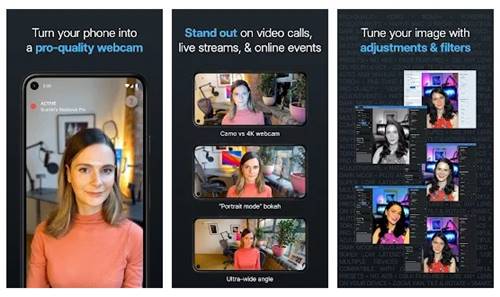 The version of Camo for Android is finally available now after debuting on iOS. It's an app for Android devices that enables you to use your smartphone's camera as an HD webcam on the platforms like Zoom, Teams, OBS, Skype, Twitch, etc.
The app supports more than 30 video calling platforms, and among them, the mentioned are the most popular ones. The Camo studio app that you will run on the computer offers various features.
The desktop client gives you full control over your video without the need to fiddle with your phone.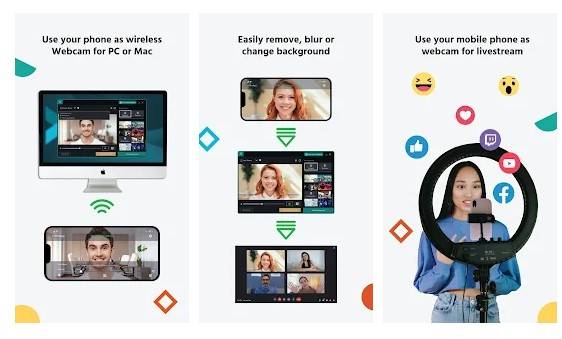 XSplit Connect is basically an app that connects your phone to your PC so you can use it as a webcam. What's more interesting is that apart from the webcam feature, XSplit Connect offers you many other powerful tools.
It has advanced tools to benefit video calling like green screen, background blur effect, depth of field and background removal, and more.
XSplit Connect also supports various streaming apps like OBS, Streamlabs, XSplit Broadcaster, and more.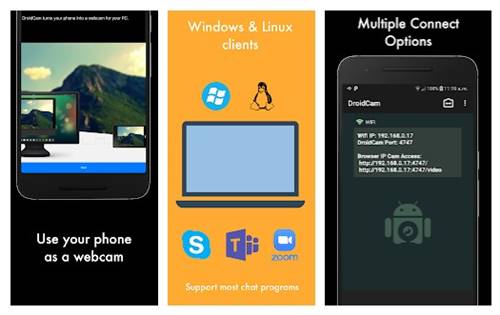 Do you want to have a video conference with your computer system but don't have a good webcam? Don't worry about it since DroidCam will allow you to convert your Android device or smartphone HD camera into a magnificent webcam.
Here, the DroidCam is one of the oldest webcam apps available on the internet, and this app works on all the popular video calling platforms like Skype, Zoom, Google Meet, etc.
Using the camera of your Android smartphone DroidCam enables you to chat on your computer and allows you to connect it to the computer via USB, in case you don't have WiFi. Not only that, but even you can also use your old Android device camera as a security camera with the help of DroidCam.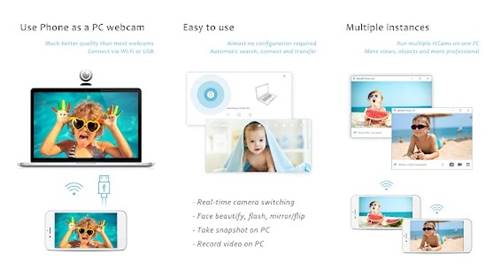 Like every other app on the list, iVCam also turns your smartphone into an HD webcam for Windows PC. Setting up iVCam is pretty straightforward – download & install the client software on the PC, and you are ready to go.
Apart from doing the regular stuff, the app can do various other things. For example, the desktop client can take photos with your phone's camera, record Android cam feeds on PC, support 4K videos, and more.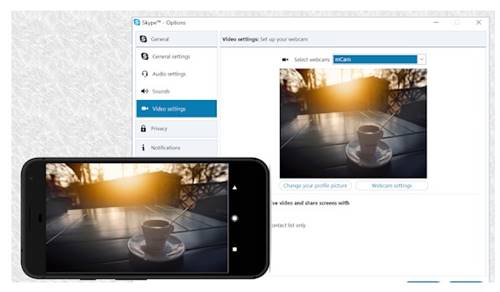 With support for the 4K video, Iriun stands out in this list; else, it also offers the same general features and connectivity offered by others.
Moreover, along with the typical WiFi connection, Iriun also includes support for USB, which is quite an essential thing that nobody wants to miss out on
Don't worry about the compatibility because it supports all versions of Android and Windows, including the most recent ones, such as Android 11 and Windows 11.
You can use these free apps to convert your Android phone into a webcam. I hope this article helped you! Please share it with your friends also. If you have any doubts related to this, let us know in the comment box below.