Now that more and more entertainment services like NetFlix, Spotify, Hulu, etc., are coming up on the web, it's more important to have good WiFi connectivity because there's nothing more frustrating than having a slow WiFi connection.
Despite a 10Mbps internet speed, your speed while using WiFi will never be the same since many factors affect the network speed. For example, if you have shared your password with others, your internet speed will be slower.
Similarly, some other factors also impact network speed. This article will share some of the best WiFi analyzer apps that will help you analyze your network and tweak it.
Also Read: 10 Best Wifi Apps To Check Connected Devices
List of 10 Best WiFi Analyzer Apps For Android
With these WiFi analyzer apps, you can receive the best possible speed from your network. So, let's have a brief look at some of the best and most popular WiFi Analyzer apps for Android.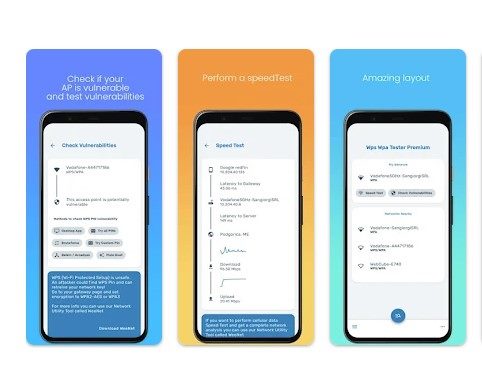 WIFI WPS WPA TESTER is one of the best and most advanced WiFi analyzer apps that you can use on Android. With WIFI WPS WPA TESTER, you can quickly determine whether there's any vulnerability in your Access Point WiFi.
The app is not recommended to those with no knowledge of wireless scanning. It only shows you the technical things which are pretty difficult to understand. WIFI WPS WPA TESTER is mainly used to test several WPS PIN attacks to understand if your Access Point wireless or router is safe.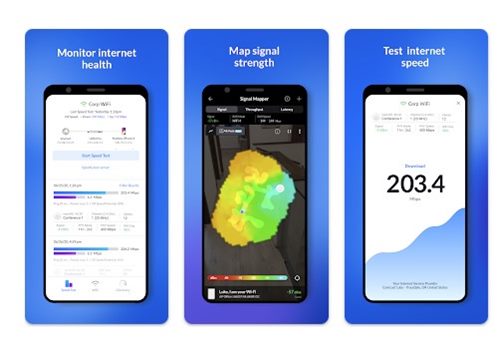 WiFiman is another excellent Android app on the list that can help you detect various parameters of your WiFi network. The app can scan your WiFi network and provide important information such as connected devices, NetBios, and more.
Other than that, WiFiman can be used to run download/upload speed tests, compare network performance, and more. Overall, WiFiman is an excellent WiFi Analyzer app that you can have on your Android device.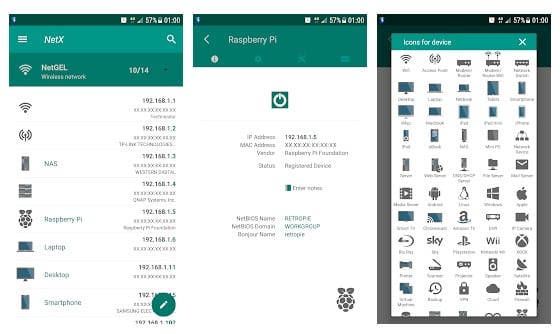 It is one of the best WiFi analyzer apps available on the Google Play Store, and it packs almost all the features that you need to analyze your network properly.
The user interface of NetX Network Tools is impressive, and it shows information about the WiFi connection like external IP, Signal Strength, download & upload speed, etc.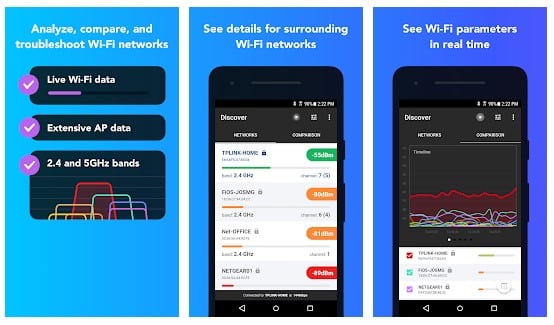 NetSpot – WiFi Analyzer has been made by keeping simplicity in mind. It's an all-in-one wireless network scanner app that measures signal strength and WiFi channels.
This app will even filter scanned networks by the security protocol, signal strength, band, etc. Additionally, the app can also test internet speed.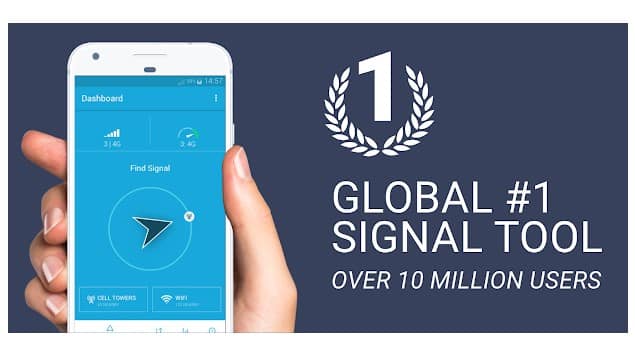 Opensignal is an internet speed test app, but it also can scan the WiFi network. It has a few tools to help you diagnose mobile or WiFi connection problems. Overall, Opensignal is one of the great Android apps to check the WiFi speed and signal.
Apart from that, Opensignal also runs a 5-second download/upload test and a ping test to provide you with accurate speed test results.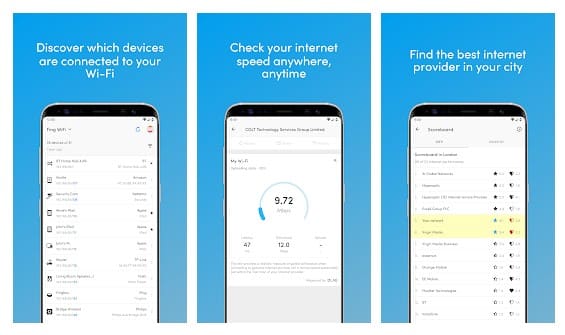 Fing – Network Tools is one of the leading network toolkits you can use on your Android smartphone. The great thing about Fing – Network Tools is that it can effectively scan devices connected to your WiFi network.
The app is known for its accurate device recognition of IP Addresses, MAC Addresses, Device Names, Model, vendor, etc.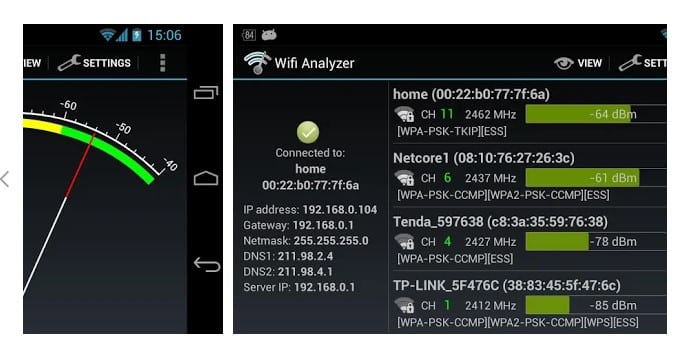 As the app's name says, Wifi Analyzer is one of the best and top-rated Android apps that you can use to analyze the WiFi network. Guess what? Wifi Analyzer turns your Android smartphone into a WiFi analyzer, and it shows the WiFi channels around you.
The app shows some crucial information about the network, including IP Address, Gateway, Netmask, DNS1, DNS 2, Server IP, etc.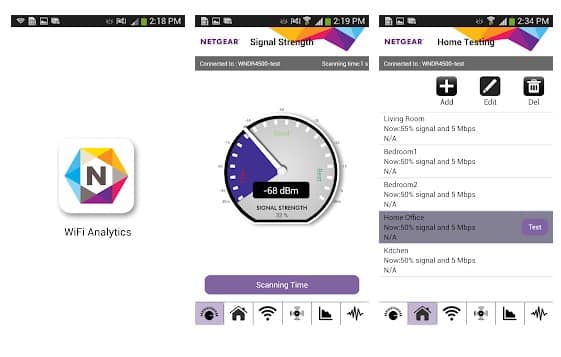 Netgear WiFi Analytics helps you optimize your existing or newly extended WiFi network. This is one of those great Android apps that lets you figure out how strong is your WiFi signal.
Netgear WiFi Analytics can also be used to check the network status, WiFi signal strength, identify crowded WiFi channels, etc.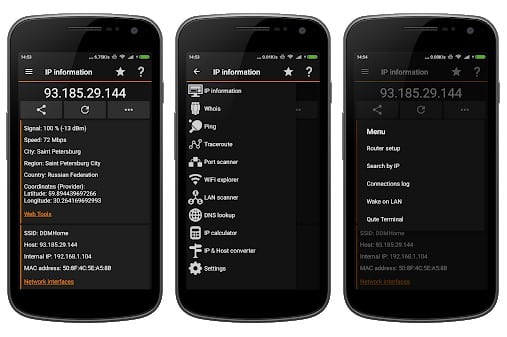 IP Tools: WiFi Analyzer brings a set of tools to speed up your network. The app can quickly scan and detect existing network problems, IP errors, etc.
It also provides access to the most popular network utilities like Ping, LAN Scanner, Port Scanner, DNS Lookup, WiFi Analyzer, IP Calculator, etc.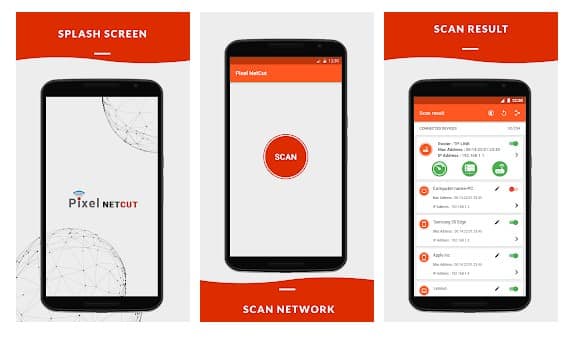 It's one of the best WiFi analyzers, WiFi scanners, and wifi monitoring apps that you can use on your Android device. With Pixel NetCut WiFi Analyzer, you can easily find devices connected to your WiFi network.
Pixel NetCut WiFi Analyzer can also test the network quality, cut the internet for all devices connected to your network, check internet speed, etc.
These are the best WiFi analyzer app for Android, which you can use right now. You can easily optimize your WiFi network with these apps. If you know of any other such apps, let us know in the comment box below.