Well, smartphones were meant to make and receive calls and SMS. So we receive plenty of calls every day. Some are important, whereas others are just there to annoy you. If you have been using smartphones for communication, we are sure you might have dealt with hundreds of spam and telemarketing calls.
Telemarketing calls not just waste time; they are also pretty annoying. On Android, you can install third-party spam detection apps to identify Spam calls even before answering them. However, what about blocking them automatically?
On Android, you can automatically block spam and telemarketing calls. But you need to set up spam detection rules first. In this article, we will share the best method to detect & block spam calls on Android. So, let's check out.
About TrueCaller
TrueCaller is the leading caller ID and spam-blocking app for Android smartphones for those who don't know. You can set up TrueCaller to block spam calls automatically on an Android smartphone.
Apart from blocking spam calls, you can also use other features of Truecaller, like Flash messaging, call recording, scheduling SMS, etc.
How to Block Spam Calls On Android Devices
Below, we have shared a step-by-step guide on how to use TrueCaller on Android to block spam and telemarketing calls. Let's check out.
1. head to the Google Play store and install the TrueCaller app.
2. Open the app, and you will be asked to make TrueCaller your default calling app. Please tap the Set button to make it the default calling app for Android.
3. Now complete the account creation process. On the main screen, tap on the three dots as shown below.
4. From the list of options, tap on Settings.
5. On the next page, tap on the Block option.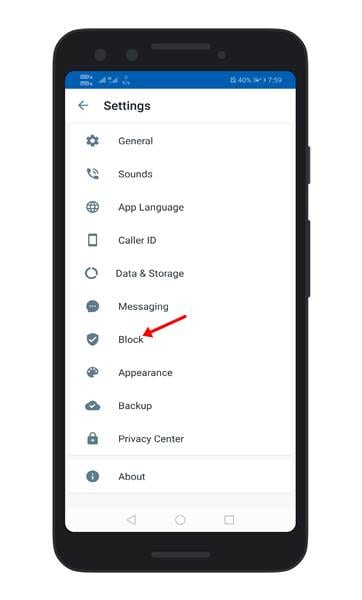 6. Now, you will find four options on the Block screen.
7. To block spam calls, enable the Block Top Spammers and Block Hidden Numbers.
8. If you wish, You can also enable the latter two options – Block Foreign numbers and Block numbers not in your phonebook.
That's it! You are done. From now onwards, all spam calls will be automatically blocked.
This article is about blocking all spam calls on Android automatically. I hope this article helped you! Please share it with your friends also. If you have any doubts, let us know in the comment box below.