There could be multiple reasons why you want to restrict access to certain websites. Maybe you want to block websites to avoid distractions, or just want to block malicious websites. Whatever might be the reason, you can easily block websites on your favorite web browser.
On techviral, we have already shared an article on how to block websites on Chrome. Today, we will be discussing the same for the Firefox browser.
Just like Chrome, you can install add-ons on Mozilla Firefox to enhance the browser functionalities. Similarly, there are Firefox add-ons available for blocking certain websites. With site blocker extensions, you can easily block any time consuming or annoying website.
Steps to Block a Website in Mozilla Firefox Browser
So, in this article, we are going to share a working method to block a website in the Firefox web browser.
To block websites in Firefox, we are going to use the 'Block Site' extension. With this Firefox extension, one can easily block unwanted domains and prevent access to various websites. So, let's check out how to use the Block Site extension in the Firefox browser.
Step 1. First of all, open this Block Site extension page and click on the 'Add to Firefox' button.
Step 2. In the next pop-up, click on the 'Add' button.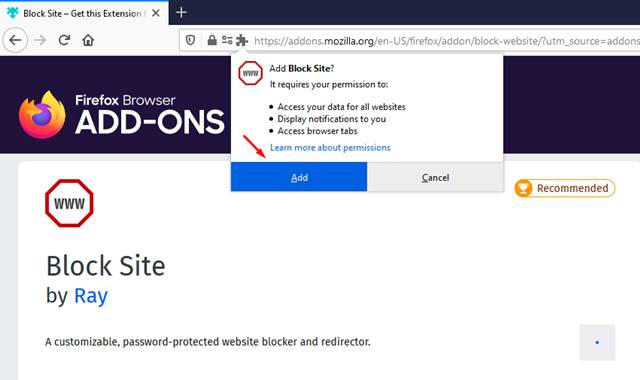 Step 3. Firefox will now display a success message, click on the 'Okay, Got It' button.
Step 4. Now enter 'about:addons' on the address bar.
Step 5. The above URL will open the Add-on Manager on Firefox. From the left-hand side pane, select 'Extensions'
Step 6. Now, click on the 'three dots' near the Block site extension.
Step 7. Select 'Options' in the menu that appears.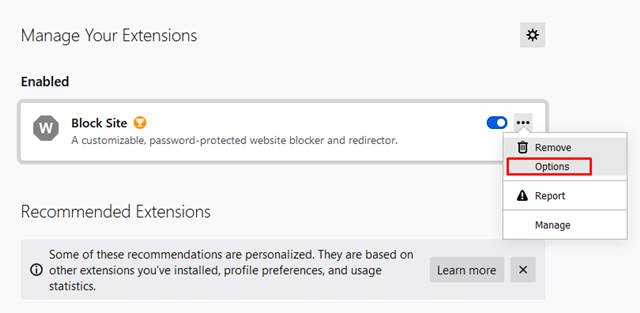 Step 8. On the next page, type in the website URL that you want to block and click on the 'Add' button.
Step 9. Scroll down to the 'Tools' menu and click on the 'Save' button. You can also set up a master password to unlock the blocked website.
Once done, whenever you will try to access the blocked site, you will see a screen like below.
Other Extensions to Block Sites in Firefox
Just like the Block site, you can use other firefox extensions to block distracting sites. Check out the three best Firefox extensions to block sites in 2020.
Well, Digital Detox is one of the best extensions to block websites in Firefox. The good thing is that it adds a toolbar button that lets you add websites to the block list. The extension also auto-restores tabs when blocking is disabled.
It's one of the best productivity extensions for Firefox that you can use today. With this extension, you can block all time-wasting sites. To block sites, you can create profiles. With each profile, you can block 30 websites, with different times and days for each set.
With Impulse Blocker, you can easily block any website. To block any site with Impulse Blocker, you just need to visit any site and click on the extension icon. You would be asked to specify a time period, just set the time, and the site will be blocked. You can further explore the options page to add sites manually into the block list.
So, that's all from us for today. With this Firefox extension, you can easily block any website. I hope this article helped you! Please share it with your friends also.