Let's have a look at the method that will help you to block any of the websites in your Google Chrome on android mobile or windows pc by using one simple setting that will work as website blocker, So follow the complete guide listed below to know how to block websites on google chrome.
Google Chrome could be named as the king browser as it is one of the most popular and feature-rich web browsers. Managing various aspects related to the surfing the websites, storing data, downloads etc are extremely easy to be done in Chrome. The best capability of Chrome web browser is that the users of this browser can amend the network behaviors to justify their search reflections. The users can filter the many aspects related to searches, block certain websites from opening and appear anywhere. Blocking any website in Chrome could be a great fun and a good benefit for some users. Actually, it is all not straightforward to block any websites through the chrome but a kind of methods are required to be applied. For the users keen to know about the procedure to block websites on the Chrome browser we have written this article. We have described the whole procedure of blocking the websites and its complete method. If you are also willing to block sites on chrome, then please read the full article below!
Also Read: How To Boost Up Internet Speed On Google Chrome (5 Steps)
How to Block websites on Google Chrome
The method is simple and straight and you just need to use one manual setting in your browser and then enter the website that you want to block and that's it you are done with it. So, check out how to block websites on google chrome.
Also Read: How To Protect Your Google Chrome Browser With Password
Steps To Block a Website in Chrome:
Step 1. Blocking a website is really easy through the Chrome browser and eventually, there are numerous ways out inside this browser to block any website. One super easy way to do so is to use an extension for this functioning. There are plenty of website blocking extensions available for the Chrome browser! Another way is to manually block the website through the Chrome settings and preferences. The manual method is better and it actually provides full security for its working!
Step 2. So let's take on this method to block websites manually on Google Chrome. First of all, go to the Menu of the Chrome browser using the Three dots button. Inside the menu select Settings option and then Advanced Settings.
Step 3. On the Advanced Settings panel check in to the Change Proxy Settings which will be there under the Network option. This will pop up another screen named Windows Internet Properties window.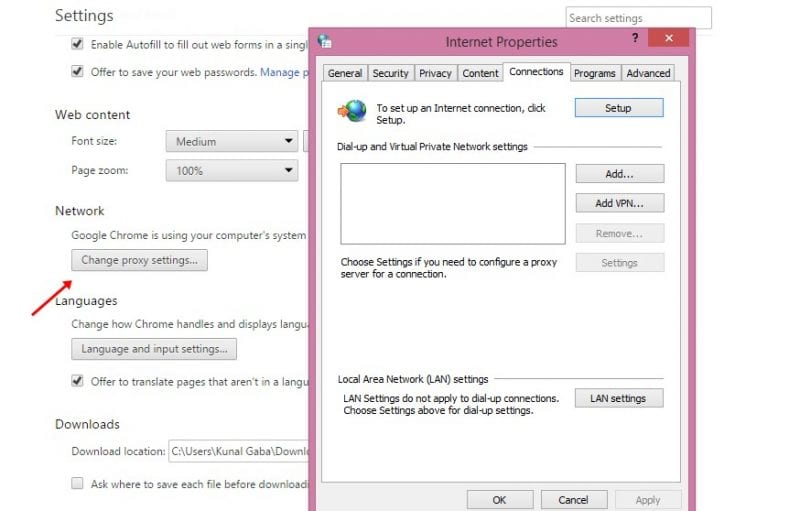 Step 4. Select the Privacy panel on this screen and then select the Sites button placed under it. Through there now you can easily add the URL of any site that you wish to block. Simply fill the URL for the site and then close the panel. Just restart the Chrome Browser to take effect for the above settings.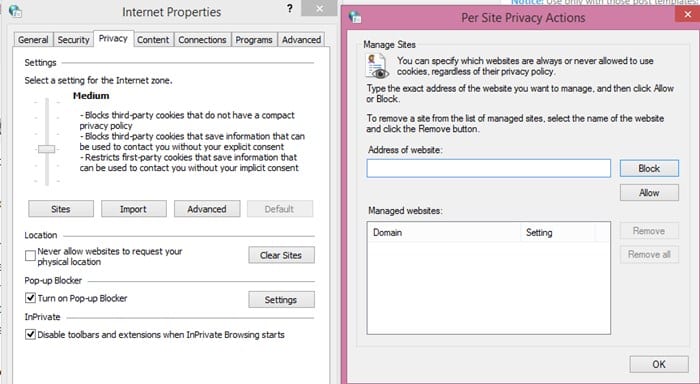 Step 5. Repeat the above step to add as many sites as you wish to the blocklist and the chrome will over your orders. You will never see those blocked sites appearing inside the chrome.
To revert the process and unblock the sites simply check into the same screen through the above steps from where you added the websites for blocking. And after that view, the blocked sites from the options, edit the restrictions over the sites easily then. This is how you can block sites on chrome.
Also Read: Best Google Chrome Extensions That Is Worth A Try
Using Block Site Extension (how to block a website on windows 10)
Block Site is one of the best website blockers for Chrome. The extension helps users to stay focused by blocking distracting sites. With Block Site, you can block any distracting or harmful sites at ease. Here's how you can use Block Site extension to block certain websites in Chrome.
Step 1. First of all, download and install the Block Site Google Chrome extension from here.
Step 2. Once downloaded, the browser will show you a popup. You need to click on 'Add Extension'
Step 3. Once added, you will see the Block Site icon.
Step 4. Now visit the site which you want to block. Click on the icon and then select 'Block This Site'
Step 5. To unblock the site click on 'Edit block sites list'. Now each of your blocked sites will have a 'minus' icon. Simply click on the minus icon to unblock the site.
That's it, you are done! This is how you can use Block Site Chrome extension to block certain websites from Google Chrome browser.
Using Google Chrome Extensions
Well, there are many Google Chrome extension available on Google Chrome Web store to block websites. These extensions are really very easy to set up. You just need to install on your Chrome browser and need to add URL's to the block list to block those websites.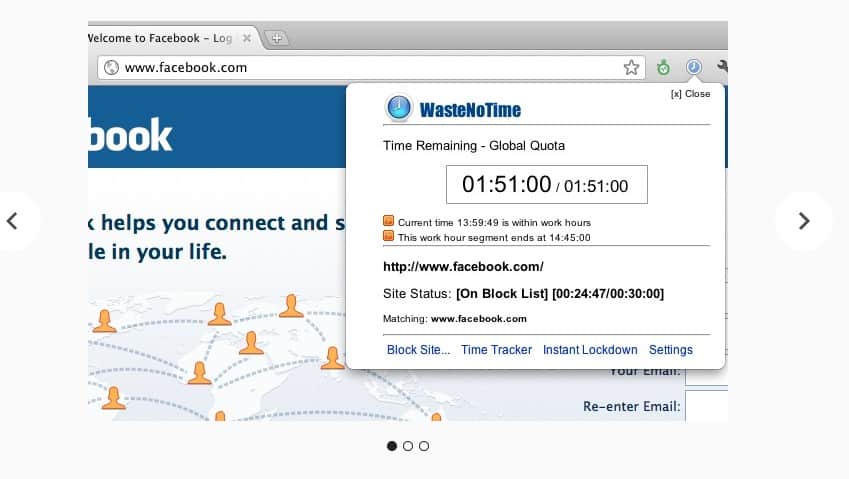 WasteNoTime helps you manage the time that you spent on the Internet and increases your productivity. It provides a block list feature which lets you automatically block selected websites as soon as you have spent a predetermined amount of time on them each day.
If you are looking for a smart and simple way to block websites on your Google Chrome browser, you need to install Block Site extension. Add the websites or pages you want to block in a smart and simple way. Get automatically redirected to safer, more positive sites.
StayFocusd is a productivity extension for Google Chrome that helps you stay focused on work by restricting the amount of time you can spend on time-wasting websites. You can add websites to the blocked list and all those sites will be inaccessible for the rest of the day.
Site blocker is one of the best and top rated extension available on the Google Web Store that allows users to block any site you want. The chrome extension provides users the simple and easiest way to block any web site. What's makes the extension more interesting is that it has password protection, it can block sites by subdomains, it can block sites by javascript regex.
Well, if you are searching for a chrome extension that can help you to concentrate on your work, then Website Blocker (Beta) might be the best pick for you. Guess what? Website Blocker (Beta) allows users to block the URL including the specified character string. Not just that, but the chrome extension also allows users to schedule a time to block sites. So, Website Blocker is definitely the best chrome extension that you can use to block sites.
So the above guide was all about how to block websites on google chrome. As through the below article your have eventually got to know that how easy it is to block the websites on the Chrome browser. We hope that you liked this article, if you liked it then please try to take some time and share your valuable opinions regarding it. To share the opinions you can log on to the comments section below! And let us know the issue that you faced as the techviral team will be always there you to assist you with any of your issues.