Nowadays there are numerous files which we want to download are hidden behind online surveys. These online surveys takes lot of times and they are annoying. So, we are going to share an article about How To Bypass Online Surveys. Follow the mentioned method to successfully bypass any online surveys
[dropcap]A[/dropcap]re you get bored of completing those online surveys? So there is the method to Bypass Online Surveys. Nowadays there are numerous files which we want to download are hidden behind online surveys. In this surveys you have to accomplish the tasks first, then you get redirected to the original content page where you can download your desired file.
Also Read: How to Boost and Increase Your Internet Speed Upto 20%
But sometimes these offers are difficult to complete as many of them are made to complete on android. Although sometime after completing these offers we still not get the file to download. So to solve all these problems I will tell you the method in this post to Bypass Online Surveys. There are many methods to Bypass these surveys but I have written here some of the easy and effective methods.
Top 5 Best Methods To Unlock Or Bypass Online Surveys
#1 Editing Web Page
Editing the web pages manually to remove pop-ups and Bypass Online Surveys are the best thing because we don't need to rely upon any third party app or services. However, in order to remove the pop-ups and bypass surveys, we need to use a web browser with dev tools like Firefox, Google Chrome, etc.
You just need to right click on the pop-up or survey which they want to bypass and select 'Inspect'. Now you will see an HTML source code of the site. You need to carefully look at the HTML code while hovering on each line of code. Simply select the Pop-up or survey code and disable it.
#2 Block Javascript
It's worth to note that most of the survey pop-ups depend on javascript. So, in some instance, it's been seen that blocking the Javascript removes the survey or pop-up. Users just need to visit the Google Chrome's settings page and then scroll down to find the 'Javascript' section. Under the Javascript, find and enable the option 'Do not allow any site to run javascript'.
Once done, head back to the web page that's that contains the survey or locked content and reload it. That's it, you are done! Now you will not see any survey or locked content. So, this is how you can bypass surveys chrome.
#3 Method: Using Online Sites
In this method, we will be using two popular sites Survey bypass and Survey smasher to Bypass the online surveys. This site will automatically remove all the scripts of the surveys and help you to get redirected to the original content page where you can easily download your desired file.
1) Using SurveyBypass Site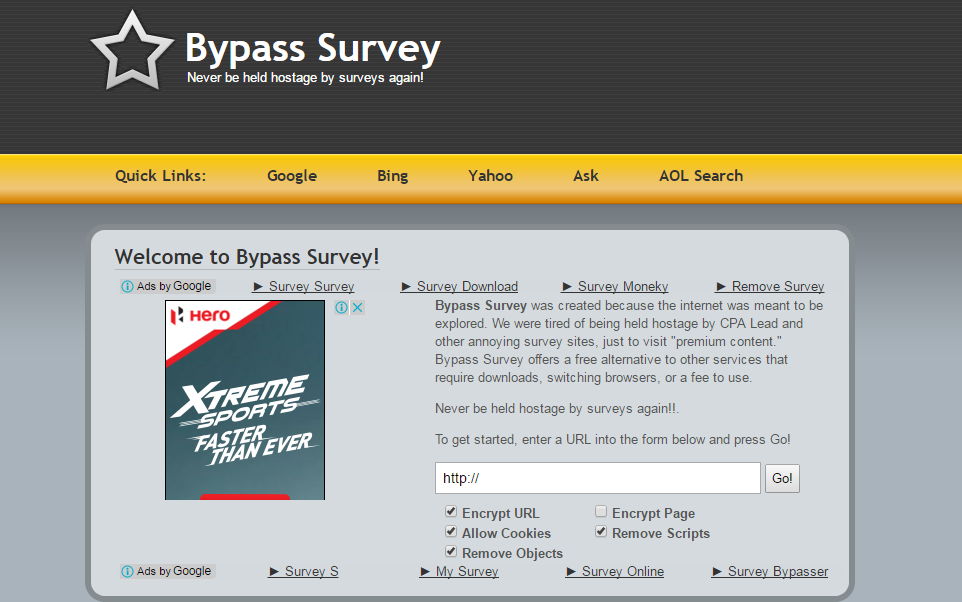 Open the website surveybypass.com and paste the URL of the page where you are getting the surveys. Now click the Go button. Now this will get your file ready to download and you can easily download that file by bypassing all the surveys. So, if you are looking for the best online survey remover, then this could be the one.
Also Read: How To Check Whether Your Antivirus Working Perfectly Or Not
2) Using SurveySmasher Site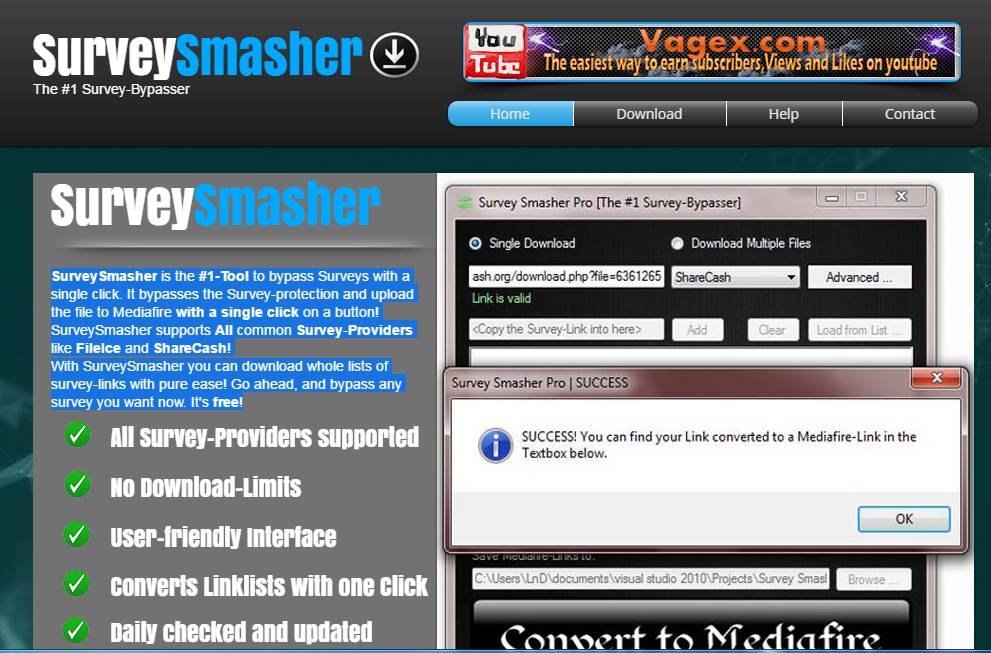 SurveySmasher is the online tool to bypass Surveys with a single click. It bypasses the Survey-protection and upload the file to Mediafire with a single click on a button! SurveySmasher supports All common Survey-Providers like FileIce and ShareCash!
With SurveySmasher, you can download whole lists of survey links with pure ease! Go ahead, and bypass any survey you want now. Surveysmasher is free
#4 Method: USING SURVEY KILLER APP (survey bypass tool)
Survey Killer is a free utility tool that lets you download or access the required content without filling up the surveys. In this, you just need to put the URL in the Link Box and then Click on the Download File Button of the tool. Your file will be downloaded shortly.
Also Read: How To Protect Yourself From Phishing Hacking Attacks
Note: It works only on share cash link. You can download it from here.
#5 Method: USING BROWSER EXTENSION
Open your Google Chrome browser and add the extension Bypass Survey.
Now this extension will get added to your Google Chrome browser at the right top corner. Now whenever it detects the survey page it will automatically all the surveys scripts at the page and you can easily download your file directly without completing any surveys.
Also Read: How to Play YouTube Videos Faster Without Buffering
So foregoing are the excellent and simple methods for Bypass Online Surveys. These  online survey remover will surely help you to bypass online surveys.  By this, you can easily access the page where your actual file is located, and can easily download the desired software or file without completing any of the surveys and this will save your lots of time and data.