When it comes to the best professional network for job searching on the web, nothing beats Linkedin. LinkedIn is one of the oldest job search websites, which is very useful.
With the help of this website, you can bag the right job or internship, connect and strengthen a professional relationship, and more. While there are many things to explore on Linkedin, a user using the site for the first time may be confused using certain features.
If you are a regular Linkedin user, you may know the platform has a feature that shows who viewed your profile. The site keeps track of all profiles that have visited your profile and tells it to you.
By utilizing this feature, you can find people who're interested in you. The 'Who viewed your profile' feature is available on both Linkedin free and premium versions. However, the free version only shows the five most recent viewers, whereas the premium account shows the entire list of viewers from the past 90 days.
We will not differentiate the features in this article; instead, we will focus on how the Linkedin Profile views work. Let's get started.
Can I see who viewed my Linkedin Profile?
You may be very curious to know who viewed your Linkedin profile if you take your profile too seriously and want to bag in a job offer.
Linkedin allows you to see who viewed your profile in easy steps. Unfortunately, the free account only shows five recent profile visitors in the last 90 days. Here's how to see who viewed your Linkedin Profile.
Open Linkedin and sign in to your account.
When the Linkedin website loads, click the Me button at the top of the homepage.
On the menu that appears, select 'View profile'.
Scroll down to the Analytics section.
Next, click on the (Number) Profile views to access the Who's viewed your profile page.
That's it! This is how you can check who viewed your Linkedin profile in the last 90 days.
Can you see Who Views Your LinkedIn if they don't have an account?
No! You can only see who viewed your Linkedin profile if they have an account. Those who know Linkedin tracks profile visits choose to log out and stalk the profiles.
This is one of the most famous practices to avoid showing up profile names in the 'Who's viewed your profile' section.
The thumb rule is if someone views your Linkedin profile from outside of Linkedin, the visit will only be counted, but the profile will come up as anonymous.
Can Someone See I Viewed Their Linkedin If I Don't Have An Account?
If you want to stalk a Linkedin profile without revealing your identity, it's best to log out first. This is because people will only be able to see that you viewed their profile if you're logged in to a Linkedin account.
Linkedin can't track profile views outside of its platform. As long as you choose not to log in, there's no way for others to know you've stalked their Linkedin Profile.
However, the person you've stalked will still see that their profile has a visit, but the visit will appear anonymous.
If you search for someone on LinkedIn will they know?
No, if you search for a Linkedin profile on Linkedin Search, the user won't know you've searched for them.
However, they will be able to see that they have appeared on the search result, but they will never know who has performed the search. Search appearance differs from profile views; when someone clicks on your profile from the search and views it, it will count as a profile view.
How to Hide Your Identity when viewing profiles?
If you want to avoid Linkedin sharing your visit information with other users, you need to browse privately. The easiest option is to log out and search for the Linkedin user.
However, if you don't want to log out every time but want to maintain anonymity, you must change the Visibility settings. Here's how to stop LinkedIn from telling someone you viewed their profile.
1. Open the Linkedin site and click on the Me drop-down at the top-right corner.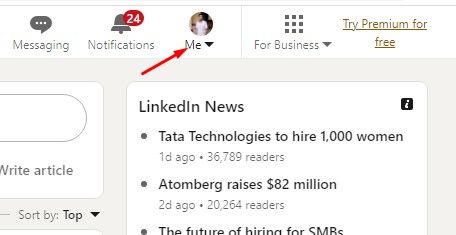 2. Select 'Settings & Privacy' from the menu that appears.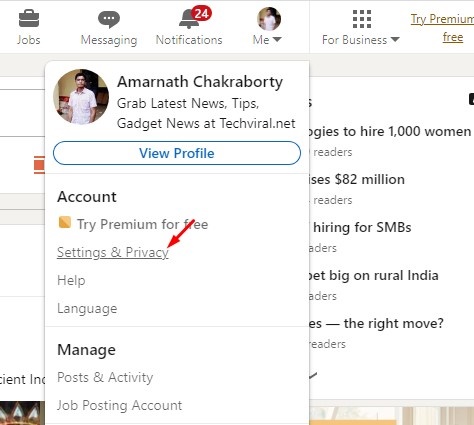 3. On the Settings screen, switch to the Visibility tab.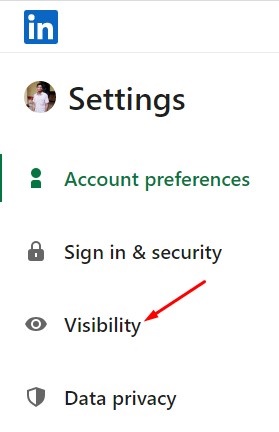 4. On the right side, click on the 'Profile viewing options'.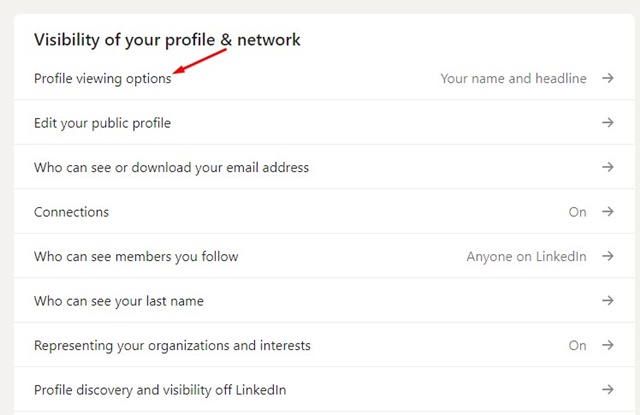 5. On the Profile viewing, select 'Private Mode'.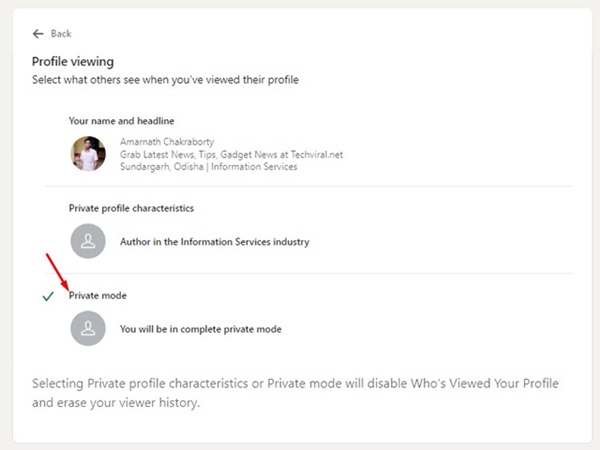 That's it! This is how you can hide your identity while viewing LinkedIn profiles. The only drawback of this method is that once you become anonymous to other users, they also become anonymous to you.
Linkedin will start to hide the name of the profiles who viewed your account once you enable the Private mode.
Also Read: How to Save LinkedIn Profile as PDF (Desktop & Mobile)
So, this is all about 'Can you see who views your Linkedin if they don't have an account'. We have answered all questions related to LinkedIn profile views and how it works. If you have any doubts about Linkedin profile views, let us know in the comments.