Do you know about the Harry Potter? Yeah that's right you guessed it perfectly, it is the series of movies that we all have grown up watching and we all love up the artist inside the movie i.e Harry potter. Now its time to learn how to Cast Magical "Harry Portter Spells" using Android smartphone.
[dropcap]I[/dropcap]f you have also witnessed these movies with your own eyes then you might be knowing about all those magical essences of the film that is created and after watching the movies, you too might be wishing to have that magical powers. Although this could not be done in real but still to help you somehow create that type of essence on your smartphone Google have done the partnership with Warner Bros. Pictures and hence given all the Android smartphone users a chance to cast Harry Porter Spells on the device. It's a way to promote the upcoming film "Fantastic Beasts and Where to Find Them" by the Warner Bros Pictures that relates the story of the Harry Potter when he hasn't arrived for the Hogwart decades back. Just read the article to know how you could also cast "Harry Potter Spells" using the Android smartphone!
Also Read: How to Turn Off Android Screen with your Fingerprint Scanner
How to Cast Magical "Harry Potter Spells" Using Android Smartphone
The method is very simple and straight and you just need to follow some of the simple steps below to proceed.
Also Read: How To Customize Android Power Off Menu With More Options
Steps To Cast Magical "Harry Potter Spells" Using Android Smartphone:
Using the Harry Potter Spells on your Android device is too very simple, you just need to talk to your device through the Google Now Voice Assistant. Switch to the Assistant and then using your voice spell up the commands which would result in performing some different tasks depending on the commands.
These commands need some additional keywords i.e Harry Potter Spells to be spoken with some of the Google's default commands. Using these commands, you can easily perform some simple tasks although till now there are not so many Harry Porter Spells but still with some of these spells only you could shock your friends.
The three new Harry potter spells which all you could use are Lumos, Nox and Silence. All these three spell commands let your device do some defined tasks. To know about some of the tasks which you could do through these spells are given below, just read on to know about these:
Ok Google, Lumos: Speak this command to the Google Voice Assistant on your Android device and it would result in turning ON your device's flashlight.
Ok Google, Nox: This spell command will turn off the enabled Flashlight of your device
Okay Google, Silencio: This spell when spoken to the Google voice Assistant results in turning off your device's volume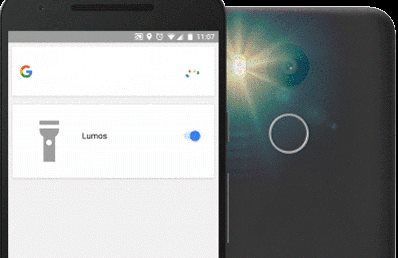 4. Till now there are only these commands by the Google but maybe you might get up some more such commands by the Google. Either these commands or the spells might be enough to make prank of your friends or to shock them for enjoyment.
Also Read: How to Create Fake Whatsapp Conversation On Android & iPhone
You have now got the way through which you can also cast the Harry Potter Spells on your Android device and hence let your device perform variously defined tasks through that spells like turning off your phone's ringer and notifications etc. Just go and try this on your device too and impress your friends through the spells.