Google Maps is the best navigation app available for Android and iOS devices, and it may be already installed on your Android device.
It's a great navigation app that provides hands-free directions, travel alerts, and more for users. The hands-free direction feature of Google Maps helps you with directions while driving so that you don't need to keep looking at the screen.
What's more interesting is that Google Maps allows you to customize the voice in your turn-by-turn navigation. By default, the Google Maps voice is set to English US, but you can change it to your liking.
Also read: How to Send Google Maps Location from Desktop to your Device
Hence, in this article, we will share a detailed guide on how to change Google Maps voice on your Android device. You can follow this method to change the Google Maps navigation voice to your liking. Let's check out.
1. First of all, head to the Google Play Store and update the Google Maps app for Android.
2. On the Google Maps app, tap on your profile picture.
3. This will open the Settings page. Tap on the 'Settings' option, as shown in the screenshot below.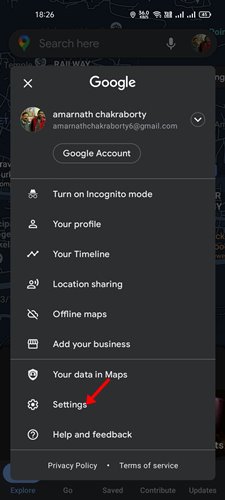 4. On the Settings, scroll down and tap on the 'Navigation settings' option.
5. Under Navigation, tap on the Voice selection option as shown below.
6. Under the Voice selection, you will find a list of available voices. You need to select one of these options to switch the Google Maps navigation voice.
That's it! You are done. This is how you can change Google Maps navigation voice on Android.
The option to change navigation voice is not available on Google Maps for iPhone. Hence, you need to change the iPhone language to change the voice.
However, making this change will alter the voice for all apps on your iPhone. Here are some of the simple steps that you need to follow.
1. First, open Settings on your iPhone and tap on the General tab.
2. Now head to the General > Language & Region.
3. Under the Language & Region, tap on the iPhone Language option.
4. Select the language you want to use. Once done, restart your iPhone and open Google Maps.
That's it! You are done. The new voice language will reflect in the Google Maps app for iPhone.
Like Google Maps, you can change the default voice of Google Assistant. I hope this article helped you! Please share it with your friends also. If you have any doubts related to this, let us know in the comment box below.