If you have been using a computer for a while, you might know about the screen refresh rate. Refresh rates refer to the number of times per second an image refreshes on your computer screen. The process is measured in Hertz (HZ). For example, a 60Hz display will refresh the screen 60 times every second.
In short and simple words, the higher the refresh rate, the better will be the experience. On the other hand, a lower refresh rate usually results in screen flickering. Also, monitors with low refresh rates tend to cause eye strain and headaches.
Monitors with higher refresh rates also benefit gamers a lot. Using a higher screen refresh rate of 144Hz or even 240Hz will offer a much better gaming experience than 60Hz. Your PC is supposed to select the best refresh rate automatically. In most cases, you don't need to make any changes to the monitor's refresh rate. However, there could be times when you need to set the refresh rate manually.
Also Read:  How to Display Internet Speed on Taskbar in Windows 10
Steps to Change Monitor Refresh Rate in Windows 10 PC
If your PC screen is flickering or your display is not stable, you might consider changing the refresh rate. If you feel that your PC has a monitor that supports a higher refresh rate, you can also consider changing the refresh rate. Below, we have shared a detailed guide on how to change the refresh rate of the display on Windows 10. Let's check out.
Step 1. First of all, click on the Start button and select 'Settings.'
Step 2. On the Settings page, click on the 'System.'
Step 3. On the System page, click on the 'Display' option.
Step 4. Now, scroll down and click on the 'Advanced Display Settings' option.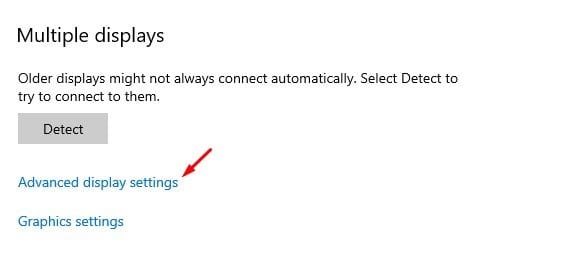 Step 5. Click on the option 'Display adaptor properties for Display 1.'
Step 6. On the Next window, select the 'Monitor' tab.
Step 7. Under the Monitor Settings, select the Screen refresh rate.
Step 8. Once done, click on the 'Apply' button.
That's it! You are done. This is how you can change the refresh rate of the display on Windows 10.
So, this article is all about how to change the refresh rate of the display on Windows 10 computer. I hope this article helped you! Please share it with your friends also. If you have any doubts related to this, let us know in the comment box below.