Before the arrival of smartphones, people used to play indoor board games to spend time. There are plenty of board games available out there and Chess is one of the oldest amongst all. Chess is one of the best relaxing games out there which can be played with friends.
Another great thing about Chess is that it's quite easy to learn, but difficult to master. In this board game, you need to plan some serious strategies to win. It's such a game where even if you lose, you still win by improving your mental strength. Since its a mind game, it requires lots of practice to master this game.
10 Best Chess Games For Android in 2020
The good thing is that you can now play chess whenever and wherever you want. There are plenty of Chess games available on the Google Play Store that let users play the chess game against the computer or real-time opponents. So, in this article, we are going to share a list of best Chess Games 2020 that you can play right now.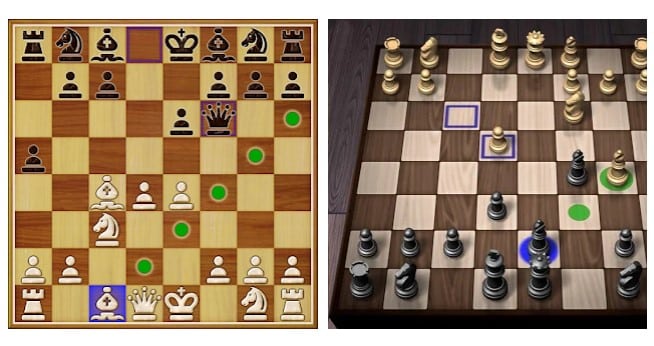 If you are searching for the best free Chess game for your Android smartphone, then you need to give Chess Free a try. Guess what? the game includes 12 levels of difficulty, playing modes, leaderboards, etc. Not only that, but the game also offers multiple board themes as well.
DroidFish is for those who are searching for a simple and lightweight chess board game for Android. Although the game provides multiple board themes and chess engines to play, still it's pretty lightweight and runs without the internet. DroidFish can be played either with the bot or with a real opponent.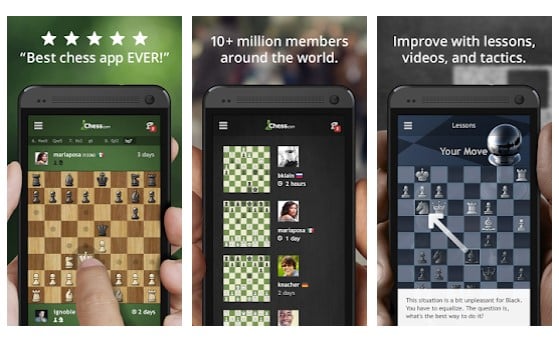 Chess · Play & Learn is an online multiplayer chess game available on the Google Play Store. The game allows users to play chess online with millions of players across the world. If you don't want to play online, you can choose to solve more than 50,000 chess puzzles.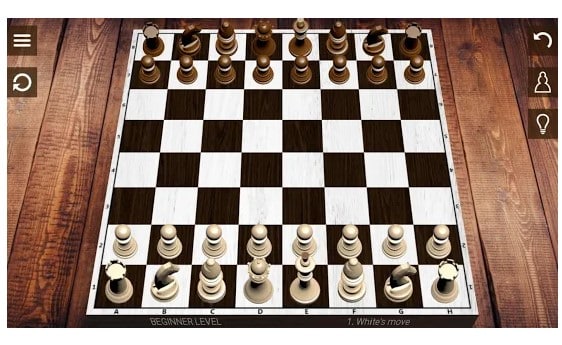 Chess from Chess Prince is one of the oldest board games available on the Google Play Store. It's a simple chess game where you play with online players or local multiplayer. The game right now has ten levels of difficulty, a game assistant, different board themes, etc. Not only that, but Chess also got multiple sound effects as well.
Chess Tactics Pro is a little bit different compared to all other Chess games listed in this article. The game actually has lots of chess puzzles which forces you to challenge your skills and learn some new tactics. The game has lots of daily puzzles (requires internet), offline puzzle packs, etc.
If you are searching for a 3D chess game for your Android smartphone, then you need to give Real Chess 3D a try. Guess what? on Real Chess 3D, you play the classic board game, of course, Chess in immersive 3D graphics. You can play the game with your friends also through WiFi or Bluetooth. Although the game is meant to provide you the 3D gaming experience, it can be played in 2D mode also if you are running out of battery.
Toon Clash Chess is for those who have been searching for a 3D chess game with unique graphics. It's one of the fun strategic game to play on Android with lots of unique actions and 3D characters. The theme of the game remains the same, but it was the graphics and animations that make the game more fun to play.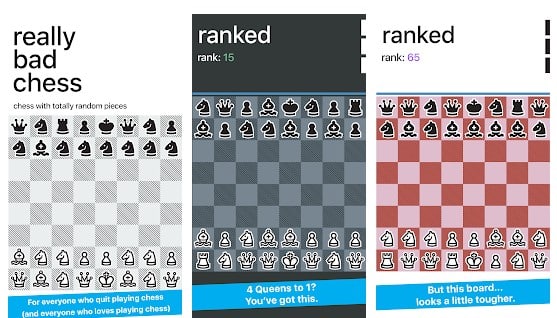 At first glance, Real Bad Chess might look like a regular chess board game, but it has a few twists. This game is much like chess, but with totally random pieces. What about trying 8 knights, 4 Bishops, and 3 Pawns? You can do that in Real Bad Chess.
iChess is pretty much similar to the Chess Tactics Pro game that had been listed above. The game has plenty of offline puzzles. So, in this game, you will mostly be completing the chess puzzles where each puzzle arranges themselves by difficulty. The game right now has only three levels of difficulties to choose from.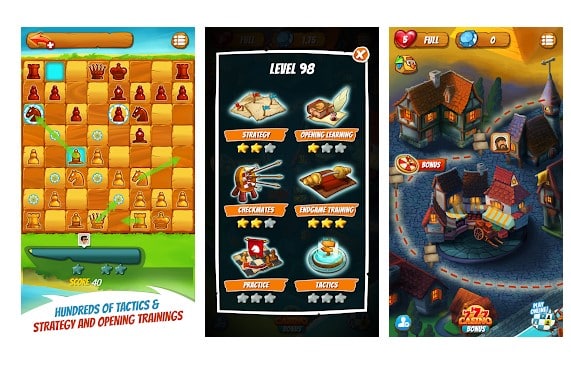 Chess Free from chess friends is another best and top-rated chess game that you can play on your Android smartphone. The great thing about Chess Free is that it's an offline game. You don't need an internet connection to play the game online. The game offers hundreds of levels, thousands of chess practices, tactics training, etc.
HAGO – Play With New Friends is basically a platform where you can connect with others to play online games. You won't believe it, but HAGO right now has over 80 games to provide you endless fun. There's a chess game on HAGO – Play With New Friends which you can play with your local or online friends.
It's an online multiplayer Chess game where you can compete against real opponents from all over the world. The game actually helps to develop your chess strategy and chess tactics. It also has different challenge modes like you can play with local players, online, computer, double, etc.
So, these are the best chess games that you can play on your Android smartphone. If you know any other such games, let us know in the comment box below.