Well, if you have been reading the news regularly, you might know about India's journey to the largest vaccination drive ever. The nation has already opened gates for 18+-year-olds to get their vaccination.
So, if you are above 18 years of age, and haven't yet got the vaccination, then don't delay more. Get the vaccination as soon as possible as a preventive measure.
If you don't know how to opt for COVID-19 vaccination, you can check out the guide – How to Register On CoWIN Portal for Covid-19 Vaccination. The major problem with online registration is the shortage of vaccines.
Also, many people are facing problems with the availability of the centers. Although you can check the vaccine availability through the Cowin portal or Aarogya Setu app, you can choose to use WhatsApp if you don't use them.
About MyGov Corona Helpdesk Chatbot
Well, if you are willing to use WhatsApp to check COVID-19 vaccination centers and availability, you need to use the MyGov Corona Helpdesk.
It is an official chatbot made by the Indian Government. The good thing is that you can exchange text messages to the bot, and you will get an immediate reply.
You don't need to visit any website; you need to install any app. You need to save the number on your smartphone to use the chatbot.
Steps to Find COVID-19 Vaccination Details via WhatsApp?
If you are interested in using the MyGov Corona Helpdesk chatbot, you need to implement some of the simple steps given below.
Step 1. First of all, save the number +91-9013151515 on your phone.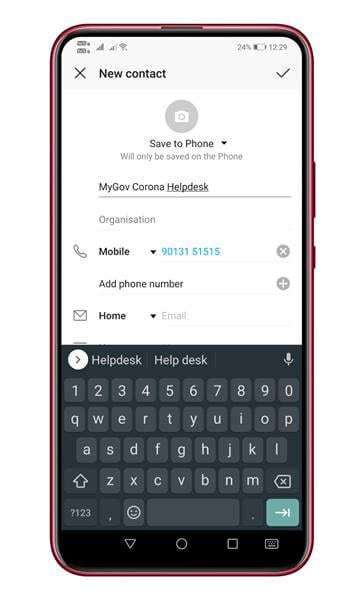 Step 2. Now open WhatsApp and search for MyGov Corona Helpdesk.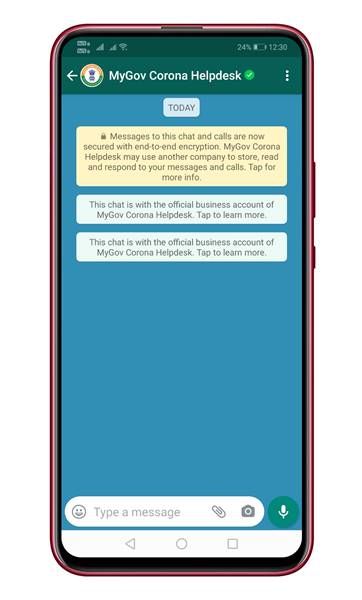 Step 3. To start the chatbot, type in Hi, hello, or whatever you wish. The bot will present you with all available options.
Step 4. Now type in 1 and hit the enter button to get information about the vaccination center.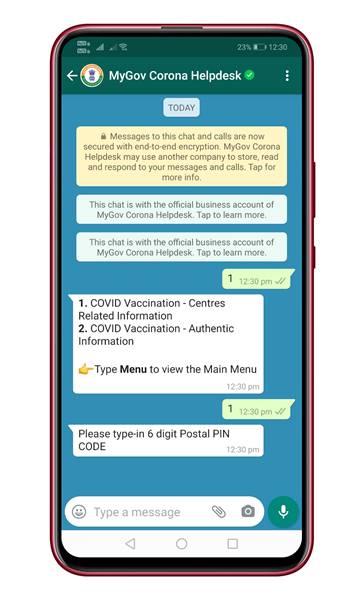 Step 5. Now you will be asked to enter the PIN code. Enter the Pin code.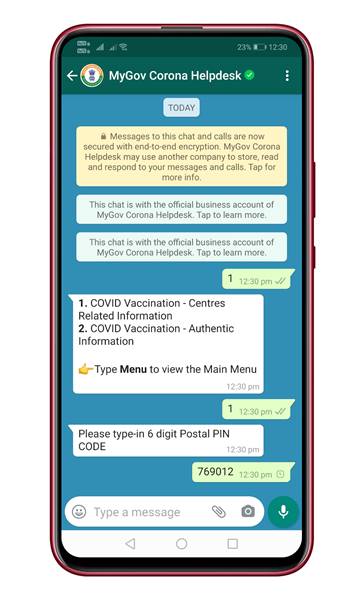 Step 6. Now, wait for a few seconds, and the chatbot will display all available centers and the number of slots available.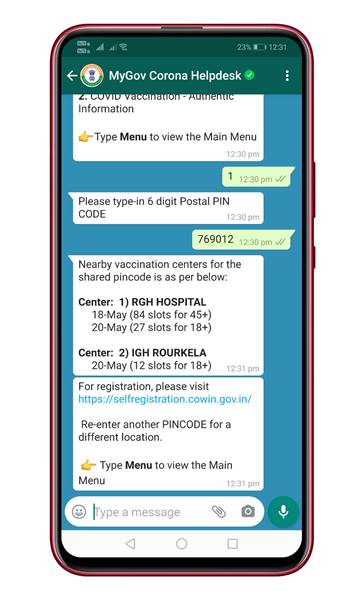 That's it! You are done. After knowing about the vaccination center, you can use the Cowin Platform or Aarogya Setu app to book the vaccination.
So, this article is all about how to find COVID-19 Vaccination centers in India via WhatsApp. I hope this article helped you! Please share it with your friends also. If you have any doubts about this, let us know in the comment box below.