If you have used Windows 10, you might know about the system restore points. It's a feature that allows you to roll back to a previous working state.
The latest version of Windows, of course, Windows 11, also lets you create system restore points in easy steps. The restore point is helpful as it helps you to recover data from many different types of problems.
With restore points, you can quickly restore Windows to the previous version. So, if you are interested to know how to create a restore point in Windows 10, you are reading the right guide.
Also read: 10 Best Free Softwares To Backup & Restore Windows Drivers
Steps to Create a Restore Point in Windows 11
In this article, we will share a detailed guide on creating a restore point in Windows 11 operating system. The process is going to be very easy; follow some of the simple steps shared below.
1. First of all, press Windows Key + R button on your keyboard. This will open the Run dialog box.
2. On the RUN dialog box, enter sysdm.cpl and hit the Enter button.
3. This will open the System Properties page. Select the System Protection tab on the list.
4. Select the drive and click on the Configure button, as shown in the screenshot.
5. In the next pop-up, enable the Turn on system protection option and click on the 'Ok' button.
6. Now, click on the Create button to create a restore point.
7. Now, you will be asked to type a description to identify the restore point. Name the restore point and click on the Create button.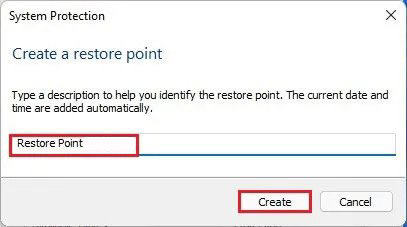 8. Now, wait until Windows 11 creates a restore point. Once created, you will get a success message.
That's it! You are done. This is how you can create a restore point on Windows 11.
So, this guide is all about how to create a restore point on Windows 11 operating system. I hope this article helped you! Please share it with your friends also. If you have any doubts related to this, let us know in the comment box below.e