Facebook is the most popular social media site; here, we can make friends, exchange messages, photos, etc. But, what if you are urged to delete Facebook messages? Deleting every message one by one can take serious time. So, we will discuss a useful method that will help you delete all Facebook messages at once.
The giant network Facebook being used by billions of people today, and this network is popular worldwide. All the users spend a lot of time chatting with friends, sharing pics and videos on Facebook. What if you want to delete all the chat history of all the conversations you had done with your friends? It's a difficult task to delete all Facebook messages one by one, and it may be hectic for you to delete every single message. Therefore, we have started a method by which you can easily Delete All Facebook Messages At Once. This will work perfectly for you to clear all chat records of Facebook.
Also Read: How To Accept And Reject All Facebook Requests At Once
Steps To Delete All Facebook Messages At Once
In this method, you will have to use the chrome extension to delete all Facebook messages at once, you have to follow some simple steps that we have discussed below, and by this method, you can easily clear all the chat records from your Facebook account with a simple browser extension given below.
Step 1. First of all, you need to download Facebook – Delete All Messages extension on your Google Chrome.
Step 2. After installing the extension, login into your Facebook account, of which you want to delete messages.
Step 3. Now go to your Facebook inbox, where you will see all the messages you have done with your friends.
Step 4. Now at the top right corner of your browser, you will see facebook delete all message extension's icon, click on it, and it will give you instructions on how to use it.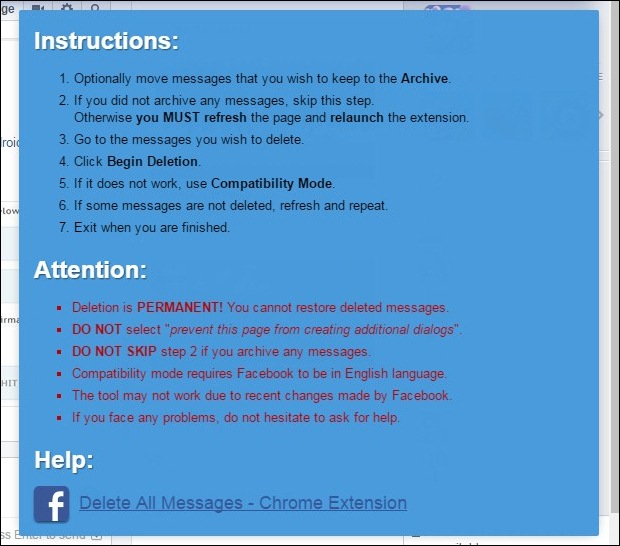 Step 5. You need to click on Begin Deletion; you will receive a popup confirming your action to delete all Facebook messages. Just confirm it.
After a moment, you will see All Chat History will get deleted.
Moreover, this method is so simple that anyone can implement and can clear all the chat records at once. I hope you like the post, don't forget to share it with your friends and leave a comment below if you face any trouble at any step.