Indeed, Windows 10 is now the most used desktop operating system. The operating system is now powering a majority of desktop computers and laptops. Compared to any other desktop operating system, Windows 10 is easy to use, and it offers lots of features.
If you have been using Windows 10 for a while, you might know that the operating system pushes updates frequently. Windows 10 receives updates almost every month, and they were of different types like Quality updates, Driver updates, Cumulative updates, definition updates, and security updates.
Although Windows 10 is designed to automatically install all the required updates, sometimes a few updates fail to download & install. Windows 10 fails to download the updates due to various reasons like internet issues, incompatibility issues, and more. Once failed, these updates appear in the 'Pending Update' section on the Windows Update & Security settings.
Also Read: How to Disable Action Center on Windows 10 PC
Step to Delete All Pending Updates on Windows 10 PC
If you have problems installing an update or believe that a specific update will break your system, you can choose to delete the pending updates to download the package again or skip the update entirely.
This article will share a detailed guide on how to find and delete Pending updates on Windows 10 computers. Let's check out the guide.
Step 1. First of all, open file explorer on your Windows 10 computer.
Step 2. Now you need to head to the following path –
C:\Windows\SoftwareDistribution\Download
Step 3. The folder will show you lots of files. These are the pending updates.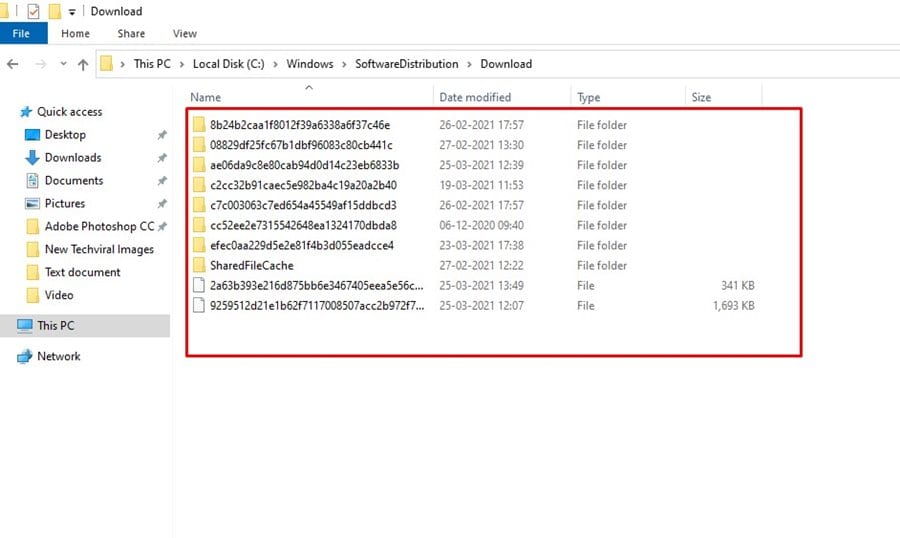 Step 4. Now click on the CTRL+A button to select all. Or else, click on the 'Select all' button as shown below.
Step 5. Now, right-click and click on the 'Delete' button. On the confirmation pop-up, click on the delete button again.
Note: This will delete your pending updates. However, the next time you connect to the internet, your computer will download and install the required thing for the updates.
Disable Windows Update Service Permanently
To stop the Windows 10 updates permanently, we recommend following our guide – How to Disable Windows Update Service Permanently (Detailed Guide). On that guide, we have shared a step-by-step tutorial on how to disable the update service completely on Windows 10 operating system.
That's it! You are done. This is how you can delete pending updates on Windows 10 computers. I hope this article helped you! Please share it with your friends also. If you doubt this, let us know in the comment box below.