Health is your first best friend, and you should take care of it. With the advancement of technology, it has become easier to take care of our health. You get plenty of health tools and diet monitoring apps to help you lose extra weight and maintain good health.
Like a physical workout, food intake also plays a crucial role in staying fit and healthy. Using an iPhone, you can install diet apps to create a customized diet plan that suits your need.
Also Read: Best iPhone Apps to Help you Wake Up in the Morning
List of 10 Best Dieting Apps for iPhone
Hence, if you are looking for ways to maintain a healthy diet, it's a good idea to start using the Diet apps for your iPhone. Below, we have shared some of the best iPhone diet apps you would never regret having. Let's get started.
MyFitnessPal is a free health & diet app for iPhone that can help you achieve your weight loss goals. You can use this app to track progress toward your nutrition, water, fitness, and other things.
MyFitnessPal has a huge database of over 14 million foods, and it supports food logging by scanning the barcodes. Besides that, MyFitnessPal offers you more than 500 healthy goal-focused recipes and 50 workouts to help you stay fit and healthy.
If you are looking for a diet app for iPhone that can help you lose weight fast & in a healthy way, you need to start using Lose it! App.
Lose it! is one of the best & perfect dieting apps for iPhone users that offers many options. You can check out the basic diet plans for free, whereas the certified and effective ones are available only in the paid tier.
Apart from the diet plans, Lose it! can be used as a calorie counter as well. You can use it to track your calories using barcodes & search engines.
Noom is an iPhone app that can help you lose weight and get healthy. The app motivates you to eat less and move more. It does so by providing you a food logging & calorie counting.
The app also has many simple and healthy recipes designed for weight loss. Besides that, it has over 1000 interactive lessons on maintaining good health. Overall, Noom is an excellent diet app for iPhone that you shouldn't miss.
FitCycle isn't as popular as the other apps; it still covers three essential parts of a healthy lifestyle – Workouts, diet, and fitness habits.
The app offers a wide range of at-home exercises for weight loss, fitness programs for body toning, nutrition plans for every taste, and essential tracker tools to track water intake, walking, and calories.
So, if you are looking for an iPhone app that can motivate you to exercise, build mindfulness, and improve your diet, you need to use the FitCycle app.
DietBet is one of the unique diet apps you can ever use on your iPhone. Millions of users right now use the app to lose weight.
As you might have guessed by the name, DietBet is an app that helps you reach your weight loss goals by betting on yourself. It has a very active community where you can engage and place a bet.
You need to join a game by placing a bet. The games in DietBet usually ask you to achieve weight within a certain period. The bets were set by the community members, and the prize amount was distributed among all winners.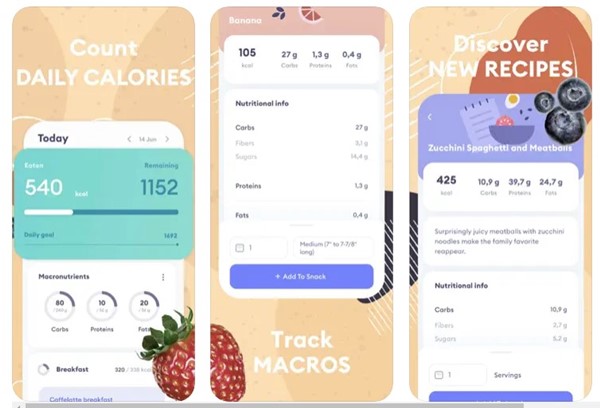 If you're eager to look and feel better, you need to use the My Diet Coach app. My Diet Coach is a weight loss app that can help you drop a few pounds quickly & permanently.
You can use the My Diet Coach to track your weight loss progress, track what you eat, count calories, track macros, and more. The app is designed for diet planning & weight loss only; it doesn't have any workout guides.
Well, 8fit Workouts & Meal Planner is one of the top-rated apps in the Fitness & nutrition section. The app puts fitness and nutrition experts in your pocket.
To start using the app, you must determine your wellness goal and track your progress. You can measure & keep track of your fitness level, receive custom workouts and meal plans, and more.
Apart from that, the 8fit Workouts & Meal Planner app provides you with nutrition tips & guides, weekly healthy recipes, fat-burning exercises, informative workout videos, and more.
Lifesum is a reasonably popular iPhone app on the list that provides you with a calorie counter & exercise tracker. Being a calorie counter in itself, Lifesum automatically shows you all the necessary information about the food you have entered. It shows you information like total calories, fats, carbs, protein, and more.
The free version of Lifesum has somewhat limited choice, and most users would remain unsatisfied with it. To unlock all features of Lifesum, you need to subscribe to Lifesum premium.
Lifesum provides you with a wide variety of diets, access to a recipe library, detailed nutritional information, body measurement tracking, and more.
Well, BetterMe serves as a workout and diet coach for you. The app is supported by real human coaches who not only help you in a workout but also help you create a personalized diet plan to achieve fitness goals.
The app has workouts for any level, various cardio and yoga practices, easy-to-follow meal plans, and more.
The premium version of BetterMe also provides support from certified coaches worldwide. Overall, BetterMe is a great diet and weight loss app that you can use today.
FatSecret may not be a top-rated app, but it's still one of the most effective diet & weight loss tracker apps you can use on iPhone. With FatSecret, you can keep track of your food, exercise, and weight.
It has a barcode scanner that you can use to know the nutritional information of the food you're about to eat. Besides that, you also get an exercise diary to keep track of exercises & and a diet calendar to record your diet plan along with the calories you consumed and burned.
These diet apps for iPhone will help you lose fat or gain a healthy weight. So, these are some of the best diet apps for iPhone that you should start using today. If you want to suggest other diet or exercise apps, let us know in the comments.