Do you have slow internet connection? Or you are unable to download files at maximum speed over internet, then this article will help you out. Learn how to double your IDM Download speed by doing some tweaks.
[dropcap]I[/dropcap]nternet Download Manager being one of the conventional downloaders that help you to boost up your downloading speed in your PC. Also, the best part of IDM is its capability to resume any download. And today we are here with the cool method that will help you in increasing the download speed of Internet Download manager. So, you have to follow some of the simple steps below to boost up your download speed in IDM.
Also Read: How to Download Torrent Files Using IDM
How to Double IDM Download Speed on Windows
So here we have discussed some of the ways that will help you to boost your download speed in IDM that is based on some of the settings that you have to alter in your downloader and your download speed will be boosted dramatically.
Also Check: How to Increase uTorrent Download Speed
#1 Method: Altering Settings In IDM
Just alter some settings in your IDM discussed here and see the change in download speed.
Step 1. First of launch your Internet Download Manager and click on Downloads and then make the Speed Limiter off.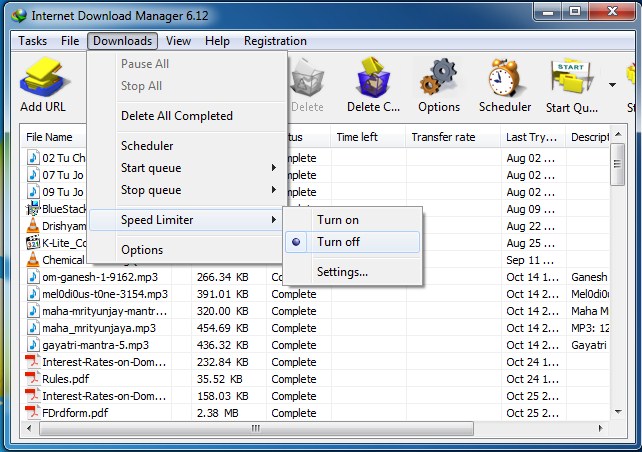 Step 2. Now again click on Downloads and in Speed Limiter click on Settings. Now there set the speed with little less than your connection speed. Better is to set it from 1000 KB to 10000 KB.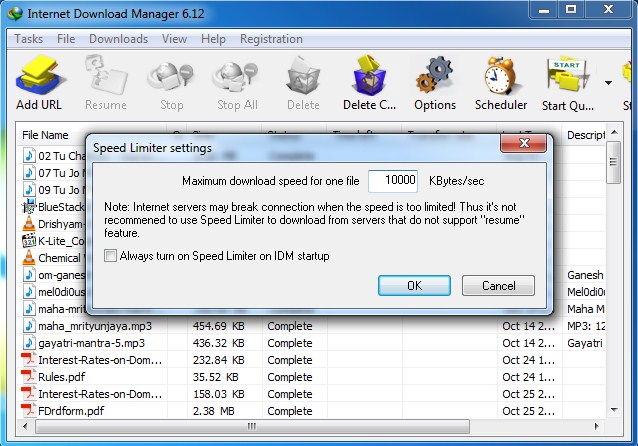 Step 3. Now again click on downloads button and choose options. There under Connection tab select the high bandwidth Connection type/speed. Click on an ok button to save all the changes.
Step 4. Now you need to click on "Default max. conn. number" for that you need to go to "Option" there you need to click on "connection tab" and then change the default max. conn. number from 8 to 16 and then hit "OK"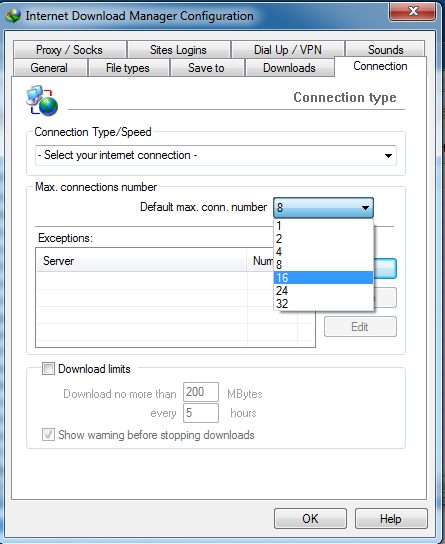 That's it! you are done, now your download speed will get a boost.
Also Read: How To Boost Up Internet Speed On Google Chrome (5 Steps)
Method 2: Closing All Other Ongoing downloads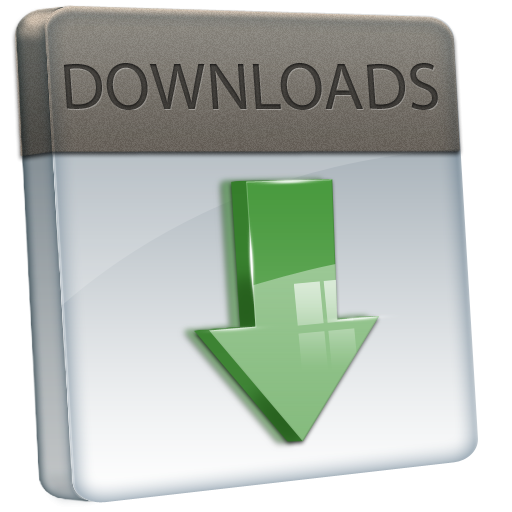 Sometimes it happens and we didn't notice. If you are getting slow speed in IDM there might be a possible reason you are the computer is downloading other things at the same time. Therefore, make sure to close all the ongoing downloads to get the speed. You can even look for Windows update which silently takes place.
Also Read: How to Use an Android device as Second Monitor for your PC or MAC
Method 3: Closing Other Applications
You need to click CTRL+ALT+DELETE and select task manager. You can also right-click anywhere in the taskbar and select "Task manager". Now you need to look for the apps that are consuming lots of RAM. Closing all the unnecessary apps, for instance, allows IDM to use your RAM and it will definitely improve your downloading speed.
Method 4: Using IDM Optimizer Tool
Use the tool discussed in this method and boost up your IDM speed.
Step 1. First of all download and install IDM Optimizer Tool in your Windows PC.
Step 2. Now make sure IDM is installed on your PC, as this tool will only optimize IDM if it's physically present on your system. Now just fire up your IDM Optimizer and then you will see the window like above just click on Maximize Now and you will get a note asking you to restart your IDM do that and once restart your PC.
Step 3. That's it now your IDM is boosted with speed, try to download any file and check out if speeds are good or not. If you want to restore your default settings then you can click on Restore Default.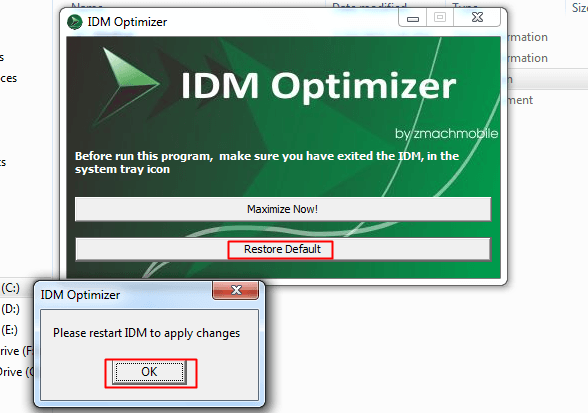 That's it you are done, now your IDM will get boosted.
Also read: Best Tricks And Hacks For Your PC
So above is all about How to Double IDM Download Speed on Windows. With the methods discussed above, you can easily get your Internet downloading speed boosted in your IDM quickly. So must try out this method on your PC and enjoy the fast downloading. Hope you like this, do share it with others too. Leave a comment below if you have any related queries with this.