As of now, there are hundreds of malware cleaners available for Windows 10. However, out of all those, only a few stand out from the crowd. On techviral, we have already shared quite a few articles on security, like best anti-malware tools, best antivirus tools, and more.
Just like malware, the adware can enter your system too. People usually misunderstand Adware as Malware. However, both of them are different. Adware is a kind of software meant to display ads to generate revenue.
If your PC has adware, you will see ads out of nowhere on your computer. However, the thing is that adware doesn't harm your PC. It just slows down your PC. To maintain the proper health of a computer, adware should be detected and removed. To carry out the adware removal task, Adwcleaner is often recommended.
What is AdwCleaner?
Well, AdwCleaner is one of the leading anti-malware and adware removal tools available for Windows 10. Compared to all other adware removal tools, AdwCleaner is more effective and stable.
So, it is one of the leading adware removal tools that Windows users should have on their systems. The great thing about AdwCleaner is that the same team behind Malwarebytes backs it.
AdwCleaner uses some advanced mechanisms to scan and remove hidden adware from your system. Apart from adware, AdwCleaner can also remove Potentially Unwanted Programs (PUPs).
Features of AdwCleaner
The official site of Adwcleaner claims to destroy adware and restore the PC's performance. It's also a portable tool that can be run through USB drives.
Adwcleaner is fast and removes all hidden adware and potentially unwanted programs from your PC. The unusual browser new tab page, toolbars, bundled programs, new search engine, etc., get cleared with the Adwcleaner.
The anti-adware tool is capable enough to find hidden adware and potentially unwanted programs that other antimalware engines fail to detect. Apart from that, it also helps you eliminate browser toolbars, new start pages, new search engines, etc., from your web browser.
Another good thing is that AdwCleaner is a freeware tool. That means you can get it for free and use it without any limitations. It's also a portable tool, allowing you to use the application straight from a USB device.
Download Adwcleaner for Windows 10 latest version
Now that you are fully aware of AdwClenaer, you might be interested in trying the tool on your system. So, if you believe that your PC has adware, you should immediately install the tool and run a full scan.
AdwCleaner is a free tool provided by Malwarebytes, and it installs nothing on your computer. Just download the tool, launch it, and click on the scan button to perform a scan.
However, if you want to use AdwCleaner on multiple systems, it's best to use the AdwCleaner offline installer. Since it's a portable tool, you can carry the executable file on a PenDrive to scan any system in need.
Below, we have shared the download links of the latest AdwCleaner for PC. Let's get the download link.
How to Use AdwCleaner to Remove Adware & PUPs?
Well, after downloading the AdwCleaner on your Windows 10 computer, you need to follow some of the simple steps given below. Here's how to use AdwCleaner to remove adware & PUPs.
1. First of all, double-click on the AdwCleaner.exe file on your PC.
2. Since it's a portable tool, it will run directly on your system. You will see a screen like below.
3. Next, click on the Scan Now button, as shown in the screenshot.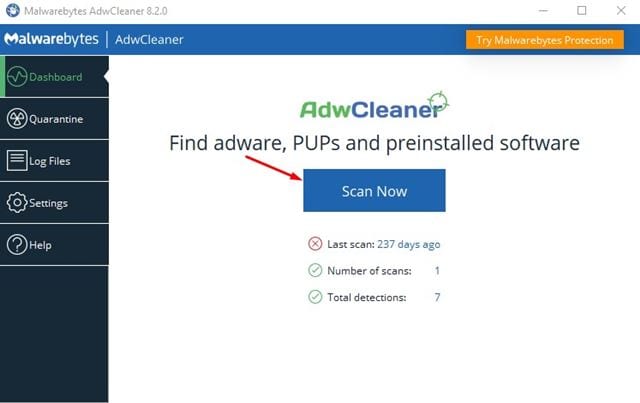 4. Now, wait until the scan completes on your system.
5. If the program finds any adware or PUP, it will notify you. Click on the Quarantine button to move the file to the Quarantine folder.
That's it! You are done. This is how you can download & use AdwCleaner on your system.
So, this guide is all about AdwCleaner for Windows 10. I hope this article helped you! Please share it with your friends also. If you have any doubts about this, let us know in the comment box below.