Amazon is probably the best e-commerce site out there. You will find products for every different need, and over the years, the site has served as a great shopping site for many. Today, it has become the leading shopping site in the world, and it's available in every region.
You may need to download your Amazon Order History if you are a frequent Amazon Shopper. Now you can have different reasons to download Amazon Order history, maybe your company pays for your products, or you want to split the bills with your colleagues.
Whatever the reason, it's easy to view and download Amazon Order History. And it can be done from both mobile and desktop. So, if you are looking for ways to view Amazon order history, continue reading the guide.
Amazon Order History Report: How to Find and Download
Below, we have shared some simple methods to help you create an Amazon Order History report and view it. Let's get started.
1) View and Download Amazon Order History on the Desktop
In this method, we will use the web version of Amazon to view and download the order history. Follow some of the simple steps shared below to download amazon order history.
1. Open your favorite web browser and sign in to the Amazon website.
2. Now, click on Account & Lists in the top-right corner.
3. From the list of options, select 'Your Account'.
4. On the Your Account screen, find the Data and Privacy section. Click on the Request Your Information link.
5. Next, click on the Request My Data drop-down and select 'Your Orders'. Once done, click on the Submit Request button.

6. Now, Amazon will send you a confirmation link to your email. You must follow that email and click the link to verify your request.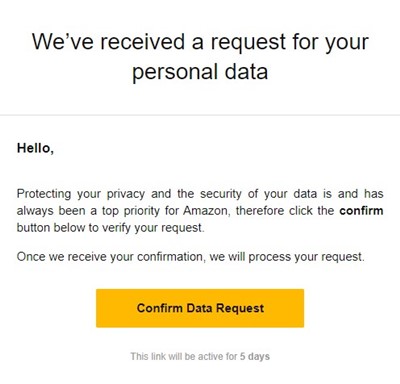 7. Now, you will see a success message like this. Now Amazon will provide your information to you as soon as they can.
That's it! Now Amazon will send you an email with your order report history. However, do note that Amazon may take up to 1 month to deliver the Order History Report.
In some cases, it may even take longer than 1 month. However, if you are not a heavy Amazon shopper, you can expect a report within a few days.
2) Generate Amazon Order History Report for a specific time
There's another way to generate an Amazon order history report. For that, you need to follow these steps. This will allow you to select the time frame before generating a report.
1. First, open your favorite web browser and follow this link.
2. Sign in to your Amazon account. On the Report type drop-down, select 'Orders and shipments'.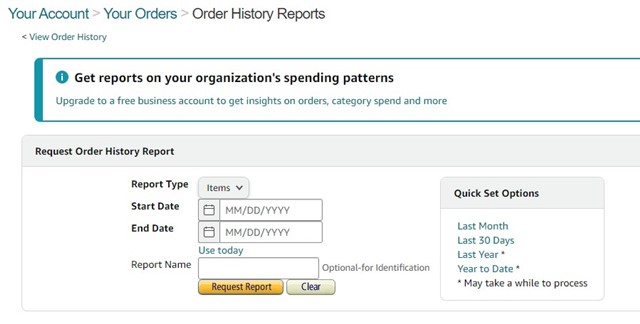 3. Next, select the Start and End date. Once done, you can set the Report name and click on the Request Report option.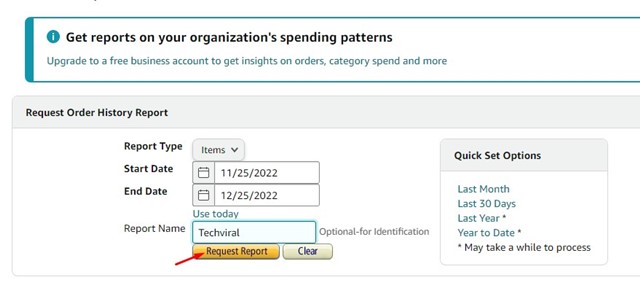 4. If you want to avoid going through the manual process, use the Quick Set options. The Quick Set options will let you generate Amazon order history report for the Last Month, Last 30 Days, Last Year, and Year to date.
That's it! Now Amazon will create the order report for your selected time frame. You will get an email within a few days containing a download URL. Just click on the URL and download the Amazon order history report.
3) How to Download Amazon Order History Report from Mobile?
Unfortunately, if you use the Amazon mobile app for shopping, there's no option in the app to generate the order history report.
However, you can easily check your recent Amazon order history. Here's how to do it.
1. First, open the Amazon app on your Android or iPhone.
2. Next, tap on the hamburger menu at the bottom-right corner.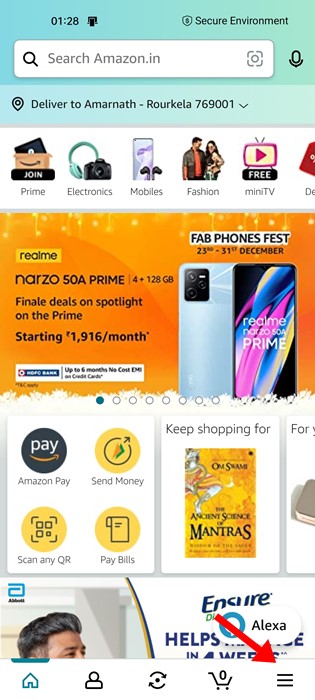 3. On the menu page, tap on Orders at the bottom.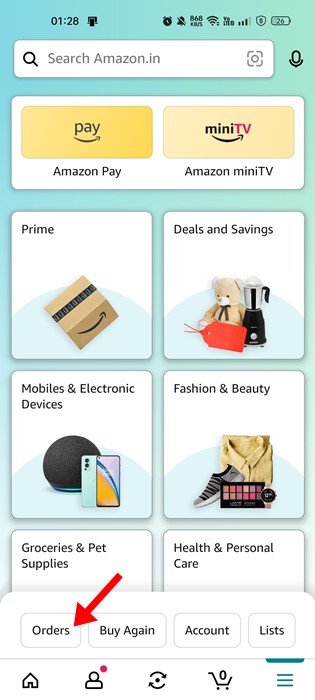 4. Now, you can see all orders you have placed on Amazon.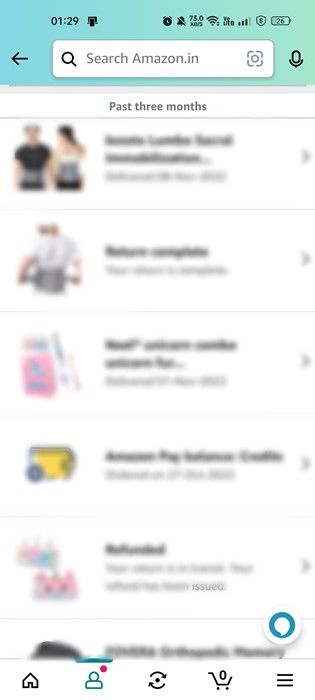 That's it! That's how easy it is to check Amazon order history on mobile. Alternatively, you can use your mobile web browser to generate a full Amazon order history on mobile. You need to utilize the web version of Amazon via a web browser and follow the above methods.
How to View Amazon Order History Report?
You will receive a download link containing your Amazon order history report in your registered email. You need to follow that link and download the order history report.
Once downloaded, the report will be available in CSV format. Hence, you will need Microsoft Excel, Apple Numbers, or any other spreadsheet software on your computer to view it.
The order history report will have your Order Date, ID, Product Name, Category, and ASIN/ISBN code.
Also Read: Amazon Prime Video Alternatives
So, this guide is all about how to download Amazon Order History Report from desktop and mobile. If you need more help in generating Amazon order history report, let us know in the comments below. Also, if the article helped you, make sure to share it with your friends as well.