During COVID-19, the world has witnessed some massive changes. It has greatly boosted media streaming services like Netflix, Hulu, Disney+, etc. These days, we can't live without video streaming services, as regular video consumption has become a need.
Today, the subscription price for premium video streaming sites has also come down. While most video streaming services today can be accessed from a web browser on a computer/laptop, users still want a dedicated app for accessing the video library.
Recently, many users have messaged us asking about Hulu desktop app. Hence, in this article, we will discuss the Hulu app for PC and how you can download & install it. Let's get started.
What is Hulu?
Hulu is basically a media streaming service majority owned by The Walt Disney Company. Being a full-fledged video streaming site, Hulu offers you hit movies, TV Shows, Hulu Originals, Kids Shows, and more.
Also, a Live TV option gets you 90+ top channels on Hulu + Live TV with your favorite live sports, news, and events. However, to enjoy all the benefits of Hulu, you would need to purchase the premium plan.
The company provides a 30-day free trial on purchasing all its plans.
Download Hulu for Windows PC
Hulu is possibly the biggest competitor of Netflix in terms of content. Due to its high-quality content, many Hulu users want to download Hulu desktop app.
Yes, Hulu can be accessed from a web browser, but having a dedicated desktop app would make the Hulu library even easier to access. Whenever you feel like watching a video on Hulu, launch the desktop app & start watching it straight away.
There are multiple ways to download the Hulu desktop app; you can get it from the Microsoft Store (Windows) or install Hulu as a progressive web app on Windows/Mac.
Download Hulu Desktop app for Windows 10/11
If you are a Windows user, you must follow these simple steps to download & install Hulu on your computer/laptop. Here's how to download & install the Hulu desktop app.
1. Type in Microsoft Store on the Windows Search. Next, open the Microsoft Store app from the list.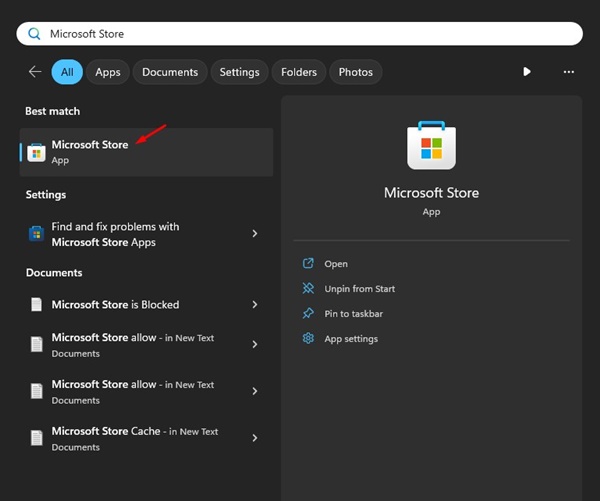 2. When the Microsoft Store opens, search for Hulu.
3. Open the Hulu official app from the list of search results. Next, click on the Get button.
4. Now wait until the Hulu desktop app installs on your Windows PC.
5. Once installed, click on Windows Search & type Hulu. You will find a dedicated Hulu app installed.
That's it! Open the Hulu app and sign in to your account. You can access the massive library of Hulu without using a web browser.
Download Hulu for PC (Chrome App)
As we all know, the Google Chrome browser for Windows & Mac supports installing websites as a progressive web app. You can install & stream Hulu with the Chrome browser web app on your supported PC & Mac computer.
1. Open the Google Chrome browser on your PC. Next, log in to the hulu.com.
2. Click on the three dots on the top right of the address bar.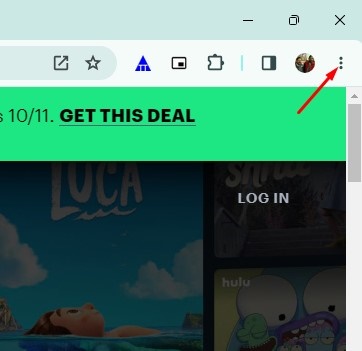 3. On the Chrome menu, select Save and Share > Create Shortcut.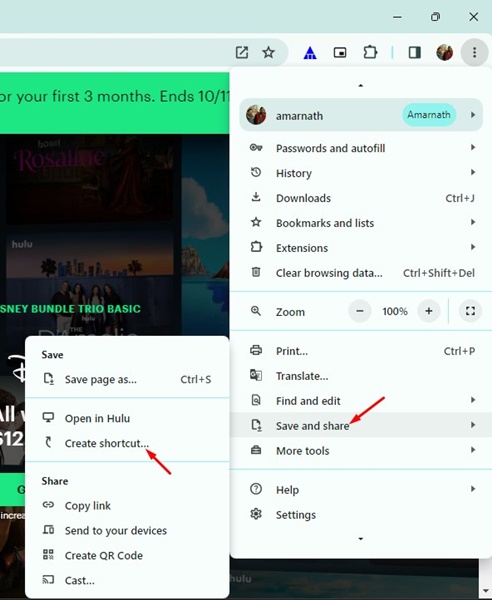 4. On the Create Shortcut prompt, check the Open as window checkbox and click Create.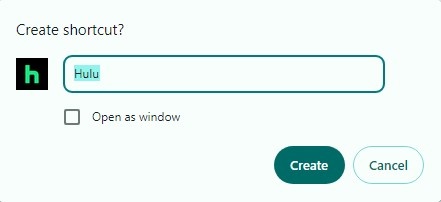 5. A Hulu shortcut will be added to your desktop screen. You can also launch the app from the Windows 11 Search.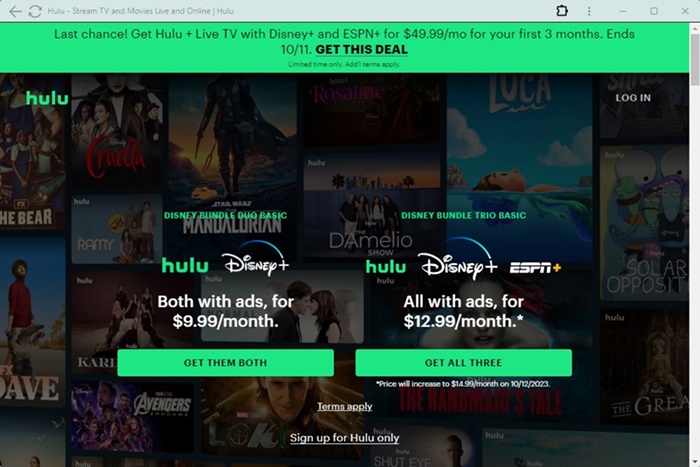 That's it! This is just another method of installing Hulu on a PC.
Features of Hulu
Look at these features if you haven't yet purchased a Hulu subscription. The features of Hulu are enough to convince you to purchase a premium plan.
Watch All your favorites
The Hulu Premium subscription will let you watch live & on-demand TV from 90+ top channels, including sports and news.
Stream Full Seasons
Whether it's a movie or a recently released episode, Hulu Premium lets you stream full seasons of all available content.
Hulu Originals
Hulu is a video streaming service known for its binge-worthy & award-winning original content. So, you can use the desktop app to watch all Hulu Originals.
Creating Multiple Profiles
The ability to create multiple profiles is another plus point of Hulu. This feature is especially helpful if you often share your Hulu account with your friends & family members.
Personalized Recommendations
Based on your video watch history, Hulu also generates personalized recommendations. You can explore your personalized list to find the best content to watch next.
So, these are some of the best features of Hulu Premium. You should start using the desktop app to know all its features.
So, this guide is about downloading Hulu on a Windows PC. You can rely on the desktop app to watch all exclusive & original Hulu content. Let us know if you need more help downloading Hulu for Windows.