Currently, hundreds of office suite applications are available for Windows and Mac. However, out of all, only a few stand out from the crowd. Let's admit it, whenever we think of an office suite, we think about Microsoft Office.
However, the thing is that Microsoft Office doesn't come for free, and it's pretty expensive. Students mainly use Microsoft Office Suite, and sometimes they can't afford it and look for free alternatives.
So, if you are a student looking for a free Microsoft Office alternative, you are reading the right article. In this article, we will discuss one of the best free office suite applications for PC known as 'Libre Office.'
What is LibreOffice?
Well, LibreOffice is a success to OpenOffice, which is now used by millions of people worldwide. It's one of the best and most powerful office suite applications that one can use on a computer & laptop.
The good thing about LibreOffice is that it's free to download and use. Moreover, its attractive & clean interface and feature-rich tools help you unleash your creativity and enhance productivity.
So, if you are looking for an easy-to-use and good-looking Microsoft office replacement for your PC, then LibreOffice might be the best pick for you. Millions of users around the world right now use it.
Features of LibreOffice
Now that you know LibreOffice, you might be interested in its features. Below, we have highlighted some of the best features of LibreOffice for PC.
Free
Yes, LibreOffice is free to download and use. Additionally, LibreOffice has no ads or hidden charges. Also, creating an account to use the office suite application is not a hassle.
Includes all office applications
Just like Microsoft Office Suite, LibreOffice also includes all office suite applications. You will get a Writer (word processing), Calc (spreadsheets), Impress (presentations), Draw (vector graphics and flowcharts), Base (databases), and Math (formula editing).
Compatibility
LibreOffice is fully compatible with a wide range of document formats. You can easily open and edit Microsoft Word documents, Powerpoint, Excel, and more. With LibreOffice, you also have maximum control over your data and content.
Install Extensions
Besides all other features, LibreOffice is mainly known for its extensive sets of extensions. Therefore, you can easily expand the functionality of LibreOffice by installing some powerful extensions.
PDF Support
You don't need to install any additional PDF reader app on your PC if you have LibreOffice. LibreOffice is fully compatible with PDF format. You can easily view and edit PDF documents with LibreOffice.
So, these are some of the best features of LibreOffice. Of course, the office suite application got more features; use the program to explore the hidden features.
Download LibreOffice Offline Installer for PC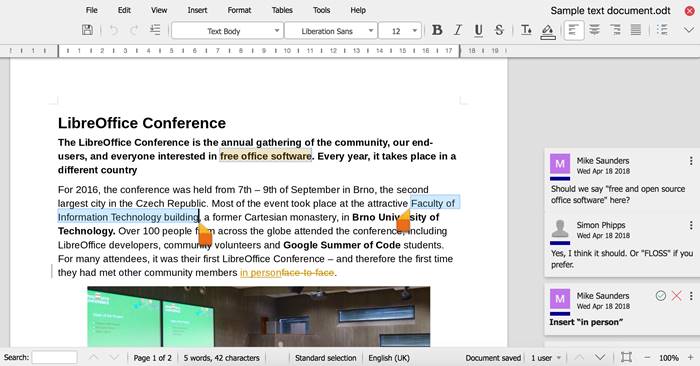 Now that you know LibreOffice, you might want to download the application on your PC. Since LibreOffice is a free application, you can download it from the official website.
However, it's best to download the offline installer if you want to install LibreOffice on any other computer. This is because LibreOffice offline installer doesn't require an active internet connection during the installation.
Below, we have shared the latest version of LibreOffice for PC. The file shared below is free from viruses & malware and is entirely safe for download. So, let's download LibreOffice's latest version for PC.
How to Install LibreOffice on PC?
Installing LibreOffice is pretty easy; you first need to download the offline installation file shared above. Once downloaded, you need to run the executable file.
Next, follow the on-screen instruction to complete the installation process. Once installed, the LibreOffice shortcut will be added to the Start Menu and Desktop.
If you want to install LibreOffice on any other system, move the LibreOffice offline installer to another PC via a USB drive. Now install the program normally.
So, this guide is all about downloading LibreOffice for PC's Latest version. I hope this article helped you! Please share it with your friends also. If you have any doubts, let us know in the comment box below.