Recently, Apple hosted a WWDC 2022 conference where it unveiled lots of exciting new things. At the event, Apple introduced iOS 16, macOS Ventura, M2 chip, and more. All of the latest announcements are cherished by Apple users, especially the iOS 16 and macOS Ventura.
macOS Ventura
According to Apple, macOS Ventura will make things you do most on Mac even better. It offers you some effective new ways to get more done, share and collaborate in your favorite apps, immerse yourself in next-level games, etc.
The new operating system has an improved search option, new search design, live caption support across audio content, etc. You can check out the complete list of features from this webpage.
Apart from the features, macOS Ventura also offers new desktop wallpapers that look impressive. And more notably, the wallpapers were available in both light and dark versions. You can download the wallpaper in full resolution and use it on your Mac or Windows device.
Download macOS Ventura Wallpapers
While you have the option to get the new wallpaper by installing the macOS Ventura beta, installing the beta version of the software is not recommended. Also, the macOS Ventura beta is only available for developers via the Apple Developer website.
Apple hasn't yet released the macOS Ventura to the public beta channel. So, there aren't many options left to download & install the macOS Ventura beta. Hence, the best option to try the new wallpapers is to download them.
Below, we have shared the preview of the wallpaper added to the macOS Ventura beta. Don't download the preview files, as they are just shared to show what the wallpapers look like. You need to download the wallpapers from the Google Drive link that we have shared below.
[button-green url="https://drive.google.com/drive/folders/1dZ9SEQHkTmFrF9XlTUIa0LR7k5TKIdEd" target="_blank" position="Center"]Download macOS Ventura Wallpapers[/button-green]
Open the Google Drive link on your web browser and click on the download button on the top-right of the wallpaper. This will download the wallpaper on your device.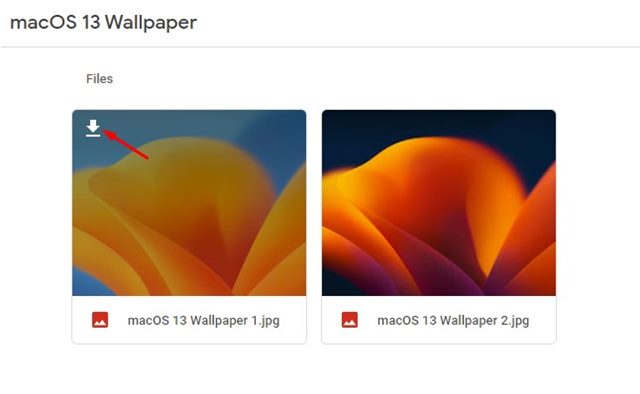 If you want to download both wallpapers in a single click, click on the Download All button as shown below.
Apart from the macOS Ventura, Apple also introduced new wallpaper for iOS 16. You can download the iOS 16 Wallpapers and use them on your iPhone or Android.
So, that's all about how to download macOS Ventura wallpapers. You can download and use it on your Mac or desktop. If you need any more help regarding the wallpaper downloads, let us know.