If you stay updated on social networking platforms, you might know about Apple's exciting new announcements. At WWDC 2022 conference, Apple showcased iOS 16, the mobile operating system that will power eligible iPhones.
iOS 16 is supposed to enhance iPhone with all-new personalization options, and deeper intelligence and will provide you with seamless ways to communicate & share. You can check out the exciting new iOS 16 features Apple has added.
Along with the new feature, Apple's iOS 16 also introduced a new wallpaper that looks pretty cool. And if you can download the new wallpaper and use it on any smartphone.
iOS 16 new lock screen & Wallpaper
Apple introduced some massive changes with iOS 16's lock screen. In fact, the lock screen had been fully redesigned, and it now supports widgets, animated wallpapers, and more. The new lock screen has animations and images that interact with the clock & widgets in real-time.
Due to this new system, iOS 16 no longer serves static images on the lock screen. Instead, the wallpaper is rendered in real-time. While the new lock screen mechanism looks & feels good, it has made things difficult for developers to retrieve the wallpapers.
However, the good thing is that folks at 9to5Mac have managed to render the new iOS 16 wallpaper as a high-resolution image. So, if you want to use the new iOS 16 wallpaper, you can download & use these extracted wallpapers on your old iPhone or even on Android.
Download iOS 16 Wallpapers in High Resolution
While you can join the beta program of Apple and install the iOS 16 straight on your iPhone, the software is likely to be very unstable, and many things might go wrong even on standard usage.
So, it's not a good idea to ditch a stable version of iOS just for a lucrative new lock screen. Anyways, you can download the latest iOS 16 wallpapers in high resolution. Below, we have shared the wallpaper previews; don't download them. Scroll down a bit and download the ZIP file we have shared.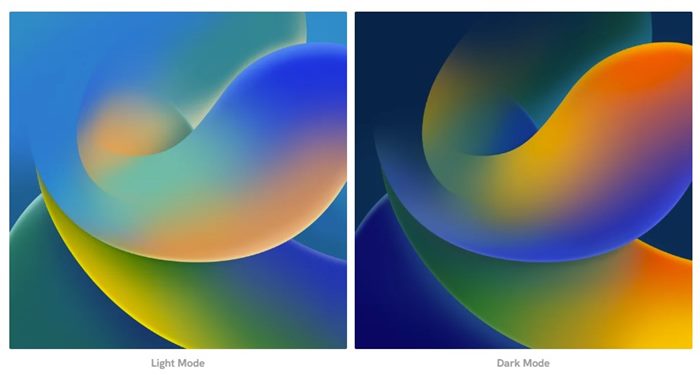 The ZIP file we have shared contains the new iOS 16 wallpapers in high resolution. You can download them and use them on any smartphone.
[button-green url="https://bit.ly/3O0a3RZ" target="" position="Center"]Download iOS 16 Wallpapers[/button-green]
Apart from iOS 16, Apple also introduced new wallpapers for iPadOS 16 and macOS 13. If you want to grab the wallpapers of both operating systems, stay tuned with Techviral.
Also Read: Download the New macOS Ventura Wallpapers in Full Resolution
So, these are the new iOS 16 wallpapers that Apple introduced. You can check out other new features of the upcoming iOS 16. Also, let us know if you like the new wallpapers or not in the comments below.