As of now, there are hundreds of media player applications available for the Windows operating system. However, out of all those, only a few stand out. With a good media player app, you can play movies, videos, music files, etc.
Some media player apps like VLC Media Player can stream videos from video websites like YouTube, Vimeo, etc. In this article, we will talk about one of the best media player app for PC known as PowerDVD.
What is PowerDVD?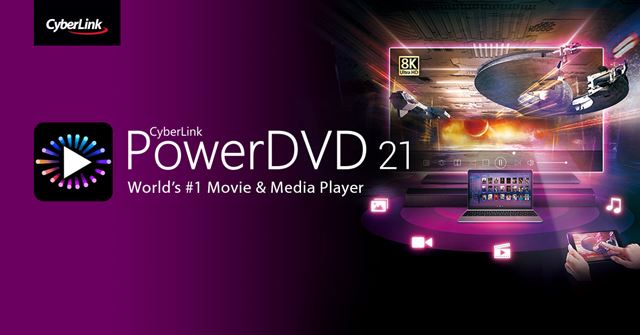 Well, PowerDVD is a full-fledged media player app available for PC platforms. It's a universal media player app for all your entertainment needs. With PowerDVD, you can play movies, videos, and music files.
Not only that, but PowerDVD also supports image formats. That simply means you can even view photos stored locally. Apart from that, PowerDVD can even stream videos from YouTube, Facebook, and other websites.
The media player app for PC works perfectly within the home network, share the media library with other DLNA devices at home.
PowerDVD is also amongst the first media player for PC that enables you to enjoy 8K, 4K, and Blu-ray videos with ease. From media management to playback, PowerDVD has all the media-related features that you need.
Features of PowerDVD
Now that you are aware of PowerDVD, you might want to know its features. Below, we have highlighted some of the best features of PowerDVD. Let's check out.
Media Format Compatibility
The latest version of PowerDVD is fully compatible with all major media formats. It supports almost all formats you can think of, like HEVC, AVC, XAVC-S, etc. Also, it supports 4K and 8K videos.
Ready for Anything
From photos to movies to music, or even your favorite YouTube videos, you can enjoy almost every type of file format on PowerDVD. It serves as a complete solution for all of your entertainment needs.
Dolby Digital Surround
The latest version of PowerDVD also has Dolby Digital Surround, DTS, and Hi-Res Audio support for up to 7.1 channels. You will really hear the difference while using PowerDVD on your PC.
Casting to Larger Screens
One of the great features of PowerDVD is the TV Mode. The TV mode can cast video and audio to an external device like HDTV, either wired or wireless, via WiFi.
View Photos
The latest version of PowerDVD is also compatible with different image formats. Moreover, it has powerful photo capabilities as you can view raw camera files, play slideshows, upload disk-based digital photos, etc.
Manage Your Shared Media
The latest version of PowerDVD has some improvements to the CyberLink Cloud user interface. You can now quickly scan through and manage your shared media collection right from the PowerDVD application.
Download PowerDVD Latest Version for PC
Now that you are fully aware of PowerDVD, you might want to download & install the program on your PC. Please note that PowerDVD is a premium application, and hence it can't be used for free.
The company behind PowerDVD – Cyberlink does provide a demo version that can be used for free. However, the demo version has many restrictions. So, if you want to unlock all features of PowerDVD, you need to purchase a license key.
Below, we have shared the latest version of the PowerDVD offline installer for PC. The file shared below is free from virus/malware and is entirely safe to download & use. So, let's get to the download links.
How to Install PowerDVD on PC?
Well, installing PowerDVD is pretty easy, especially on Windows operating system. First of all, download the PowerDVD offline installation file that we have shared above.
Once downloaded, run the PowerDVD executable file and follow the on-screen instructions. After the installation, open the PowerDVD application from the desktop or the start menu.
If you have a license key, you need to enter it on the PowerDVD account options. If you don't have the license key, you can use the demo version. That's it! You are done. This is how you can install Cyberlink PowerDVD on a PC.
So, this guide is all about how to download PowerDVD's latest version for PC. I hope this article helped you! Please share it with your friends also. If you have any doubts related to this, let us know in the comment box below.