We all know the importance of a Virtual Private Network or VPN service. These days, we can't have peace of mind without having a VPN app for Windows. The social networking platforms, websites that you visit every day track your browsing habits through web trackers.
Leading security companies like Avast, Kaspersky, etc., now have a standalone VPN app to help users deal with privacy and security issues. There are hundreds of VPN apps available for the Windows operating system, but not all of them are worth your money.
If you want to safeguard your privacy, you need to use premium VPN apps. Hence, in this article, we will discuss one of the best premium VPN apps for Windows, known as Vpyr VPN. Let's check out.
What is Vypr VPN?
Well, Vypr VPN is a premium VPN app available for both desktop and mobile operating systems. Although VyprVPN is not free, the plans of VyprVPN are very affordable. The base plan of VyprVPN starts at around $2 per month, which is less than other premium VPN apps.
Guess what? VyprVPN offers you every feature that you need to safeguard your system and privacy. In addition, you will get some unique features like Chameleon, VyprDNS, VyprVPN Cloud, WiFi Protection, Kill Switch, etc.
If you want to use VyprVPN for unblocking sites, let me tell you that the VPN service offers over 20,000 IP addresses in 700+ different countries. Moreover, every server of VyprVPN was optimized to provide you better web browsing, download & uploading speed.
Features of VyprVPN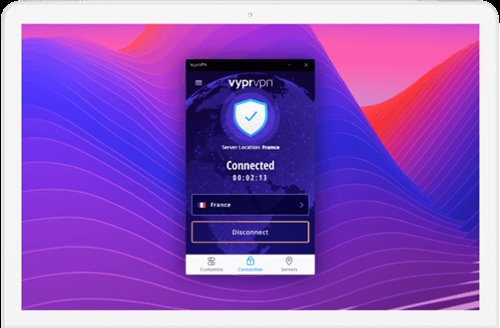 Now that you are aware of VyprVPN, you might want to know its features. Below, we have highlighted some of the best features of VyprVPN. Let's check out.
Encrypts Your Internet Connection
Well, VyprVPN works by encrypting your internet connection to secure it and protect your privacy online. So, you don't need to worry about hidden trackers or advertisers.
Strong Encryption
The premium version of VyprVPN uses strong AES 256-bit encryption by default and also provides DNS protection. Such strong encryptions keep your information safe from hackers, identity theft, and malware.
Stops Your ISP from Tracking Your Activity
Since it's a premium VPN app, VyprVPN also stops your ISPs from tracking your every activity on the internet. It also prevents advertisers from collecting and selling your valuable data.
Mask Your Location
Want to unblock certain websites? Or want to mask your IP Address? VyprVPN can change your location with just a click of a button. You can easily escape internet restrictions imparted by workplaces, organizations, and governments by masking your IP Address.
Kill Switch
VyprVPN also has a Kill Switch feature that automatically closes the internet connectivity whenever the VPN drops a connection. This thing is done to protect your identity.
WiFi Security
The latest version of VyprVPN also has a WiFi protection feature that ensures your connection is always secure and protected. That means you can check emails, interact on social media even when connected to public WiFi.
So, these are some of the great features of VyprVPN. It has more features that you can explore while using the program on your PC.
Download VyprVPN Latest Version for PC
Now that you are fully aware of VyprVPN, you might want to download & install the program on your PC. Please note that VyprVPN is not available as a free download.
The company doesn't even offer any free trial to test the product. So, if you want to use the VPN app, you need to purchase a license. However, the cost of the premium version is pretty affordable.
Below, we have shared the latest version of VyprVPN. The files shared below are free from virus/malware and are entirely safe to download and use. So, let's get to the download links.
How to Install VyprVPN on PC?
Well, installing VyprVPN is pretty easy, especially on Windows operating system. First of all, download the VyprVPN installation files that we have shared above.
Once downloaded, run the VyprVPN executable file and follow the on-screen instructions to complete the installation process.
Once installed, open VyprVPN and log in with your account. You will be able to use the program. That's it! You are done. This is how you can install VyprVPN on a PC.
So, this guide is all about downloading VyprVPN latest version for PC. I hope this article helped you! Please share it with your friends also. If you have any doubts related to this, let us know in the comment box below.