Well, those days are gone when we have to make a visit to the physical stores to purchase things. Nowadays, we get the freedom to purchase items through the internet. The best thing is that you can now purchase almost everything from the internet ranging from fashion items to electronics.
There are plenty of online shopping portals out there like Amazon, Flipkart, Snapdeal, eBay, etc. All these sites provide users amazing and original products at an affordable price. After placing an order, we need to wait for few days to get the product delivered on our doorstep.
The process is easy, but the waiting time to get our product delivered is what makes us feel restless. At that time, we all visit the package tracking website to know where our package is right now. So, if you get impatient while waiting for your purchase, then you need to check where it is on its way to you.
How to Easily Track Almost Any Package Online
There are plenty of tracking services out there that can help you track almost any package online. In this article, we have decided to share a list of best web services that allow you to track almost any package online from multiple providers.
The method is quite simple and easy and you just need to use some of the web-apps that will be really helpful to track your order with your order numbers. So have a look at these apps below.
This is the most popular tracking service that is available right there. This service has its collaboration with almost 300 carriers making it assured for the users to easily connect to their carrier. The best feature that this service provider is, it provides the exact location for the packages with all the meta details like date and reporting time etc.
This app isn't the true tracking service but it works alike to that. The procedure that it follows is, it collects the tracking info from the carrier and displays it to you. In the case of your career do not unfold the information to this service then you cannot check for your packages. This app could be your fastest way to track the orders or packages as you won't require to log in to your carrier's service and thereafter reach to their tracking utility.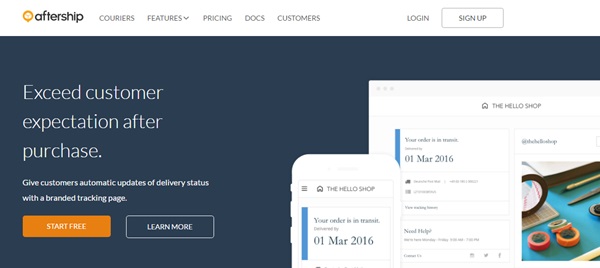 This service might not be extensively vast but this service is immensely useful for the site owners or authentic dealers. Meanwhile, it is not made with the end-users on focus but for the people working with the WooCommerce or Shopify. With the collaboration to these website utilities, the users could track thousands of orders easily. In free version this service provider 100 order tracks while this limit could be extended by buying the service.
This service is the one that is connected with almost every major carrier. The list of careers is not huge, but still, it covers every major carrier. Those who are looking to track their packages either locally or globally, they can use this service.
5. PackageRadar
This is another best service on the list that is connected with the highest number of carriers. It deals with 190 carriers that include both local as well as major global carriers. Like other services this service provide each and every detail regarding the location and reviving of packages by the node points!
Track24 is another best and top-rated postal carrier & multiple express courier tracking services that you can use right now. The best thing about Track24 is that it covers over 609 carriers from all across the world. With Track24, you can easily track the packages of Hongkong Post, Singapore Post, USPS, EMS, FedEx, etc.
Parcel Monitor is not the most popular, but definitely the best package tracking web service that you can use right now. The best thing about Parcel Monitor is that it covers most of the major carriers like FedEx, DNL, USPS, China Post, etc. So, Parcel Monitor is definitely the best all in one tracking service that you can use right now.

All-in-One Package Tracking from Postal Ninja is another best web service to quickly and precisely track your international shipments. With All-in-One Package Tracking, you can easily track your packages from the US, Europe, China, etc. It covers lots of important shipping companies like SF Express, Flyt Express, Yanwen Logistics, etc.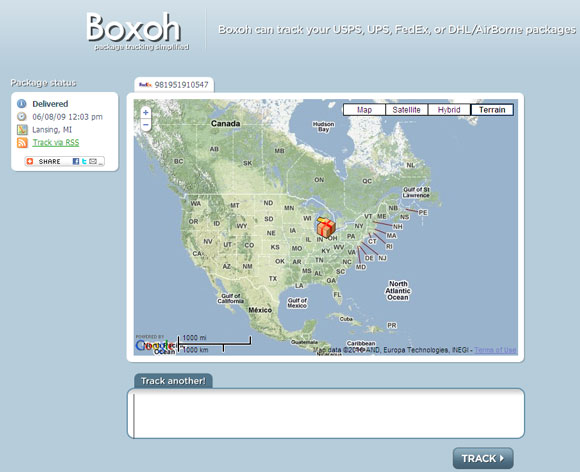 Boxoh is another best website from where you can track the parcels from UPS, USPS, FedEx, and DHL/Airborne. The site doesn't support every carrier, but it does cover the most prominent ones. What's more useful is that it shows the parcel real-time location on Google Maps once you enter the tracking code.
PackageTrackr is superior to Boxoh when it comes to carrier support. It supports a few popular ones like FedEx, UPS, and DHL. Apart from that, it also supports over 21 other worldwide carrier services like EMS. It just shows the current location along with the transit points as a text.
After reading about all the above apps and services described in the article, you possibly would have found all these to be great. You can easily use these apps to actively track your orders or packages. I hope this article helped you! Share it with your friends also.