As of now, there are many instant messaging apps available for Android smartphones. Out of all those, only a few of them stands out from the crowd. Instant messaging apps like WhatsApp, Telegram, and Signal allows you to exchange text messages, make voice & video calls, share files, etc.
Although most instant messaging apps seem to have similar features, they have unique features that make them different from others. For example, the Telegram app for Android and iOS can edit the sent messages.
Yes, Telegram allows you to edit any sent message instead of first deleting it. It's relatively easy to edit any sent message on the Telegram app, but many users don't know about the feature. However, the edited message will be tagged as 'Edited' in both private and group chats.
Also Read: How to "Turn On" Fingerprint Lock On Telegram
Steps to Edit Sent Messages in Telegram for Android
In this article, we will share a detailed guide on how to edit sent Telegram messages on Android. So, let's check out.
Note: You can edit a previously sent message in individual chats and groups. However, the messages will be tagged as 'Edited'. Both you and the recipient will be able to see the edited message.
Step 1. First of all, open the Telegram app on your Android device.
Step 2. Now select the conversation where you want to edit a message.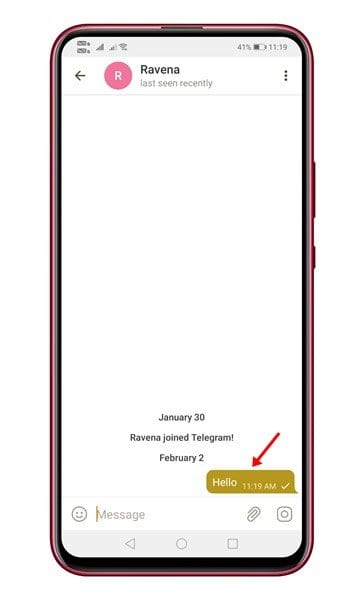 Step 3. Now long press on the message that you want to edit, and on the toolbar, you will see multiple options. Tap on the 'Pencil' icon to edit the selected message.
Step 4. Now you can edit the message in any way that you want. Once done with the editing, tap on the 'checkmark' button.
Step 5. The edited message will be updated. You will see an 'edited' tab behind the message.
That's it! You are done. This is how you can edit sent messages on Telegram.
So, this article is all about how to edit sent telegram messages on Android. I hope this article helped you! Please share it with your friends also. If you have any doubts related to this, let us know in the comment box below.