The tech giant Microsoft has confirmed that the Notepad app on Windows 11 will get support for Emojis. Last year, when the new OS was released, Microsoft teased the new design of its native apps.
Few of the features were available to the public with the official release of the OS, and few of them were left, which are now rolling out.
After years of Notepad staying the same, Microsoft is now bringing an update with Windows 11 operating system. The new Windows 11 update will bring emojis to Notepad along with other features.
Now You Can Add Emojis to Notepad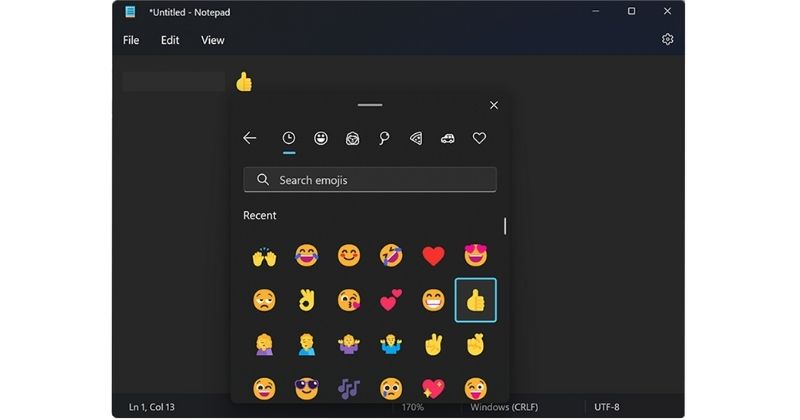 According to the reports, the new update of Windows 11 lets the user insert emoji icons in the Notepad file. It is said that, since 2006, Notepad has not got any improvements and updates after it received an update for the app to match with Windows Vista.
Another change added by Microsoft is the Dark Mode, which brings a new look to the Notepad. The feature allows it to align with some other apps in the Windows 11 ecosystem. Moreover, the app is also getting a redesigned menu to select different types of fonts.
How to Add Emojis to Notepad?
The recent Windows 11 feature update had brought the ability for the users to try out a few Android apps in the Microsoft Store.
The Microsoft Principle Software Engineer, Murray Sargent, said in a blog post, about the efforts in moving Notepad to a new engine in Windows 11 that brings emoji support.
To unlock the emoji menu, users have to click together on the Windows key and the "full stop" key, so the emoji menu will appear on Notepad. The new emoji menu has animals, reactions, signs, and more to a document.
Notepad is a popular app for noting down quick lists or thoughts for years. You can later move it to an office suite of your choice, like Microsoft Word or Google Docs.