Even though Firefox is not as popular as Google Chrome and Microsoft Edge, it still has every feature you need for perfect web browsing. Firefox is a web browser app available for Windows, Mac, iOS, and Android, and it's known for its speed and simplicity.
Like every other modern web browser, Mozilla Firefox also offers you a dark mode. However, the dark mode in Firefox is a bit different than other web browsers. Firefox's dark mode is fully compatible with the latest Windows 11 and is highly customizable.
Dark mode in Firefox reduces eye strains and improves your reading experience in low light conditions, especially at night. Other than that, if Firefox is your default desktop web browser on Windows 11, turning on the dark theme will also reduce the power consumption and increase the battery life.
Steps to Enable Dark Mode in Mozilla Firefox Browser
On Firefox, you get many themes regarding the dark mode; but only one of them is official. Below, we have shared a step-by-step guide on enabling dark mode in the Firefox desktop browser. Let's check out.
1. First, open your Windows 11 search and type in Firefox. Next, open the Firefox browser from the list.
2. On the Firefox browser, click on the hamburger menu (three lines) in the top-right corner.
3. From the list of options, click on the Add-ons and themes.
4. On the next page, click on the Themes section on the right pane.
5. On the left, find the Dark theme. To apply the dark theme, click on the Enable button.
6. This will enable the dark theme on your Firefox browser. If you don't want to use the Dark theme, click on the Enable button on the Light theme.
7. Firefox provides you with many other dark themes. For that, scroll down and click on the Find more themes button.
8. You will be redirected to the Firefox themes page. You will find many dark themes that you can apply to your Firefox browser.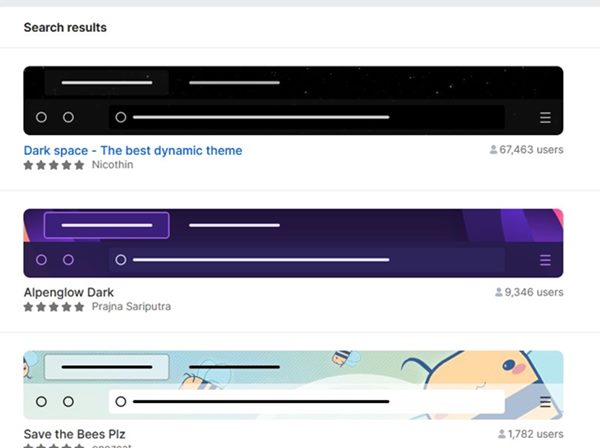 That's it! This is how you can enable or disable the dark mode in the Firefox web browser. You will find more themes on the themes page of the Firefox web browser.
Also Read: How to Enable Dark Mode in Microsoft Edge Browser
The third-party themes for Firefox were highly customizable. So, this guide is about enabling or disabling the dark mode in Firefox. If you need more help enabling or disabling dark mode in Firefox, let us know in the comments.