It's no doubt that Gmail is right now the most dominating email service provider out there. Compared to every other email service, Gmail offers users better options to manage emails. Over the past few months, Google has introduced many visual changes to Gmail for Android and iOS, with one of them being the dark mode.
However, the much anticipated Dark mode hasn't yet landed on the web version of Gmail. What if I tell you that Gmail has a dark theme for years? Gmail has a dark mode in its web version, but it was kept hidden under the settings. Users need to enable the dark theme from the Settings manually.
Also Read: How to Enable Desktop Notifications for Gmail in Windows 10
Steps to Enable Dark Mode in Gmail For Web in 2021
The dark mode reduces strain on your eyes and makes the viewing experience more pleasing and comfortable. In this article, we have decided to share a working method to enable dark mode in Gmail for the web in 2020.
Step 1. First of all, open Gmail on your Windows or Mac computer.
Step 2. Now click on the Gear icon located in the top-right corner, as shown in the screenshot.
Step 3. It will now open the 'Quick Settings' Panel.
Step 4. On the Quick Settings panel, click on the 'View all' button behind the 'Theme.'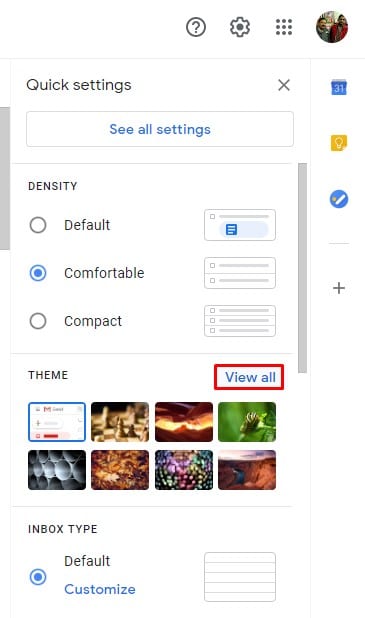 Step 5. Scroll down until you find the 'Dark' preset.' Just select the 'Dark' preset and click on the 'Save' button.
Step 6. Gmail will now be in dark mode on your desktop.
That's it! You are done. This is how you can enable dark mode in Gmail for desktop.
So, this article is all about how to enable dark mode in Gmail on Windows 10. I hope this article helped you! Please share it with your friends also.