Even though you have plenty of apps for caller identification, the Truecaller is the most popular and offers many features. The caller identification app is available for both Android & iOS, and it keeps getting new features now and then.
TrueCaller recognizes the calls and provides you options to prevent unknown, spam, and telemarketing calls. The latest version of Truecaller also offers you messaging features.
Until now, we have shared many tutorials on Truecaller, and today, we will discuss the Full-screen caller ID feature. So, let's know about the full-screen caller ID in Truecaller and how you can enable it on Android.
What is Full-Screen Caller ID in Truecaller?
Full-Screen Caller ID is not a new feature; it's been on the application since 2020. Full-screen caller id shows the caller information in a full-screen design instead of having a floating window.
If you have a high-end smartphone, the Full-Screen Caller ID might already be enabled on your smartphone. However, if it's not and you still see the floating caller ID design, you need to manually turn on the full-screen mode.
Also read: Use Call Recording Feature on TrueCaller
Enable Full-Screen Caller ID in Truecaller
Well, enabling full screen caller ID in the Truecaller app for Android is pretty easy. You need to follow some of the simple steps we have shared below.
1. Open the Google Play Store and update the Truecaller application on your Android.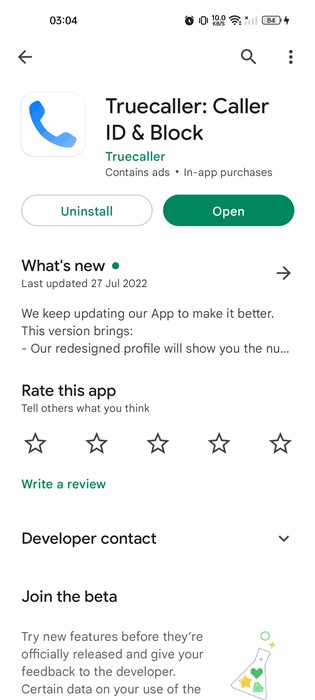 2. Once updated, open Truecaller and set the app as default.
3. Now tap on your profile picture at the top-left corner to open Truecaller Settings.
4. On the Profile page, tap on the settings gear icon in the top-right corner.
5. On the Truecaller Settings page, scroll down and tap on the Caller ID.
6. Next, on the Choose style section, select Full Screen.
That's it! This is how you can enable full-screen caller ID in the Truecaller app for Android.
Also Read: How To Get Truecaller Premium For Free
Truecaller is indeed an excellent caller identification app available for Android devices. It also offers you many options to make Truecaller more private. So, that's all about how to turn on the full-screen caller ID in Truecaller. If you need more help with full-screen caller ID, let us know in the comments below.