Learn Enable WhatsApp Text Status Feature on Android that will help you to get back the old style status using the simple and easy guide that will help you to implement this.
Sharing statuses is the best part of Whatsapp, enabling users to share their live conditions or whatever they are feeling right now. This feature is cool to remain updated on WhatsApp, and people all around the globe utilize it more than the average time in a day. Talking about the status function, the users could only place the video or the images in this part, but since many users like to share simple text statements, they try to do that by pasting the image containing the text. WhatsApp got to know about the users' requirement to share their text status, so they have included this option.
Now, this feature is still under processing, so the users would not be able to access it. But somehow, we have found a method through which the users could grasp this option on their Whatsapp and hence get the text status feature on Android. If you are here in this article to know about this method, then please read the information provided below; you will learn about this method exactly. So let's begin to read about the method!
Also Read: How Hackers Hack WhatsApp Accounts
How to Enable WhatsApp Text Status Feature on Android
Also Read: How to Make WhatsApp and FB Messenger Online All the time On Android
1. First of all, register for the beta program of WhatsApp; you can do this from this. Reaching this link, fill up all of the information that is asked, and you shall be granted access to this service while you would also be registered with it. Make sure that you fill-up the accurate details.
2. Once you have registered on the beta program, WhatsApp will send you the app update over the Google Play Store, which might take more than 15 minutes. Look inside the Google Play Store to see if the update has been granted to you.
3. Update WhatsApp and then install the WA Tweaks application for WhatsApp. You can download this app from this LINK. Grant the Root access to this newly installed app and proceed to further steps. Yes, you will require root access because the text status feature would not be grasped through the other way; rather, you would have to make the changes directly.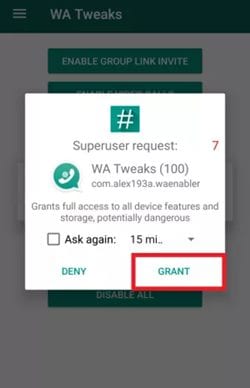 4. Open the WA Tweaks app and apply the text status function. Force Stop the WhatsApp app and then let it normally run after some time. Open it up, and then you will notice that there will be an option present to update the text status! To add the text status click on the pencil icon above the screen, and you will see the direct option.
Also read: Here's The Trick To Send Blank Messages On WhatsApp
Here in this article, you have got the method through which you should be able to enable the Whatsapp text status feature on Android devices and hence get the ability to show text status to all of your friends. This method was determined to provide you with the easiest way to grasp this amazing function that WhatsApp hasn't yet provided indirect options.
We believe that you might have liked this article and if it is true, please take some more time to share this post with others. Share your valuable comments on this post, and we would appreciate your efforts. Anyhow it is the end of this post. Just be tuned to learn about more such methods!