Facebook is a great social networking site that allows you many interesting and useful features. One of the key features of Facebook is its ability to post content. For example, you can share text, images, videos, GIFs, etc., on your profile.
Once shared, your friends and followers can see your content. If a post is set to public, not only your friends and followers, everyone with a Facebook account can see it.
While Facebook is unique in its ways, it has a few flaws. For example, while viewing posts on Facebook, you may sometimes see an error message. Here is a few error screen that you may see on Facebook Posts.
Sorry, this content isn't available right now.
Sorry, this page isn't available.
This content isn't available right now.
These are three common Facebook error messages that you may encounter while viewing certain posts.
Fix Facebook Content isn't available
If you encounter one of the three error messages we've listed, you can't fix it. Actually, there's no fix for the above errors as they appear due to a reason. 'This Content Isn't available' on Facebook isn't actually an error; it appears when the post you're trying to view has been removed.
Below, we have listed a few reasons why Facebook Content Is Not Available error message appears and how you can fix it. Let's get started.
1. The Content is no longer available
If a specific Facebook post is showing a 'This Content Isn't Available' error message, chances are that the poster has deleted the content.
Even if the original poster doesn't delete the content, the content may have violated the terms & conditions of Facebook and hence had been removed.
Facebook is strict when it comes to reviewing reported posts. If a post has been reported, it checks whether it violates the community guidelines. If Facebook finds the post violating the guidelines, it will take down within a few minutes or hours.
There are a few things that aren't allowed on Facebook. Here's the list of things:
Nudity or other sexually suggestive content
Hate speech, credible threats, or direct attacks on an individual or group
Content that contains self-harm or excessive violence
Fake or impostor profiles
Spam
2. The Privacy Settings of the Content have been Changed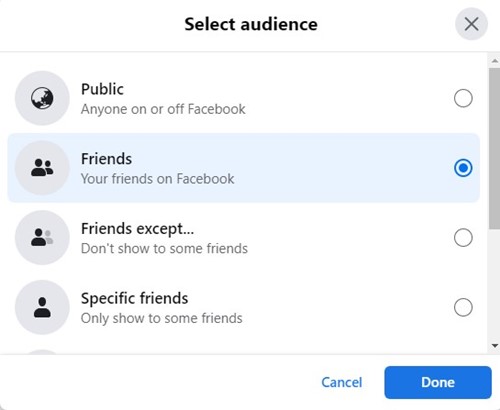 The 'Sorry, this page isn't available' page on Facebook usually appears when the link you are trying to view is removed or has changed the privacy settings.
Certain pages on Facebook shares posts with a few privacy settings. For example, a post might be available for a certain community, region, age group, etc.
If you don't fall into the set categories, you may see the content isn't available error on Facebook. You may also see other messages while viewing content with manual privacy settings.
3. The Facebook Profile has been Deleted
Well, this is not uncommon. If you can't view a post, the poster has deleted their Facebook profile.
If you have the post link but are getting the 'Sorry, this page isn't available' error, chances are the profile that shared it has been deleted or deactivated. You can confirm it by opening the profile URL on a new tab page.
If the profile page also shows an error message, it's deleted or deactivated. You can only view the post once the profile gets restored.
4. You have been blocked
One of the most prominent reasons the 'Facebook Content is Not Available' error appears is when the poster has blocked you.
You can only do a little if you have been blocked and there's no way to view the content. However, before making any conclusion, you should check whether you have been blocked or the poster has deactivated/deleted the account.
In both cases, you will get the same error message. You can ask your friends whether they can see the poster's profile. If the profile is visible to them, but you're unable to find it on Facebook, you've been blocked.
5. You Blocked the User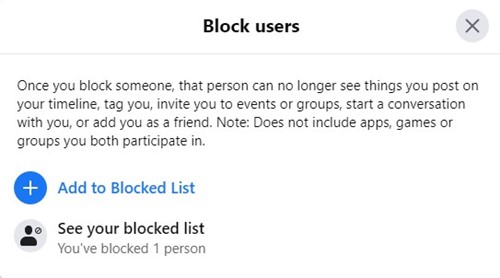 Just like getting blocked, you can't see the posts of the person you've blocked from your account. If you have blocked the poster and trying to see their post, you will encounter an error message.
Facebook shows the same error when trying to view posts of the person who has blocked you or you have blocked. So, check the Facebook Block list and unblock the person. Once unblocked, you can view the post.
6. Check if Servers of Facebook is Down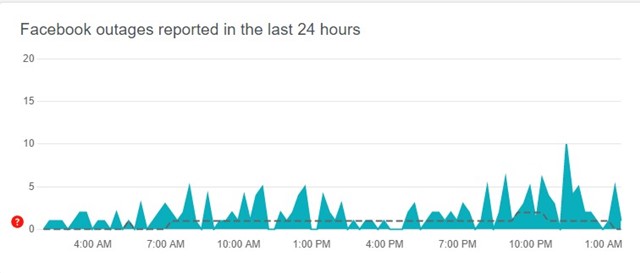 If the person has not blocked you and the post doesn't violate the terms and conditions of Facebook, but you are still getting the 'Sorry, this page isn't available' error message; chances are that Facebook is facing a downtime.
If the Facebook servers are down, you won't be able to use most of the platform's features. This includes failing to view Facebook posts.
At times, Facebook may even log you out and ask you to sign in again. If this happens, you should check Facebook's Server Status at Downdetector.
If Facebook is down worldwide, you must wait for a few hours until the servers are restored. Once the servers are restored, you can view the posts again.
Also Read: 20 Best Facebook Tips & Tricks
So, these are some of the most prominent reasons why Facebook shows content not available error messages. Please let us know in the comments if you need more help. Also, if the article helped you, make sure to share it with your friends as well.