If you use any streaming device with your Television, you might know how difficult it is to load third-party apps. You can only download a few apps even if your TV has access to the Google Play Store.
Plenty of movie apps that provide free movies & TV shows are banned on the Google Play Store. This is because third-party movie apps provide copyrighted content. One of the most popular streaming devices is Amazon FireTV Stick.
Amazon FireTV Stick has an Amazon Appstore with hundreds of Movie & TV Show apps, but you won't find the free one there. To use free movie apps for FireTV Stick, you either need to sideload the apk files or use FireDL.
What is FireDL?
FireDL is an app designed to sideload apps to your FireTV Stick. It eliminates the hassle of manually sideloading the Apk files on your Amazon FireStick.
With FireDL installed, you need to launch the application and use the FireDL codes for apps to get the apps. So, when you enter the FireTV Apk codes on the apps, the client will search for the corresponding apps and install them automatically.
It's easy to download apps on FireTV Stick with FireDL, but installing FireDL could be a complicated task. So, before getting the FireDL app codes, let's check out how to install FireDL on Firestick
How to Install FireDL on FireStick
As mentioned above, installing FireDL on FireStick could be a complicated task, but it's achievable. Here's how you can install FireDL on Firestick.
1. On your TV with firestick connected, move to Settings > My Fire TV.
2. On the My Fire TV, select the drop-down menu and select 'Developer Options'. On the Developer options, turn on the 'Apps from unknown sources' option.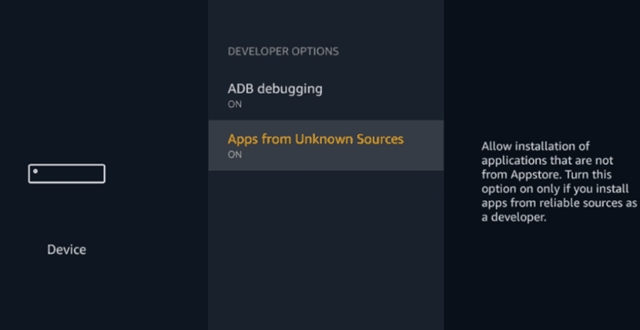 3. Now move back to the main screen and click on the Search icon. On the Search, search for 'Downloader'
4. Now download the 'Downloader' and enter the URL https://bit.ly/2QsFsU1 on it and click the Go button.
5. This will fetch FireDL and will install it on your Firestick. Once fetched, click on the Install button and finally click on the 'Done'.
6. Now move back to FireStick's Apps & Channels section and find the FireDL app installed.
That's it! This is how you can download & install FireDL on your Firestick.
Latest FireDL Codes List in 2022
Now that you know what FireDL exactly is and how to install it, you should get the latest FireDL code list. Currently, many FireDL Codes are available, like BeeTV FireDL code, ChinemaHD FireDL code, etc. Below, we have shared the app code lists for FireDL. Let's check out.
Nitro TV Pro - 414411
VideoDevi - 100000
Cinema HD Apk 2.0.5 - 655995
Kodi 18 Leia Kodi - 1832
Cyberflix TV - 617329
Kodi 17.6 Krypton - 296283
TeaTV Official - 808853
HBO Movies - 680010
MOBDRO - 565837
MX Player - 518809
IPTV Smarters Pro - 124349
Freeflix HQ - 452090
YESPLAYER - 022997
DIGIBIT VPN - 828111
Kodi 17.6 64 BIT Apk Android - 296281
CINEMAX - 680032
Movie HD 4.5.5 - 440289
Terrarium TV Apk  - 666244
Fildo - 300006
Aptoide  - 300012
Aptoide TV - 300016
I4Sports - 680021
VLC 2.0.6 ARMV7 - 300014
Mouse Toogle 1.09 - 300008
Newest Movies V 1.4 - 539401
GEO Streamz - 680025
Stream! - 600000
Amaze File Manager - 300013
Mobile TV - 680028
Redbox TV - 693082
TV TAP 2.1 Firestick - 170607
USTV 4K - 050504
Super Atom - 083026
Tulatino TV 2020 - 459124
Tulatino TV - 462117
He - 510396
TVLife - 248845
ONPLAY - 365913
Rine - 896717
File - 457821
SuperTVI - 762586
Smartit - 001461
APTOIDE - 280847
Movie HD - 300010
MORPH TV - 440289
MX Player - 518809
Kodi - 296281
BeeTV - 455775
ES Explorer - 355326
All of the FireDL App codes were tried and tested. So, these are the latest FireDL codes for Firestick. Also, bookmark this webpage, as we will update more FireDL Codes regularly.
How to Use FireDL Codes?
Now that you have the FireDL free codes, you can install apps on your Firestick. It's easy to use FireDL codes on FireTV Stick; follow some simple steps below.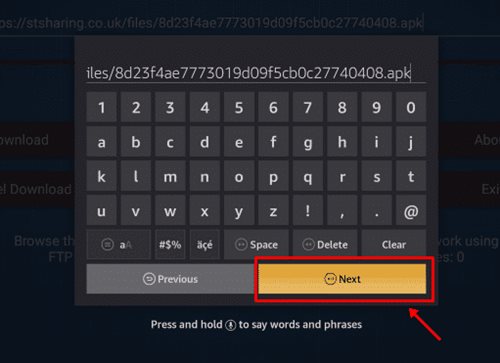 First, open FireDL on your Firestick and click on the Search box.
Now you need to enter the app code in the Search box.
The code will immediately change into a URL as you enter the code. Click on the Next button.
Now you need to wait until FireDL downloads the code on your firestick.
Once downloaded, you will see the App installation screen. Here, click on the Install button.
That's it! This will install your selected app on your Amazon Firestick. This is how easy it is to use FireDL codes. By following the same steps, you can run third-party apps on your FireStick.
FireDL Codes URL Error
Well, most of the FireDL codes shared on the list will work. However, if FireDL Codes show a URL error, the owner might have deleted the file associated with the code.
It's also possible that the developers of FireDL might have banned the code. Nothing is permanent in this world, and so does the FireDL app codes.
So, this guide is all about FireDL Codes and how to use it. If you need more help with Firedl codes for Firestick, let us know in the comments. Also, if the article helped you, share it with your friends.