While Firefox is not as popular as Google Chrome, it's still a capable web browser. The web browser is now used by millions of users and offers you almost every feature you would need for a better web browsing experience.
Firefox is lighter on system resources than Google Chrome. Although you can't run Chrome extensions on Chrome, you still have many add-ons available for the Firefox browser for desktops.
There are add-ons for different purposes for Firefox, and almost all of them are free to download and use. This article will discuss the best Firefox add-ons for improving productivity.
5 Best Firefox Add-Ons For Productivity
There are add-ons available for Firefox can help you become more productive than more. Hence, if you are interested in installing Firefox add-ons for productivity, you need to start using these five add-ons. Let's get started.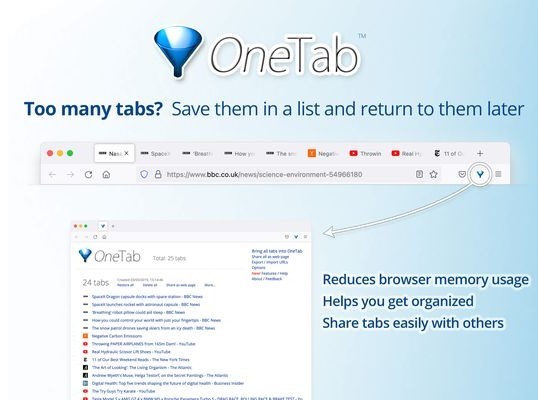 Well, OneTab is a tab management Firefox add-on on the list that converts all of your tabs into a list. Since it converts your tabs into a list, the add-on greatly helps in saving memory and CPU resources.
So, the add-on helps convert your tabs into a list to reduce the CPU load. It's also very different from the browser history because OneTab works with a smaller selection of open tabs you're not finished with yet.
While the OneTab is also available for Chrome browser as an extension, it's more popular on Firefox. Overall, OneTab is a great Firefox extension to boost your productivity.
LeechBlock NG is a simple, lightweight productivity tool for your Firefox browser. The add-on works by blocking all time-wasting sites that can suck the life out of your working day.
While it's a simple Firefox add-on to boost productivity, it can do lots of advanced stuff. For example, you can manually specify which sites to block and when.
You can also use the LeechBlock NG add-on to delay websites for a few seconds, blocking up to 30 sites. So, if you often get distracted by time-wasting websites, LeechBlock NG is an add-on you would probably need.
Momentum is one such add-on for Firefox that can help you become more productive and improve the look of the browser. It's a productive tool that displays amazing new wallpapers on the new tab page.
The new tab page also includes reminders for your tasks, to-do lists, and more. Besides these, the wallpapers displayed on the new tab page can motivate you to take on new goals and complete your work on time. Overall, Momentum is an excellent firefox add-on for Productivity that you shouldn't miss at any cost.
If you don't want to rely on premium grammar checker tools like Grammarly, you need to give the Grammar and Spell Checker – LanguageTool Firefox add-on a try.
Grammar and Spell Checker – LanguageTool is a grammar checker that helps you with your grammar, spelling, and more. It can help you write business emails with confidence.
The firefox add-on claims to find many errors that a simple spell checker can't detect, like mixing up there/their, a/an, or repeating a word.
Toggl Track is a great productivity and time tracker add-on you can use with your Firefox browser. This is a great add-on to optimize your workflow and avoid wasting time.
Toggl Track: Productivity & Time Tracker follows a straightforward concept – it tells you how much time you spend on what. In this way, it tells you exactly how productive you are.
Once added to firefox, you need to click on the Add-on icon, enter what you're doing, and start the timer. When you complete your work, you need to stop the timer. At the end of the day, you can open Toggl Track to check how much time you have spent on each task and plan your next day.
Also read: How to Import Bookmarks from Chrome to Firefox
So, these are some of the best Mozilla Firefox add-ons that would improve your productivity. To be more productive, you should start using these add-ons. If you want to add your add-ons to the list, let us know in the comments below.