Although Google Chrome still owns the throne of best web browser for desktop, it doesn't mean it's the right browser for you. Compared to other web browsers, Google Chrome has more vulnerabilities, and it consumes more RAM resources.
If we have to pick the best web browser, we will pick Firefox. Mozilla Firefox is right now the biggest contender of Google Chrome. It has all features that you expect from a web browser application.
Also, Mozilla Firefox is available for mobile devices like Android and iOS. If you have been reading tech news regularly, you might know that Mozilla extended add-ons support to the Android version of the browser the previous year.
List of 10 Best Firefox Add-Ons For Android Device
That means you can install Firefox add-ons on your Android device as well. As of now, there are almost hundreds of add-ons available for Firefox on Android, including the one you use on the Firefox desktop version.
So, in this article, we will list down some of the best Firefox Addons for Android devices. All of these add-ons were free to download and use. So, let's check out.
Well, HTTPS Everywhere is a security add-on that you should enable on your Firefox browser. It protects your online communication by enabling HTTPS encryption.
That means, even if you mistyped http://, the add-on would automatically redirect you over HTTPS if the site supports HTTPS encryption.
If you want to improve your browsing speed, then you should give Ghostery a try. It's an extension that blocks ads, stops trackers, and speeds up websites.
The good thing about Ghostery is that it uses advanced AI-powered anti-tracking technologies to block web trackers and ads from the web pages you visit.
Search by Image is a firefox add-on for Android that lets you reverse search images online. The good thing is that the add-on supports almost all popular search engines like Bing, Yandex, Baidu, TinEye, and Google.
You need to select the search engine and upload your image to search it online. The add-on could be handy for those who want to verify the authenticity of images shared online.
Well, if you have been using the Firefox browser for a while, you might know that the browser has limited proxy capabilities. The FoxyProxy Add-on solves that problem for you.
FoxyProxy is an advanced proxy management tool that replaces Firefox's limited proxying capabilities. It can even perform some other tasks like showing you the IP Address, deleting the browser data, exporting the current proxy settings, and more.
Dark Reader is a dark mode extension that's available for both Chrome and Firefox web browsers. The good thing about Dark Reader Firefox Add-on for Android is that it inverts the bright colors on websites and makes them easy to read at night.
Also, Dark Reader is entirely free and open-source. That means it won't show you any ads, nor will it collect your data.
Well, Privacy Badger is another best security add-on for Firefox that you will love to use. This one automatically blocks invisible and hidden trackers from the web pages.
That means with Privacy Badger; you no longer need to maintain a list of what to block, as it automatically discovers and blocks trackers based on their behavior.
If you are looking for a free, secure, and open-source password manager for your firefox browser for Android, then give Bitwarden a try. The Add-on acts as a simple password manager – it saves all your logins and passwords while keeping them synced between all devices.
AdGuard AdBlocker is a bit different than other adblocker add-ons. The add-on installs the AdGuard DNS on your Firefox browser that blocks ads from all web pages.
The good thing about AdGuard AdBlocker is that it's capable of blocking ads even on Facebook, YouTube, and other sites. The add-on also blocks spyware, adware, and dialer installers.
Tomato Clock is a Firefox add-on for Android that breaks down your work sessions into 25 minutes. The Firefox Add-on for Android is based on the Pondomoro technique, which greatly helps to beat procrastination.
The good thing about Tomato Clock is that it lets you customize the timer length and sends you browser notifications for ongoing timers.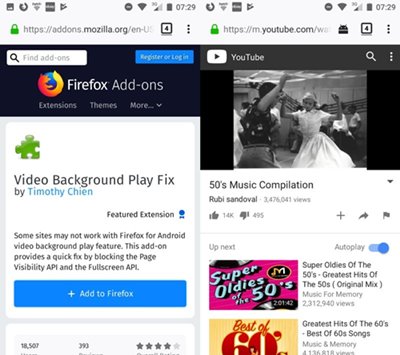 This is a simple Firefox Add-on for Android that gives you access to a paid YouTube premium features for free. The add-on lets you play any video from YouTube in the background, which is seen on YouTube Premium only.
You just need to install the Add-on and exit the app; the audio will still play in the background.
So, these are the ten best Firefox Add-ons for Android. I hope this article helped you! Please share it with your friends also. If you have any doubts related to this, let us know in the comment box below.