Every time I get bored and don't know what to do, I head over to the NetFlix website to watch the latest video content. However, NetFlix is not entirely free from bugs, and few bugs can ruin your video streaming experience.
We have received multiple messages from users on our Facebook page regarding 'NetFlix not working on Chrome.' Users are getting random error messages while visiting the NetFlix site from their browser. Some are even facing problems while using Netflix on mobile and TV.
The same thing also happened with me a few months ago when I was watching a video, and all of a sudden, the screen went black, and "there was an unexpected error. Please Reload the Page and try again' error message appeared on the screen.
10 Methods to Fix Netflix Not Working Problem on PC/Mobile/TV
So, if the same thing is troubling you, we will share some of the best NetFlix not working in chrome fixes.
1. Hit the Reload Button
First, whenever we get an error message on the Chrome browser, we hit the reload button. So, if you are also getting error messages while watching video content on NetFlix, you need to reload the webpage.
If the standard reload button doesn't work, then hard reload the NetFlix webpage by pressing Shift+F5. This will probably fix the NetFlix error from the Chrome browser.
2. Check if Netflix is down
If Netflix is not working even after reloading a webpage, then you need to check whether the servers of Netflix are active or not.
Sometimes, the server of Netflix may be down, making the site inaccessible. In that case, you need to visit the website and enter 'Netflix.com.' The site will show you that the site is running fine or is down.
3. Restart the WiFi connection or Mobile data
If you are using the Netflix desktop app or its web version, you need to restart your WiFi connection. If you are using Ethernet for connectivity, you need to restart your modem.
Similarly, if you are using the Netflix mobile app and using mobile data, you need to restart your mobile data. Sometimes, restarting a network device fixes many problems, and maybe it would fix the Netflix problem.
4. Update Your Netflix App
Just like Windows updates, Netflix updates were important too. It's always best to use the latest version of apps on desktop and mobile to avoid security issues.
Regardless of whatever device you are using, update the Netflix app. If you are using the Netflix app for desktop, you need to update it from the Microsoft Store.
Similarly, if you are using the Netflix app on mobile, you need to head to the iOS app store or Google Play Store to get the app updated.
5. Sign in Again
Few users have reported that they have fixed Netflix's not working problem by removing and re-adding their account details.
So, you could try this method as well if your Netflix is not working. Log out from your Netflix account and enter your login details again. Once done, try to play the video again.
6. Restart Your Chrome Browser
If you are unable to access Netflix from Chrome, then restart your Chrome browser. Make sure to close all tabs before you restart your chrome browser, or it will ask you to reopen the closed tab.
A simple restart will kill all running processes from your computer related to the Chrome browser and will eventually fix the NetFlix not working on the chrome error message.
7. Update the browser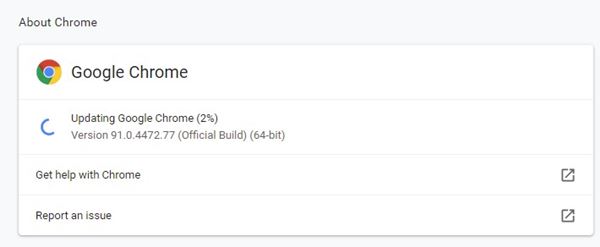 Well, having an updated web browser minimizes the security risk, and it prevents errors. Outdated web browsers can also lead to NetFlix not working on the Google Chrome browser.
So, in this method, users need to update the Chrome browser to the latest version to fix the error message. Updating the Chrome browser is easy; users need to click on three Dotted menus and then head to the Help > About Google Chrome. Now Google Chrome will automatically check for the available updates.
8. Clear the cache
We understand that clearing Chrome data like history, cache, etc., ruins the browsing experience. But, if the video is playing on the incognito mode without interruption, you need to clear the chrome data.
Copy and paste the chrome://settings/clearBrowserData path on the URL bar and remove the history, cookies, and cache.
9. Disable Extensions
If you get the NetFlix chrome errors after installing any new extensions, the extension might be the culprit. To fix that, you need to remove any newly added extension from your Chrome browser to fix the NetFlix error on the Chrome browser.
If possible, disable all unused extensions at once and check whether you are still getting the error or not.
10. Switch to Google DNS
Well, sometimes Chrome browser shows errors because of several DNS issues. So, if your internet is behaving weirdly, you need to set up Google DNS.
To set up Google DNS, you need to follow this article How To Change Default DNS To Google DNS For Faster Internet. After changing the DNS, make sure to restart the internet connection as well as the computer.
So, these are the best methods to fix Netflix not working on Chrome error messages. If you have any other doubts, then discuss them with us in the comment box below. I hope this article helped you! Please share it with your friends also.