We are pretty sure that almost everyone using Microsoft's Windows operating system has faced BSOD errors. Blue Screen Of Death (BSOD) errors on Windows are now common, and it ruins the entire desktop experience. What makes BSOD worst is that it doesn't give users a second chance to save all ongoing tasks.
So, if you leave BSOD errors unfixed, it can ruin your entire computer experience. Until now, we have shared lots of tutorials on BSOD errors, and today we will explore another BSOD error that displays 'Netio.sys'. For all those who don't know, netio.sys is an SYS file associated with the Windows operating system.
Lots of Windows users believe that netio.sys is a virus or possibly a security threat, but it's not true. netio.sys is a crucial Windows component that allows third-party apps to communicate with the devices within a network. So, when it fails to interact with the devices on the network, it leads to a BSOD error.
Best Ways To Fix Netio.sys BSOD Error Message On Windows
Fortunately, the netio.sys BSOD error can be fixed. Below, we will share some of the best and most effective methods to fix netio.sys Windows 10 BSOD error messages. So, let's know how to fix netio.sys Windows BSOD error.
1. Use Memory Diagnostic
The 'netio.sys' BSOD error message usually occurs due to a memory problem. So, in this method, you need to use the built-in Windows Memory Diagnostic to check the computer for memory problems. The Windows Memory Diagnostic tool is great because it effectively scans and fixes memory problems.
1. Open the Windows search menu and type in 'Windows Memory Diagnostic'. Open the first option from the list.
2. In the next step, you will see a popup. You must click on 'Restart Now and check for problems (Recommended).
That's it! Now Windows 10 will restart and will fix all memory-related problems. Once done, use the computer, and you won't face the BSOD error anymore.
2. Run Windows System File Checker
For those who don't know, Windows operating system offers a System File Checker utility to scan and restore corrupted Windows system files. Sometimes, the corrupted Windows files also lead to netio.sys Windows BSOD error which can be fixed through the SFC command. So, here's how to use the System File Checker utility in Windows 10.
1. First, press the Windows button and type in Powershell. Right-click on the Powershell and select 'Run as administrator'
2. On the Powershell window, type in sfc /scannow and hit the Enter button.
Now, wait until the system file checker utility completes the scan. Once done, restart your computer.
3. Update the Network Driver
Well, as we all know, netio.sys BSOD error is related to the network, so it makes sense to update the Network driver. Updating the network driver on Windows 10 is easy; users need to follow some simple steps below to update the network drivers.
1. First, open the RUN dialog box (Windows key + R), type 'devmgmt.msc', and press Enter
2. Now, you will see the Device Manager page. There you need to right-click on the current network and select 'Update Driver Software'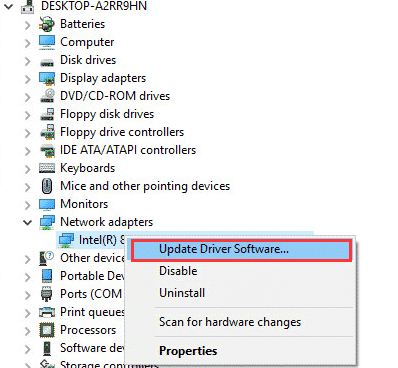 That's it! Now Windows 10 will automatically search for the available updates. If it finds any update, then it will install it automatically. Once done, restart your computer for the changes to take effect. Similarly, you can roll back, uninstall or reinstall network drivers to fix the netio.sys windows 10 BSOD error message.
4. Scan Your Computer With Antivirus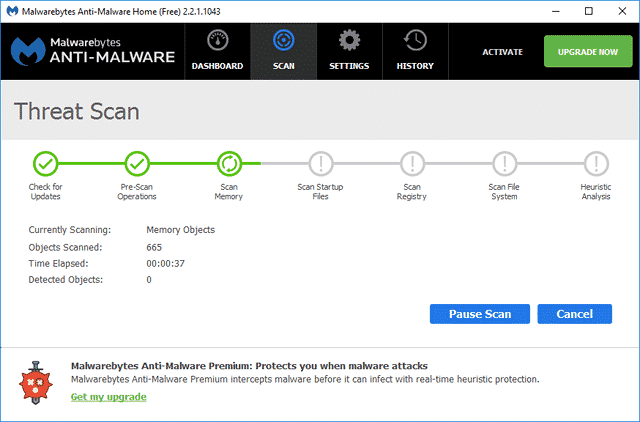 Sometimes, viruses or malware damage essential system files, which leads to netio.sys blue screen error. Also, some antivirus has a built-in firewall system that blocks the SYS file from interacting with other devices.
So, it's better to disable the Antivirus and check whether the error persists. Also, scan your system with a robust security tool to eliminate malware and viruses. You can rely upon Malwarebytes, one of the leading security tools available on the web, to scan your system.
So, these are the four best methods to fix netio.sys windows 10 BSOD error message. Let us know in the comment box below if you know any other method to fix netio.sys error.