Today, you have hundreds of apps and sites for chatting with strangers. We have already shared a list of the best stranger chat apps for Android and the best stranger chat app for iOS.
Of all available random text & video chat services, Omegle is the most popular, and millions of users use it. Even though the site has many competitors today, it still has a more active user base.
On Omegle, you also get an option to video chat with strangers. If you are a regular Omegle user and often video chat on the platform, you may need to flip your camera.
There's no option to flip the camera on Omegle, but a few workarounds let you do that in easy steps. Hence, in this article, we have shared all the working methods to flip the camera on Omegle. Let's get started.
Flip Camera On Omegle
There's no built-in option to Flip the camera on Omegle on mobile, but you can install several third-party apps. Also, you can't flip the camera on the Omegle desktop.
On iPhone and Android, you need to use a different web browser to flip the camera on Omegle. Here's how you can do it.
Flip Camera On Omegle Android
If you want to flip the camera on Omegle for Android, you must start using the Opera web browser. Opera web browser allows you to select whether you want to use your phone's front or back camera during the video chat. For that, follow some of the simple steps shared below.
1. First of all, download & install Opera browser on your Android smartphone.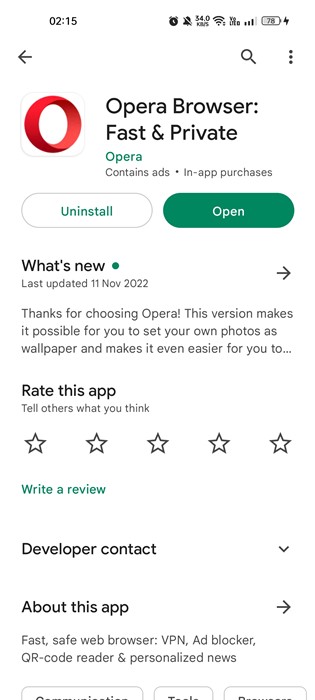 2. Once installed, open the Opera browser and head to the https://www.omegle.com/
3. Now, you will see the main screen of the Omegle. Here you need to select the Video option.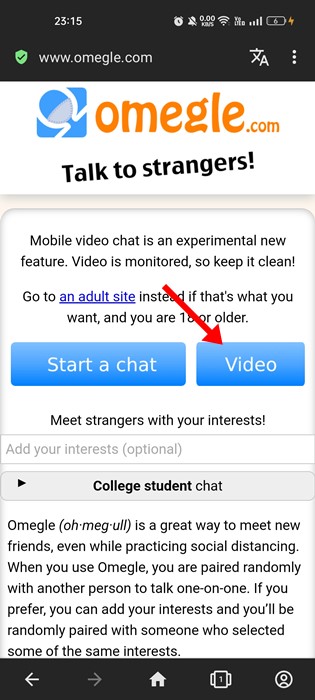 4. Accept the terms & conditions and tap on the 'Confirm & continue' button.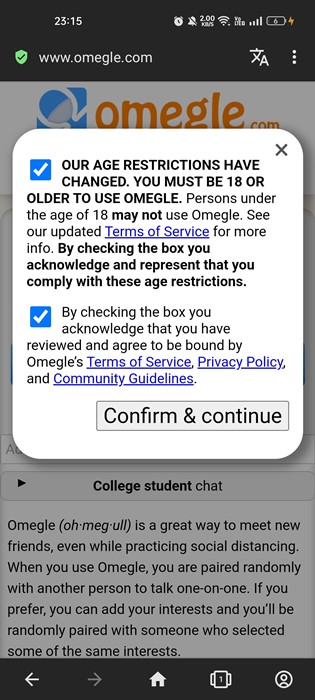 5. Now, you will be asked to grant the camera permissions. Grant all permissions that the site asks for.
6. Once granted, you will see a prompt asking you to select the camera. You can select from the Front or Back camera.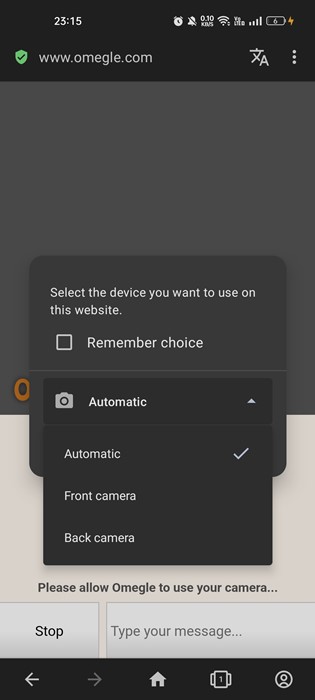 7. After making your selection, tap on the Done button.
That's it! This is how you can flip the camera on Omegle for Android.
Flip Camera on Omegle iPhone
If you are using iPhone, you need to use the Opera browser for iPhone. The opera web browser is also available for iPhone, and you can get it from the Apple App Store.
A few versions of Safari browser also allow you to make the camera selection on Omegle. For that, you need to follow some of the simple steps shared below.
Open Safari Web Browser and open the Omegle website.
Now tap on Settings in the top-right corner and select 'Flip camera'.
Now you will see all cameras on your iPhone. Switch to the camera you want to use.
The method we have shared works with older iPhone models. In the new iPhone, you need to use the Opera browser and follow the same steps given for Android.
FAQs
---
How to Invert Your Camera on Omegle on Computer?
There are multiple ways to invert your camera on Omegle computer. You can either use the camera viewfinder or change the camera settings on your Windows.
You can watch YouTube videos to learn how to invert camera on Omegle website. There are many videos uploaded on the same topic.
---
Can i Flip Camera on Omegle Desktop?
You can't flip your camera on Omegle if you have a laptop. However, if you use a dedicated webcam, you can flip its position.
---
How to Flip Camera on Omegle Mac?
Unfortunately, there's no option to flip a camera on your MacBook. However, you can install another webcam on your MacBook and rotate it for a flipped view.
---
How to Fix Reverse Camera on Omegle?
There are a few ways to fix the reverse camera on Omegle. You can either clear the browser cache or reset the camera settings on your computer. On a smartphone, you need to force-stop the browser and run it again. Clearing the browser cache on mobile will also help.
Also Read: 10 Best Omegle Alternatives to Chat with Strangers
So, this guide is all about how to flip the camera on Omegle. We have shared all possible ways to flip the camera on Omegle. If you need more help, let us know in the comments below.