Our Android device simply remembers the Wi-Fi connections that we have connected to, so that we do not need to re-enter our password every time we connect.
Over time, the list of Wi-Fi connections grows and simply becomes a big list, so, this situation could simply pose a privacy problem.
Whether you are worried that someone will see which Wi-Fi connections you have connected to, or if you are simply sure that you will not be able to connect to any of them, making Android forget a Wi-Fi connection is very simple and you have two ways to do it.
Forget Saved WiFi Connections On Any Android Device
So, if you want to forget a saved WiFi connection on your Android device, you are reading the right article. Below, we have shared a step-by-step guide on how to forget saved WiFi connections on Android. Let's check out.
Step 1. First of all, slide down the notification shutter on your Android and tap on the Settings icon.
Step 2. On the Settings page, tap on the 'Wireless & Networks' option.
Step 3. Now select the WiFi network that you want to forget.
Step 4. On the next pop-up, tap on the 'Forget' button.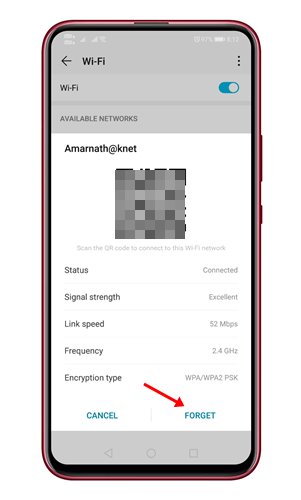 However, keep one thing in mind that the settings section may vary or change from one version to another and from one manufacturer to another. So, it is possible that the menu is in another place or under another name.
So, this article is all about how to forget WiFi connections on Android. I hope this article helped you! Please share it with your friends also. If you have any doubts related to this, let us know in the comment box below.